Welcome to the greatest Moroccan markets, a typical appealing scene brimming with a culture that can be seen in nearly every region of Morocco. Are you interested in Moroccan markets join the Unique Desert tour theme to discover the most beautiful Moroccan markets?
Moroccan markets, which are distributed by different sections of each city, are important sites in the lives of the residents, where encounters extend much beyond the purchase of goods. It is a genuine location where you may experience the true emotion of Moroccan hospitality, relax, and even become an expert in trading, who knows?
Marrakech's Most Beautiful Moroccan Markets
Djemaa el-Fna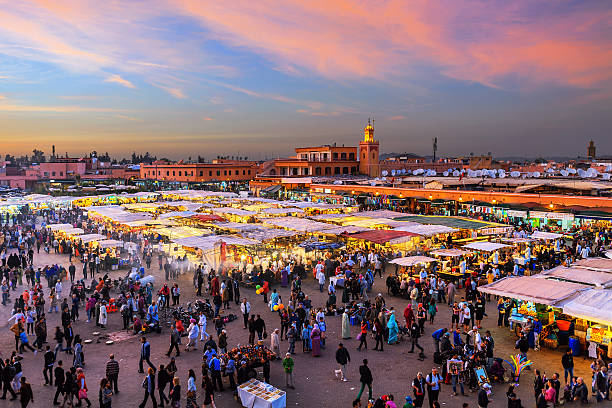 The largest plaza in the medina is Djemaa el-Fna. It is also one of the city's most popular tourist attractions. It was formerly the principal marketplace in the old town and now sells a variety of items, including argan oil products made elsewhere in the region. There are also several street food vendors selling kebabs, snails, pastries, and other small snacks, as well as restaurants where you may relax and enjoy a bigger meal, such as a tajine or tangia. Orange juice vendors surrounding the vibrant Djemaa el-Fna are particularly well-known.
Mellah
Mellah is the medina's historic Jewish neighborhood, albeit it is now home to only a few Jewish families. A stroll through the marketplaces and past the worn-out storefronts shows centuries of history. There is a broad variety of things available, but the neighborhood is well known for its large range of colorful fabrics and decorative trimmings for sewing clothing.
Cherifia Souk

Souk Cherifia is a more sanitized and easier-to-navigate version of the souks, featuring a variety of businesses housed within a shopping center. The items are identical to those seen on the streets, but they are displayed in a more ordered manner. The standard of quality is typically good, however, this is reflected in the higher pricing. It's also a great spot to get innovative twists on traditional designs as well as imported things from other regions of the continent.
Artisanal Ensemble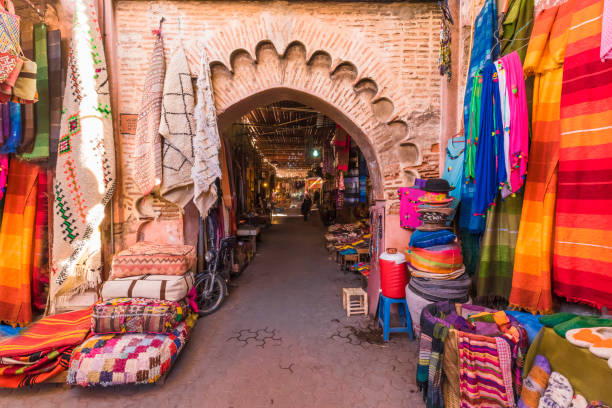 The government-backed Ensemble Artisanal is the place to go if you want to witness how traditional products are manufactured without having to travel to different areas of the major souks. Top craftsmen are hand-picked to work in the facility, teaching new apprentices several trades. Visitors are then charged reasonable, predetermined prices for the goods. See how musical instruments, lanterns, carpets, silver jewelry, leather products, ceramics, brass goods, wooden carvings, and other objects are made with expertise and attention to detail.
El Souk el Attarine
Although Souk el Attarine was originally a location to buy spices and perfumes, metal items are also plentiful nowadays. It's an excellent souk for experiencing the hustle and bustle of a Moroccan market while perusing a diverse assortment of things in a small space. Mirrors of all shapes and sizes reflect adjacent lights and teapots, while the subtle scent of perfumes and the strong aroma of spices pervade the air.
Souk des Bijoutiers (Bijoutiers' Market)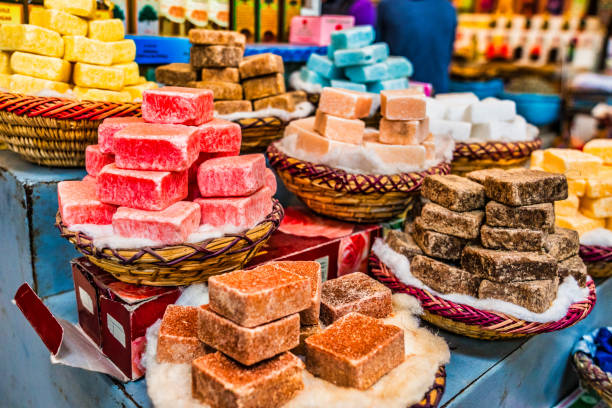 Historically, the Souk des Bijoutiers was a destination for richer inhabitants to buy brilliant jewelry. Gems, jewels, and dazzling precious metals continue to entice individuals looking to add some lovely items to their collection.
Smata Souk

Souk Smata, which is colorful and vibrant, is the best spot to buy traditional leather footwear. Hand-made babouches (slippers) in a variety of sizes are available in rows upon rows. While the shoes may be worn both indoors and outside, Moroccans usually keep distinct pairs for each.
Teinturiers' Market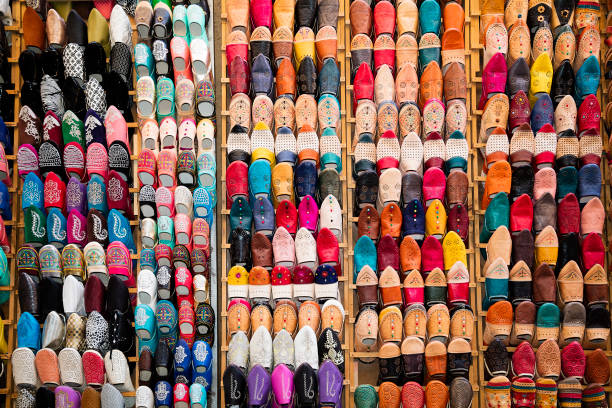 The Souk des Teinturiers is where textiles and skins are dyed in a vibrant array of colors. View how dyes are applied to goods and explore final pieces of silk and sheepskins that are ready to be purchased or transformed into carpets, clothing, and other products.
Haddadine, Souk

Souk Haddadine, a tourist-unfrequented souk, provides a glimpse into the world of a Moroccan blacksmith. The ringing of hammers fills the air, and as you walk by the furnaces, you can feel powerful waves of heat. While there aren't many souvenirs to be found in this region, you may observe as wrought-iron gates, pots, plates, trays, teapots, horseshoes, and other metal goods are pounded into form with precision.
El Khemis Bab

Every Thursday evening, a major flea market is conducted in front of the Bab El Khemis doorway. It's a popular hangout for locals, however, it appears to be disorganized. Stroll among the various things and attempt to locate a few hidden riches. Old carved doors are leaned against walls, brass door knockers are strewn out on sheets on the floor, and second-hand clothing is draped over anything that would serve as a makeshift garment display. Expect to discover anything from brass bedsteads to plastic garden chairs strewn across the sidewalk in varying degrees of disrepair. You could even come upon a strange kitchen sink. Other goods you could discover are bicycles, jewelry, tools, cookware, couches, and carpets.
Top 10 Moroccan Markets in Fes
Moroccan markets, known as souks, may become unending mazes that are difficult to escape. This is especially true in Fez, where the tiny lanes may easily lead visitors astray in the ancient imperial city, but here are 10 accessible souks in the Medina.
Souk el Henna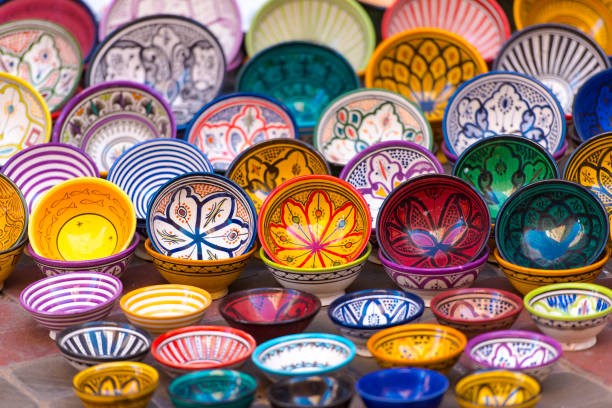 This souk is unlike any other, since it is one of the oldest in the Medina, and while it is a bit further away from the other attractions, it is well worth the trek.
A hospital used to be in the region, and people would congregate near it to sell henna and medications. Today's souk items are more developed, and the list includes black soap and other indigenous cosmetics.
The R'cif Square Souk

This souk, located in the middle of R'cif Square, allows visitors to experience the authentic colors and fragrances of Morocco.
It is mostly a food market where you can buy all of the local items such as fish, cattle, and, of course, fruits and vegetables.
Souk Boujloud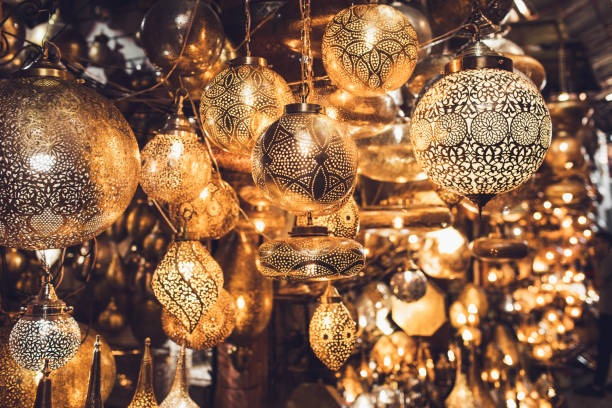 This is another souk to visit if you want to prepare a tagine at home. It is located just outside Fez's famed Blue Gates.
Souk Al-Attarine
Souk Al-Attarine is a long, narrow street that leads from Talaato Medersa Al-Attarine. Colorful spice vendors, dried fruit, nuts, plants, and even rustic clothes businesses line the roadway. It is the ideal location for taking photographs with brightly colored backdrops.
Mejjadliene Souk

Souk Mejjadliene has beautiful traditional belts that go well with kaftans and djellabas, but they may also be incorporated into a modern costume with a Moroccan touch.
Serrajine Souk
This is the major source for Moroccan slippers, which range in color and substance from leather to animal skin or even standard cotton slippers. Make sure to pick up a pair or two as a memento.
Tillisse, Souk

This souk sells reasonably priced handcrafted Moroccan rugs. It is a market frequented by residents and where tourists may observe the authentic colors of Moroccan streets. Rugs differ in color, fabric, manner of construction, size, and other factors. This is the rug equivalent of the 'Ali Baba Cavern.
Souk Hak's

This is another market that offers many types of slippers, but don't forget to enjoy the serene ambiance created by the neighboring souk and the sounds of birds.
Jeld Souk

In Moroccan, Souk Jeld literally translates to "Leather Market." Leather purses, poufs, slippers, and even boots are available. It's definitely worth a peek in here.
Casablanca's Top 10 Market square and Medinas
Although it may not be the first spot on many people's Moroccan bucket list, Casablanca offers enough sights and activities to keep you entertained for a few days. Morocco's economic hub has something for everyone, from the iconic Hassan II Mosque to one of Africa's largest malls. Haggling for discounts at the city's souks and wandering around the medinas are must-do activities.
Medina Antica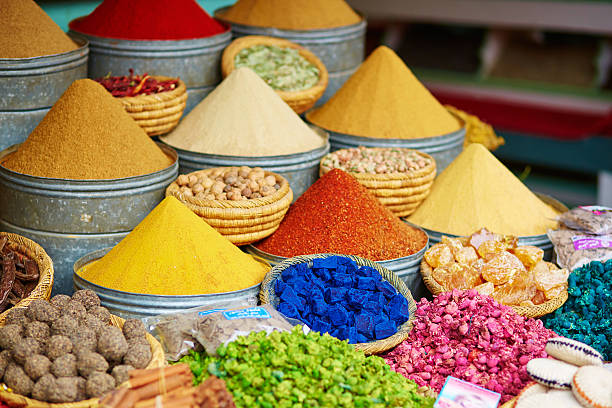 Casablanca's Old Medina may not be as large or fascinating as the medinas of Marrakech or Fes, but it does provide tourists with a glimpse into the city's history. The Old Medina, which was built before the French colonial era, is now mostly a residential neighborhood. Traditional dwellings discovered within the towering defensive walls show how people have lived in Casablanca for many years. There are also modest souks that sell a variety of traditional Moroccan items.
The Central Market
Casablanca's Central Market has a lot of food stalls and restaurants; it's an excellent spot to go if you're hungry! There are also kiosks selling Moroccan handicrafts and souvenirs, as well as daily necessities.
Olive Market in Habous
The Olive Market, located in the Habous Quarter, is an excellent site to observe local produce. Watch locals load up on olives of different colors and you might be tempted to buy a little bag to try as you go about. Olive oil is a terrific keepsake to bring home, especially if you wish to recreate some delicious Moroccan meals in your own kitchen.
Market Maarif

Maarif Market, located in Casablanca's Quartier Gauthier, is suitable for those looking for a taste of local life. Stalls are bursting to the seams with vibrant fruits and vegetables, fragrant spices, olives, meat, seafood, and fresh flowers. There is also a large assortment of argan oil-based products. The region around Boulevard Bir Anzarane has a more traditional feel to it.
Boucheries Marche
Marche des Boucheries is a major meat market in Casablanca. Observe butchers chopping up corpses and preparing chunks of meat for customers to buy and cook at home. At this fragrant market, you'll find everything from complete animals to prime chops and sheep's skulls. Locals may also buy live hens and eggs here.
Solidarity March

Le Marche Solidaire is a small farmers' market located beside Gare Oasis. Explore a variety of fresh fruit and dry items to have a better understanding of the components required to prepare traditional Moroccan recipes. Immerse yourself in the hustle and bustle of local life. Clothing and handicrafts are also available for purchase.
Flea Market in Derb Ghallef
Derb Ghallef's neighborhood is well-known for its massive second-hand market. Indeed, it is one of the country's largest permanent second-hand marketplaces. Electrical goods that are inexpensive can be obtained in plenty. It's a great place for folks who appreciate looking for one-of-a-kind stuff, featuring books, antique Moroccan clothes, furniture, and more.
Moina Soco (Moina Soup)
Another big flea market in Casablanca is Soco de Moina. It's in the Hay Hassani neighborhood. Visitors will find a treasure mine of goodies, including second-hand furniture, souvenirs, clothing, gadgets, books, decorative objects, and other unwanted stuff.
Nationale d'Artisanat Exposition
While not a typical souk or market, Exposition Nationale d'Artisanat is an excellent site to peruse and purchase traditional Moroccan crafts and gifts. The merchandise is distributed across three stories, presenting the best in Moroccan workmanship. Leather products such as purses, shoes, belts, and wallets are available, as are exquisite carpets, wooden carvings, fabrics, ornamental lamps and tea sets, and other items.