Come along for this well-liked one-hour ATV Quad biking in Swakopmund desert! Desert Explorers is regarded as the top adventure destination on Namibia's coastline, and we take pride in our first-rate customer care. By sticking to established paths and keeping our desert clean, we also place a high priority on protecting our desert. You may be confident that Desert Explorers will provide you with an amazing Namibian experience. Don't miss out on this; it's a MUST-DO. Although our trips are not private, you will probably travel with your own group during the off-peak season. Every six visitors get a guide, on average. Be aware that children who ride their own quad bikes must pay adult rates.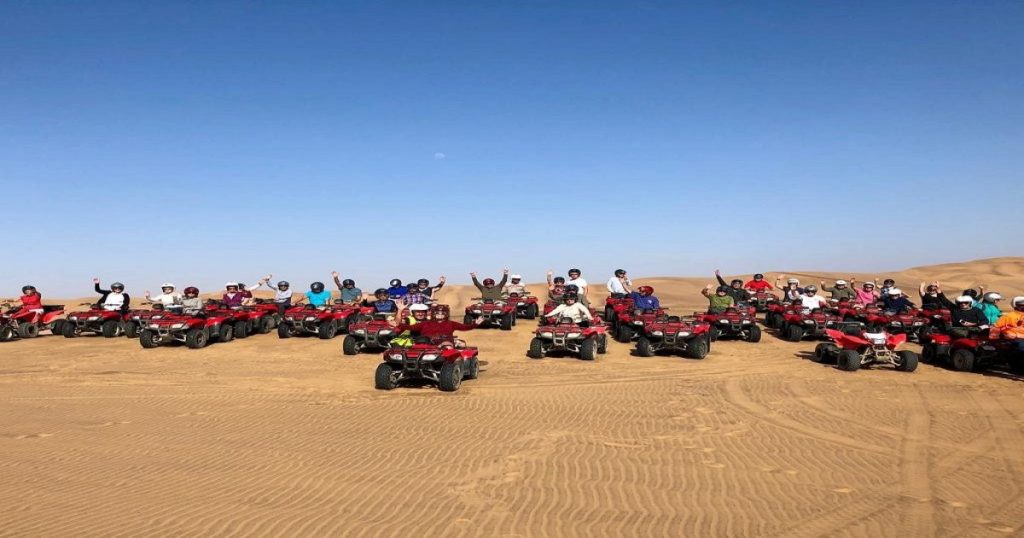 Additional Info
Confirmation will be received at time of booking
Not wheelchair accessible
Infants must sit on laps
Not recommended for travelers with back problems
Not recommended for pregnant travelers
Most travelers can participate
This tour/activity will have a maximum of 15 travelers
End point
This activity ends back at the meeting point.
Pickup details
Pickup information The cost will vary depending on the pick-up location and the number of people being picked up. Please get in touch with our facility if you have any unique requests. Because pick-up times may differ depending on where you are, please clarify how much time will pass before your scheduled activity.
What To Expect
Riding a ATV Quad biking in Swakopmund desert across Namibia's endless expanse of changing sand dunes is an exhilarating experience. You will be given a guided tour of the oldest desert in the world during your one-hour journey. Before leaving, guests will get a quick introduction and safety instruction. The journey begins slowly and steadily as we make our way to the bigger dunes, allowing you time to become comfortable with your quad bike.
Our experts will accompany you on every step of the route, and our quad bikes are really simple to use. Many of our visitors have never ridden a quad bike before, and they always talk about having an exhilarating experience. Stops will be made as needed, and one must record this incredible experience with photography. Children are very welcome. Children who are too young to operate a quad bike on their own may ride with an adult or one of the guides. This is unquestionably a Namibian "MUST-DO"!
Book this tour:
You can go between Swakopmund and Walvis Bay via the dune belt on a ATV Quad biking in Swakopmund desert for an hour. You'll go to the most popular sand-boarding dune. After an hour of lying down sandboarding, go back to the Desert Explorers headquarters. For those who love their adrenaline, this trip is perfect.
Tour ATV Quad biking in Swakopmund desert Oriented by Adrenaline
Take a ride of a lifetime on the largest sand dunes in the world. On this exhilarating excursion, explore the Namib Desert in a way you've never done before. This tour will definitely get your heart racing and provides amazing picture possibilities!
Explorer Tour for 1 or 2 hours ATV Quad biking in Swakopmund desert
Pedal a quad bike in the Namib Desert. While making many stops where you may get off and explore, our professional guide will enlighten you on a diversity of plant and animal life. The more laid-back traveler who wants to take it all in should join this trip.
Guided Run for Breakfast (min. 4 Persons)
Grab your traveling companions and go on a morning run across the oldest sand dunes in the world, the Namib. Once you've built up an appetite, breakfast at Rossmund Golf Club will be ready. Enjoy the scenic trip back to town as you take in the beauty of the early morning.
Experience with Sun-Downer
This experience should not be missed whether you are a hopeless romantic or a nature enthusiast! After a leisurely 90-minute quad-bike ride, have a lunch on top of one of the area's excellent vantage sites in the Swakopmund dune-belt. While enjoying some mouthwatering oysters, take in the stunning views of the Atlantic Ocean and Namib Desert.
Snacks, alcohol-free sparkling champagne, fresh oysters, and the services of a qualified guide, Transport back, Pickup at 15:00, departure sharply at 16:00
Combination Bike Tour/Lie-Down Sandboarding
Join this 3-hour tour if 2 hours of excitement aren't enough for you. Travel between Swakopmund and Walvis Bay over the dune belt, where the desert and the ocean converge. Get your heart racing by lying down and sandboarding for an hour on exciting dunes! Headquarter the Desert Explorers once again.