2 Nights Camel Trekking In Merzouga
2 Nights Camel Trekking in Merzouga
The best 2 Nights Camel Trekking in Merzouga​ with a local travel agency in Morocco Unique Desert Tour.
Are you seeking for an experience that will take you away from the monotony of daily life?
A 2 Nights Camel Trekking in Merzouga​ vacation in Morocco's Merzouga desert is the answer!
This is the ideal vacation for anybody searching for a unique and adventurous experience, from morning camel riding to an overnight stay in a desert tent.
You'll get the opportunity to discover the splendor of the Sahara Desert, take in breathtaking vistas, and even embark on a 4×4 adventure.
So, what are you holding out for?
Pack your luggage and prepare for an incredible vacation!
Things to know before embarking on this desert adventure
Where will we meet in Merzouga?
If you arrive in Merzouga by rental vehicle, we will meet you at or Riad Merzouga Dunes  where we arrange our Morocco Desert tours in Merzouga, where you will be able to leave your bags and have a shower before returning from your desert camel trek. Furthermore, if you arrive by bus, we will meet you at the Merzouga bus station and transport you to or riad Merzouga where we arrange our Morocco Desert Tours.
If I don't like camels, is there any way to travel to desert camp?
Without a doubt! For those who do not feel comfortable riding camels and wish to spend the night in the Sahara desert, we transport them by 4×4 vehicle to the desert camp, where they may participate in sandboarding activities and watch the sunset and dawn. You may also select between camel trekking and a 4×4 car to return to Merzouga.
Is there anything more I can do in the Merzouga desert?
Around the Merzouga sand dunes, Unique Desert Tour Company recommends ATV Quad biking in Merzouga and buggies.
2 Nights Camel Trekking in Merzouga Overview
If you visit Morocco and do not see the Merzouga desert, your journey is considered incomplete. Morocco's Sahara desert (Merzouga) is regarded as one of the top places in Morocco and the globe! Because of its magnificent golden sand dunes known as the Erg Chebbi dunes, as well as the most stunning sunset and sunrise in the world.
Discovering the Sahara Desert sands on a camel trip through Erg Chebbi dunes, spending a night or two nights in a Berber tent beneath the stars, and enjoying a performance of traditional Berber drum music performed by local people is one of the most popular things to do in Morocco. The finest activity in Merzouga's desert is two nights of camel trekking.
This Merzouga camel trek adventure will enable you to spend two nights in a desert camp. Before arriving at the camp, you will have a camel ride across golden sand dunes and observe the stunning sunset while sandboarding. After a great supper, listen to Berber music performed by local nomads beneath the stars on the first night, and if you like dancing, you may dance to the tones of barbarian music. The next morning, you'll get up early to see the gorgeous sunrise over Erg Chebbi's spectacular sand dunes, which shed diverse shadows and hues over the sea of sand dunes. Then you will leave the dunes and board a 4×4 to begin your desert day trip by seeing the Gnaoua nomads.
The itinerary 2 Nights Camel Trekking in Merzouga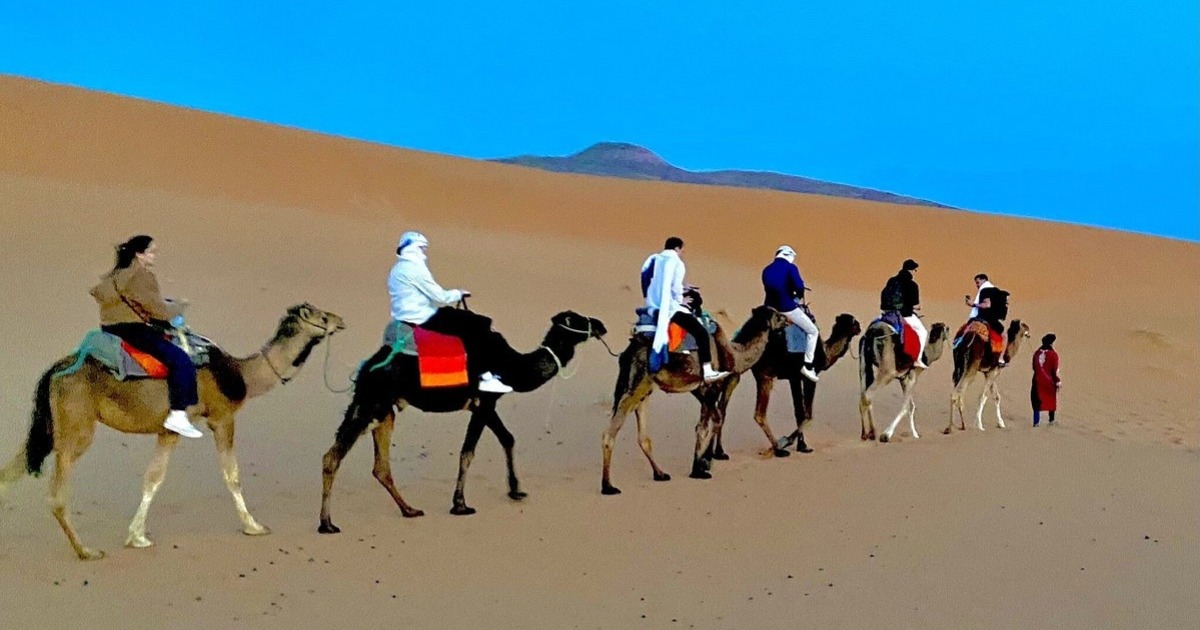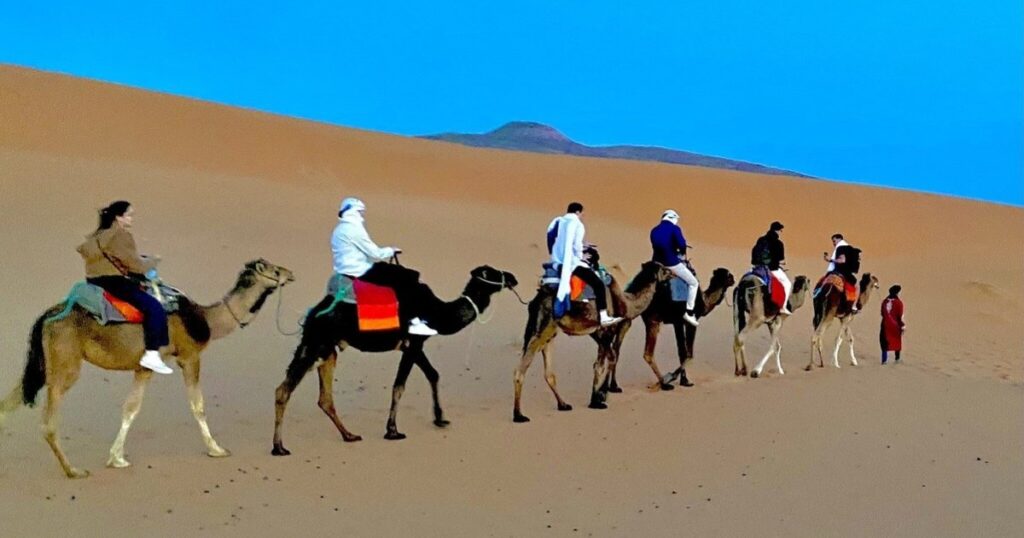 Day 1: Sunset , Camel Trekking, Merzouga, Desert Camp Overnight
Enjoy a spectacular dawn camel journey over the huge Merzouga desert, followed by a 4×4 trip and a comfortable overnight stay in a desert camp.
Begin your tour in the evening, two hours before sunset, riding camels across the sand dunes in order to see the stunning desert sunset. Capture this moment on video, and don't forget to take in the breathtaking vistas of the golden sand dunes.
Following the camel trip, you will go to the desert tent for a restful night under the stars. Enjoy a classic Moroccan mint tea with your supper. Listen to the Berber music performed by local nomads around the campfire, and don't be afraid to dance.
Finally, sleep beneath the stars and prepare to wake up to an incredible dawn.
Merzouga – 4×4 Excursion – Overnight in Riad 
Watch the dawn over the desert mounds, then go on a 4×4 adventure to meet nomadic Berbers, learn about the culture of the Gnaoua people, and spend the night in a desert tent.
Begin your adventure early in the morning by riding camels and marveling at the stunning sunrise. After that, pay a visit to the nomads who still live in Berber tents in the center of the Sahara desert and learn about their way of life.
After that, go on a 4×4 tour of the Meffis mines and the little settlement of Khamilia. You will learn about the Gnaoua people's culture via their music and way of life. Return to Merzouga and spend the night in a desert tent after lunch with the black people.
Enjoy a peaceful night beneath the star-studded sky while exploring the variously sculpted sand dunes. The following morning, get up and ride the camels back to the hotel or riad where our Morocco excursions are organized.
Included with the price
Transportation via private car with air conditioning;
Experienced English, Spanish, and French guide/driver; Car Fuel; Car Insurance; Camel Guide; Camel Ride in the Sahara Desert (one camel per person);
Stay at a deluxe or ordinary desert camp for two nights (your option);
2 dinners; 2 breakfasts; sandboarding (optional); Moroccan mint tea; auto parking
prices are not included.
Vegetarian options are available; please specify at the time of booking if you want them; children must be accompanied by an adult.
We have customized different tours itineraries from Marrakech, desert tours, and city tours. However, if the plans below do not match what you are looking for, please fill in our contact form with your needs. 
Unforgettable night in the Sahara desert beneath the stars
A Sahara desert safari is a must-do while visiting Morocco. I've done this several times throughout the Middle East, including Dubai, Abu Dhabi, and Doha, so I know what to anticipate. I looked through the many excursions available, checked pricing, and finally chose this one since it was quite affordable. This lived up to and beyond expectations. Ahmed and his staff were wonderful hosts, hospitable, charming, kind, and true Berbers who offer you a peek of their Berber existence while also allowing you to explore the magnificent Sahara. They also speak English, French, Italian, Spanish, and Arabic (maybe more, but that's all I heard during our visit). The excursion was jam-packed with activities, including dune bashing, camel rides, live Berber entertainment, a campfire, supper, and dawn views. The tents were spotless, well-equipped, and roomy, with a queen-sized comfy bed and separate restrooms. The personnel is extremely welcoming and will assist your requirements and supply extras without hesitation. My pals and I had a sand bath and a wonderful nighttime hike into the desert. Not to mention spending the night seated on a sand dune beneath the Milky Way, watching the numerous stars leap across the sky.
I returned to the wonderful town of Merzouga for the second time, this time with my family. We contacted Ahmed a few days before to check his availability and to plan our schedule for our two-day desert adventure. We had the nicest experience in the region, spending three days relaxing and eating delicious meals. If you're seeking for an incredible trip, look no further. Reccomended.
Excellent experience, highly recommended.
Excellent experience; I wholeheartedly suggest it. The camp is lovely, and the tents are spacious and clean. But the people are the most remarkable; they are so helpful and friendly. I would suggest riding camels one way and driving the other; both are fantastic experiences.