Taghazout is the ideal spot for anyone searching for an unforgettable surfing trip. This picturesque hamlet on Morocco's coast is famed for its steady waves and magnificent scenery, making it a popular destination for surfers from across the globe.
Taghazout provides something for everyone, whether you're a novice or an expert surfer.
We'll cover all you need to know about surfing Taghazout in this comprehensive guide. We've got you covered on everything from the best time to visit and where to stay to the greatest surf locations and local suggestions.
So take your board and let's go surfing in this paradise!
What Is the Best Season to Go Surfing in Taghazout?
If you're thinking of going surfing in Taghazout, Morocco, you should know the optimum time of year to go.
As a regular tourist and surfer, I can certainly state that the best surfing season at Taghazout is from November to March.
During these months, persistent swells from the Atlantic Ocean provide some of the world's greatest waves.
While winter may not seem to be the best season for a beach holiday, it is really wonderful for surfing in Taghazout.
The water temperature stays pleasant at roughly 16-18°C (60-65°F), and with less visitors present, there will be more room to catch waves.
Plus, after a long day on the water, you can unwind in one of the town's numerous lovely cafés with a cup of authentic Moroccan mint tea.
How to Reach Taghazout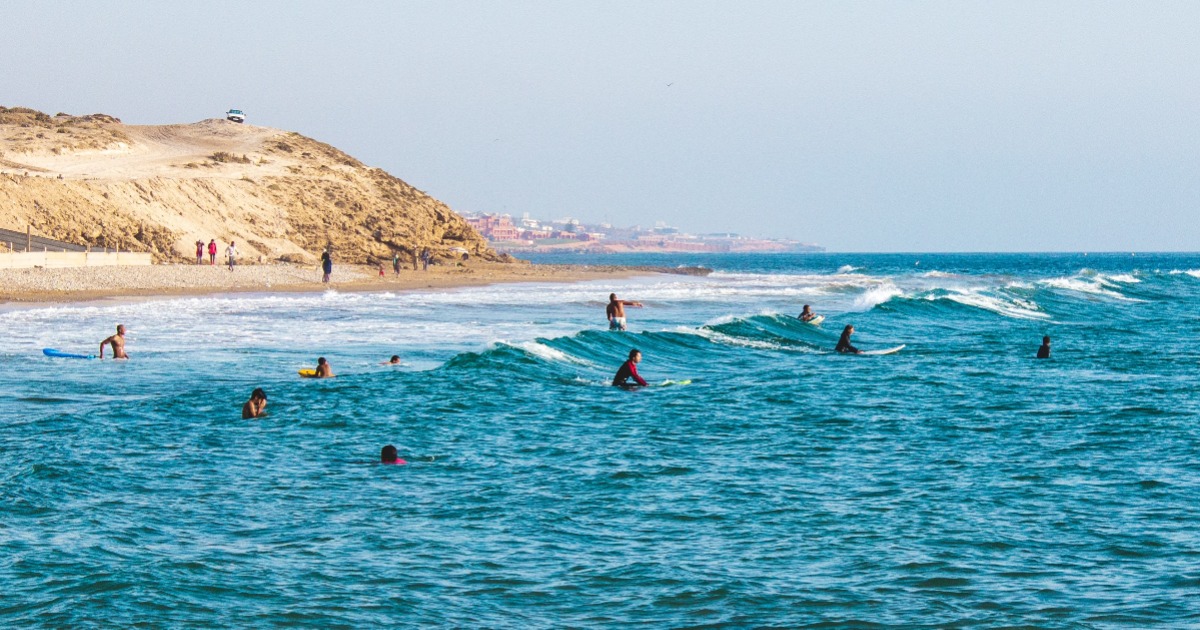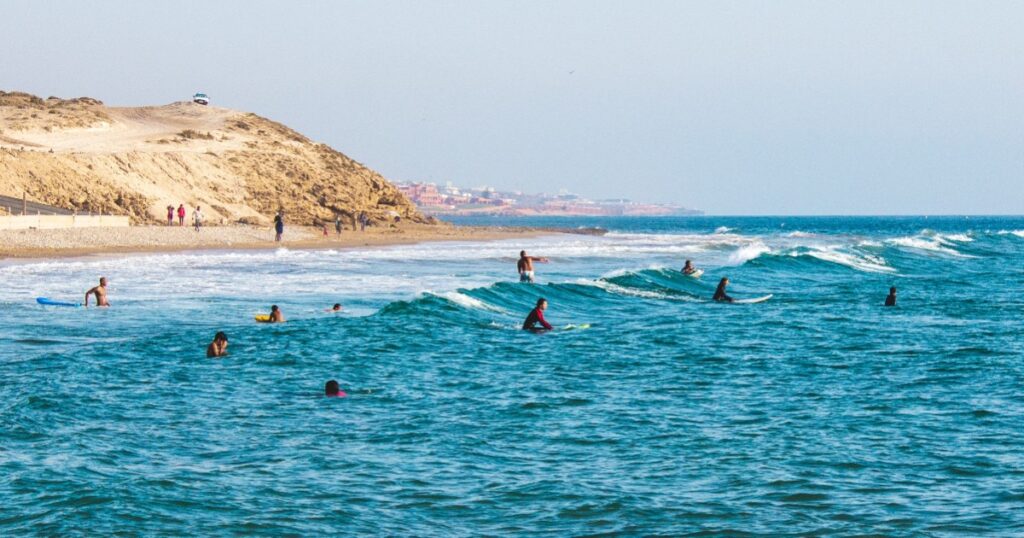 It's time to start organizing your vacation now that you know the ideal time of year to surf in Taghazout.
It is pretty simple to go to Taghazout, and there are various possibilities.
The nearest airport is Agadir Al Massira Airport, about a 45-minute drive from Taghazout.
You may also fly into Marrakech Menara Airport and then take a bus or rent a vehicle for the 3-4 hour trek to Taghazout.
If you don't want to fly, there are trains and buses from major Moroccan cities.
You may reach to Taghazout by taxi or automobile if you arrive in Agadir or one of the adjacent cities.
It's crucial to remember that if you want to drive yourself, you should hire a four-wheel drive car since the roads going up to the surf sites may be rather bumpy.
It may take some preparation and effort to get to Taghazout, but it will be well worth it once you get at this surfer's paradise.
Getting there shouldn't be too tough, with planes, buses, and vehicles accessible from major Moroccan cities.
Just be sure to prepare ahead of time and choose transportation that meets your demands and budget!
Beach Camps in Taghazout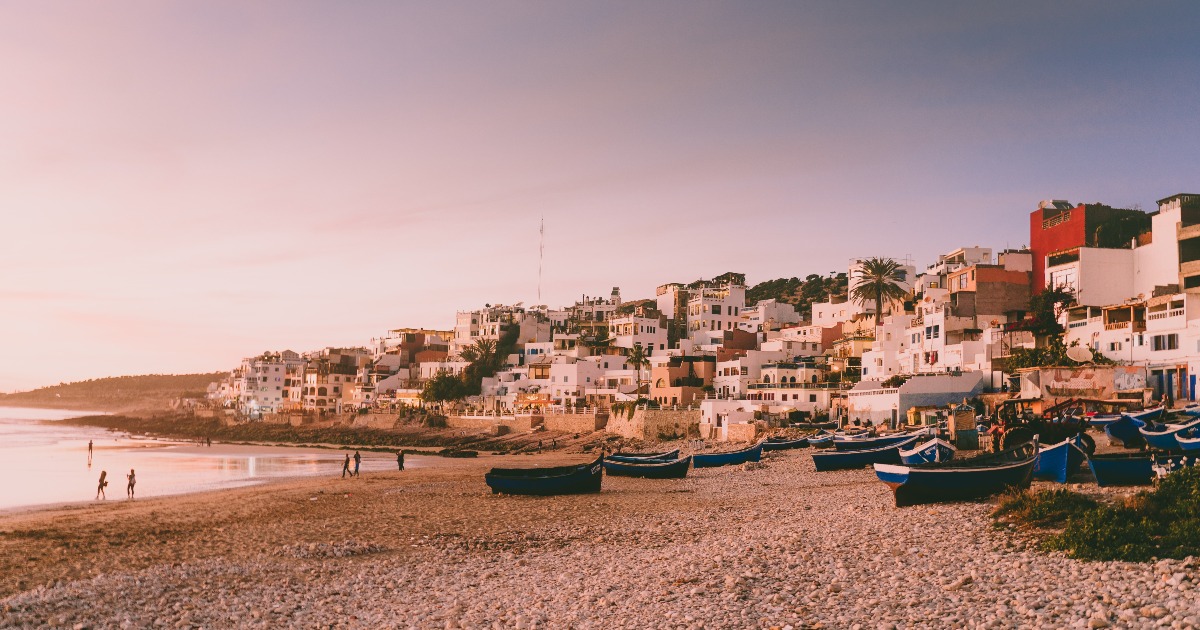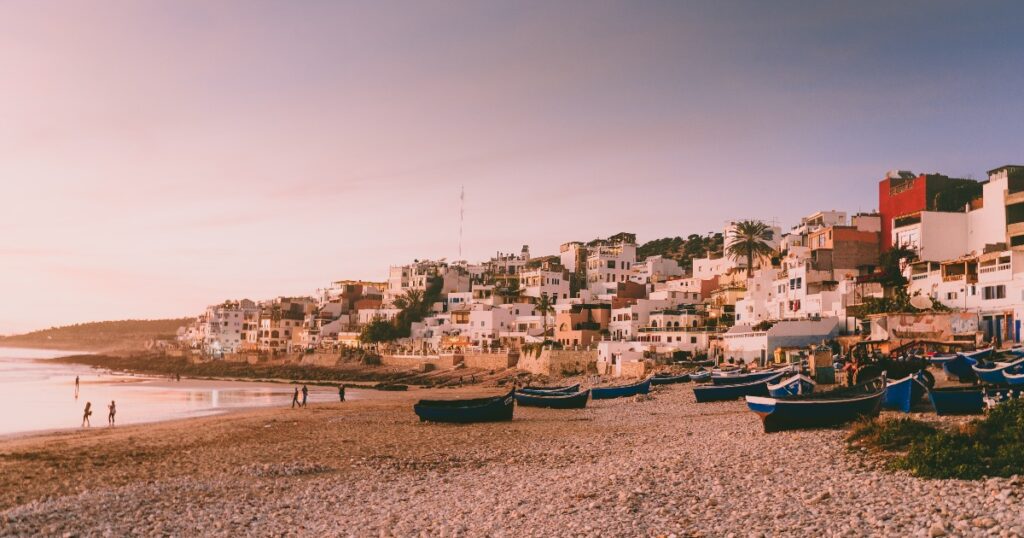 A surf camp in Taghazout may be precisely what you need whether you want to improve your surfing talents or if you're a newbie wanting to learn the ropes.
There's something for everyone here, with a range of camps and packages to choose from.
Most Taghazout surf camps include lodging, food, and surf instruction into one package. This makes it a simple and handy way to enjoy all this incredible surf location has to offer.
Whether you're traveling alone or with a group of pals, a surf camp is a wonderful opportunity to meet other surfers who share your enthusiasm. You'll also be able to enhance your abilities swiftly and securely with the help of qualified instructors.
Many of the camps also include extra activities such as yoga sessions and tours to surrounding sights. Some even provide equipment rental, so you don't have to bring your own.
So, why not take the stress out of arranging your next surfing holiday and book yourself into one of Taghazout's top-notch surf camps today?
Villa Dfrost Almugar Taghazout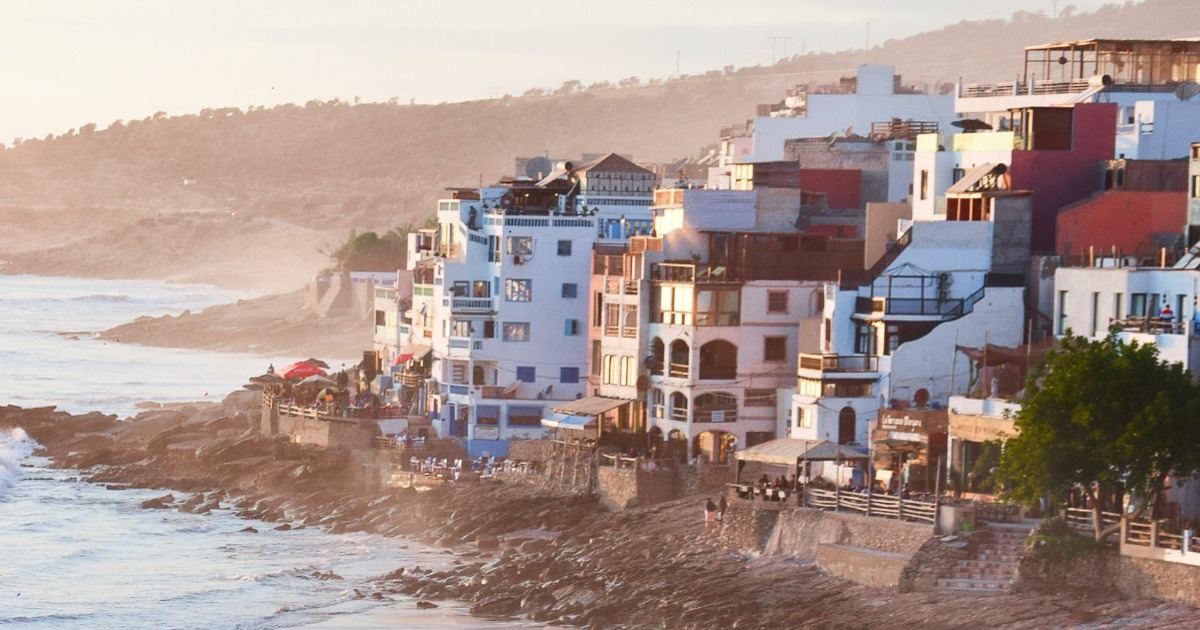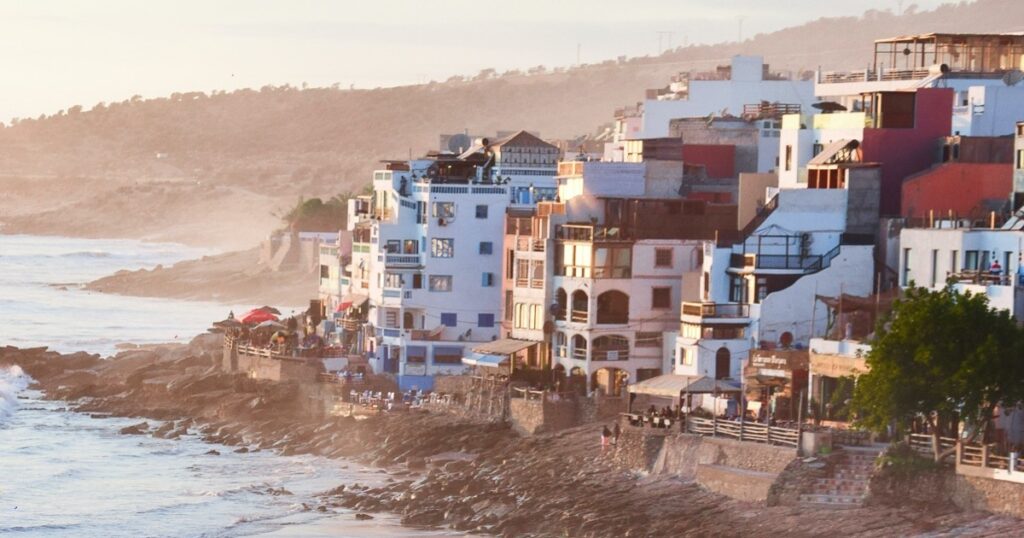 So, if you're seeking for a location to stay in Taghazout that combines comfort, elegance, and affordability, the Dfrost Almugar Taghazout Villa is a must-see.
This magnificent property, located only a stone's throw from the beach, is ideal for people who want to be near to the excitement while also enjoying some peace and quiet.
The villa provides everything you need for a pleasant stay, including big rooms with en-suite bathrooms, a fully-equipped kitchen, and a gorgeous rooftop terrace with panoramic ocean views.
The staff is also very kind and helpful, making you feel at ease from the time you walk in.
Overall, if you want to have an exceptional surfing experience in Taghazout, this property is a must-consider.
If you're still not persuaded that Dfrost Almugar Taghazout Villa is the place to stay, let me tell you about their excellent surf packages.
They offer something for everyone, whether you're a novice or an expert surfer.
They provide everything from surf instruction to guided surf excursions to equipment rental.
Furthermore, their teachers are very skilled and enthusiastic about what they do, so you'll be learning from the best!
So, why delay? Make your reservation at Dfrost Almugar Taghazout Villa immediately and prepare for a fantastic surfing trip!
Strong Surf House
After enjoying Dfrost Almugar Taghazout Villa's exquisite facilities and breathtaking views, it's time to move on to the next surf house on our list: Solid Surf House.
This modest yet dynamic surf house is ideal for anyone looking to immerse themselves in the authentic spirit of Taghazout. The staff is courteous and helpful, making you feel right at home from the moment you arrive.
The rooms are clean and pleasant, with everything you need for a nice stay. But what really distinguishes Solid Surf House from other Taghazout lodgings is its incredible community spirit. While sharing a meal or hanging out in the common spaces, you may quickly meet new acquaintances from all over the globe. Don't forget about the surf instruction and guidance offered for all skill levels!
So, if you're seeking for a fun and energetic environment during your surfing vacation, Solid Surf House is a must-see.
The surf house changes into a center of activity at night, with live music performances and BBQs on the rooftop terrace overlooking the ocean – ideal for viewing magnificent sunsets with excellent company. If you're feeling adventurous, there are lots of things to do around town, such as trekking and visiting local markets.
Overall, Solid Surf House is a one-of-a-kind and unforgettable experience that will leave you wanting more – an essential must-see in Taghazout!
Morocco's Surf Coast
When it comes to surfing, Morocco's coastline is a must-see. The nation has a number of world-class surf areas that appeal to surfers of all skill levels.
But one site stands out from the rest: Taghazout, a little fishing hamlet on Morocco's Atlantic coast. Taghazout is well-known about its consistent and strong waves, which draw surfers from across the globe.
There are several breakers to select from whether you are a novice or an expert surfer. Anchor Point, Hash Point, and Panorama Beach are also popular sites. Taghazout is the ideal spot to catch some waves and take in the Moroccan sun, with pleasant water temps all year and a laid-back environment.
Taghazout Surf Resorts and Hostels
Now that you've determined where to discover the greatest surf locations in Taghazout, it's time to consider lodging.
Fortunately, there are several surf resorts and hostels in the region. There's something for everyone, whether you're on a budget or seeking for something more sophisticated.
Surf Maroc is a popular alternative. This surf camp provides both shared and individual accommodations, as well as daily surf instruction and equipment rentals.
Sol House Taghazout Bay – Surf is another excellent option. This chic resort has a rooftop patio with magnificent ocean views and an on-site surf school.
You'll be only feet away from some of Morocco's greatest waves, no matter where you stay.
Taghazout Surfing Locations
When it comes to surfing in Taghazout, there are several alternatives. The hamlet is home to some of Morocco's greatest waves, attracting surfers from all over the globe.
There's a location for everyone, whether you're a novice or a seasoned surfer. Anchor Point is a renowned surfing point in Taghazout. On a good day, it's a steady right-hand break that may create lengthy rides of up to 300 meters.
Hash Point, which is better ideal for novices and has both left and right-hand breaks, is another fantastic site. Panorama, Boilers, and Killer Point are all renowned sites, each with its own unique qualities and skill levels.
So, grab your surfboard and go out to these amazing surf places! As you can see, there are several opportunities for surfing in Taghazout. Each location has its own distinct traits that make it worthwhile to visit. So don't limit yourself to one location; try them all! You never know where your next favorite break will come from.
Remember to always be respectful of the residents and the environment while enjoying these stunning waves. Have fun surfing!
Point of Contact
My heart was pumping with excitement as I paddled approached Anchor Point. This legendary surf area is famed for its lengthy, powerful waves that appear to go forever.
As I neared the lineup, excitement was coursing through my veins as I watched the expert surfers carve their way down the flawless face of the wave.
I knew Anchor Point was exceptional the moment I caught my first wave there. The sensation of surfing those enormous walls of water was amazing; it was an experience that every surfer fantasizes about.
When you're not surfing, the view from the beach is as stunning. Anchor Point is one of Morocco's most popular surf destinations, with steep cliffs and crystal-clear water reaching out as far as the eye can see.
Draculas
After catching some waves at Anchor Point, it's time to continue on to Taghazout's next surf location, Draculas.
The Dracula Castle hotel that overlooks the beach inspired the name of this holiday.
Don't be deceived by the name; this place is tough for novices because to the jagged reef bottom and the potential for large barrels.
This is the place to go if you're an intermediate or experienced surfer looking for a challenge.
Draculas is a right-hand point break that operates best with a north-west wave and at mid to high tide.
The wave may reach a height of 10 feet and provides lengthy rides with steep drops and rapid parts.
You'll feel like you're surfing in a dream if you're fortunate enough to get this position on a nice day.
Just remember to respect the local surfers and give them their due share of the waves, as they are known to be fiercely protective of their home break.
Boilers
Boilers is a popular surf break in Taghazout, Morocco. It was called for the ancient steam boilers found on the shore after a shipwreck many years ago.
This surf place has a strong and rapid wave that is ideal for experienced surfers. It might become busy during peak season due to its popularity, so it's better to visit early in the morning or late in the afternoon.
Boilers' wave breaks over a rocky bottom, which may be deadly if you're not cautious. Before venturing into the sea, it's critical to verify the tide and surf conditions.
If you're not sure in your surfing talents, it's preferable to study how other surfers manage the wave from the shore. Overall, Boilers is an exciting and tough surf place that will put your surfing talents to the test.
Point of No Return
Killer Point is a well-known surf area in Taghazout, and it's easy to understand why. It's no surprise that skilled surfers flock to this place, with regular waves that can reach up to 15 feet on a good day. But don't be put off by the moniker; Killer Point is ideal for intermediate to experienced surfers.
When the surge is at its highest, the ideal time to catch waves at Killer Point is during the winter months. The break may be rapid and hollow, which is ideal for individuals who want a challenge.
However, novices should avoid this location since the strong current and huge waves might be deadly if you are not sure in your abilities. If you're feeling daring, try Killer Point; just remember to be respectful to the locals and other surfers in the ocean.
The Source
La Source is a popular surf location in Taghazout, and it's easy to understand why. It's ideal for both beginners and expert surfers, thanks to its regular waves and stunning environment.
One of the nicest aspects about La Source is that it is not overcrowded. While some of Taghazout's other attractions may become rather crowded, La Source is a little calmer. This means you will have more room to catch waves and will not have to worry about crashing with other surfers.
Furthermore, the tranquil environment makes it ideal for just resting and admiring the beauty of Morocco's coastline.
Panoramas
After experiencing the excitement of La Source, it's time to discover another Taghazout treasure: Panoramas.
With gently rolling waves that make it simple to grab a ride, this surf area is ideal for beginners and intermediate surfers.
Panoramas, located only a short walk south of Taghazout town, provides breathtaking views of the beach and the mountains beyond.
The vibe here is relaxed and welcoming, with regular surfers eager to offer ideas and advise with newbies.
So take your board and go out on the ocean – you won't be sorry!
The Banana Beach
Banana Beach is one of Taghazout's most prominent surf places. This long and sandy beach, only a few kilometers north of the settlement, provides good waves for surfers of all abilities.
Banana Beach is ideal for both novice and expert surfers looking to catch some great waves. Low tide is the greatest time to surf at Banana Beach since the waves are more steady and less strong.
The beach features many peaks that break both left and right, providing a range of waves for surfers of all skill levels. If you're a novice, it's best to take training from one of Taghazout's several surf schools before trying to ride the waves at Banana Beach.
You'll be surrounded by stunning surroundings when you paddle out into the lineup at Banana Beach, with rocky cliffs along the shore and crystal-clear blue sea reaching out to the horizon. The atmosphere is calm and welcoming, making it a great location for meeting other surfers from all around the globe.
So, whether you're searching for a location to catch your first wave or simply want to have some fun with your buddies, Banana Beach is a must-see while in Taghazout.
The Devil's Rock
Now that we've investigated Banana Beach, it's time to go on to Taghazout's next surf location, Devil's Rock.
This famous break is only a short drive from the village and provides steady waves for surfers of all skill levels.
You'll see the dramatic red rocks that give this surf location its name as you approach Devil's Rock.
The beach is a touch more crowded than some of Taghazout's other breaks, but it's worth it for the quality of the waves.
Devil's Rock has something for everyone, whether you're a novice or a seasoned surfer.
Just be sure to check the tide chart before you go, and keep an eye out for rocks and coral on the ocean bottom.
If you're planning a surfing vacation to Taghazout, Devil's Rock is one of those surf areas you can't afford to miss.
This break never fails to please with its breathtaking landscape and great waves.
So take your board and go down – you won't be disappointed!
Imsouane
Imsouane is a little fishing town approximately an hour's drive north of Taghazout. It's famous for its lengthy, curving waves that may reward surfers with 500-meter-long rides. The surf here is finest in the winter when the surges are higher, although it may still be fantastic in the summer.
The 'Cathedral' wave, a right-hand point break that breaks over a sand and rock bottom, is one of Imsouane's distinctive features. This wave may be difficult to negotiate and needs some skill, but it's certainly worth checking out if you're ready for the challenge.
Overall, Imsouane is a wonderful site for intermediate to experienced surfers seeking longer rides and less packed lines than other prominent Moroccan surf destinations.
The village's laid-back ambiance is also a welcome departure from Taghazout's hustle and bustle. There are several lodging options near the beach, ranging from budget-friendly hostels to more upscale hotels.
When you're not surfing, spend some time exploring the hamlet and its surroundings – there are many of hidden treasures to be found. Imsouane provides something for everyone, whether you're seeking for difficult waves or a quiet holiday.
Taghazout Surfboard Rental
When it comes to Taghazout surfing, having the correct equipment is essential for a great session. If you're visiting from out of town and don't have your own surfboard, renting one is a great choice. Fortunately, Taghazout has a plethora of surf shops that rent out a range of boards at affordable costs.
Before you go to the rental business, you should know what kind of board you need. Longboards or foam boards are better for beginners since they provide more stability and simplicity of usage. Shortboards or fish boards may be appropriate for more experienced surfers depending on the wave conditions.
Remember that some stores may charge a deposit when renting a board, so be sure to ask about any extra expenses ahead of time. You'll be catching waves like a pro in no time if you have the correct board and little practice!
Taghazout Surfing Travel Insurance
After you've arranged for your surfboard rental, it's time to consider travel insurance for your Taghazout surfing adventure. While it may not be the most exciting element of organizing a surf vacation, it is an important component that should not be disregarded.
Travel insurance may assist cover you in the event of unanticipated events such as lost or stolen luggage, accident or sickness, or canceled flights. When looking for Taghazout surf insurance, search for plans that expressly cover adventure sports and activities. Read the tiny print to learn what is and isn't covered.
Some plans may limit the size of waves you may surf or need extra coverage for particular activities. Consider adding trip cancellation/interruption coverage and emergency evacuation coverage to your medical coverage and equipment protection for added peace of mind.
You'll be able to relax and enjoy your stay in Taghazout knowing you're secured if you take the time to study and acquire travel insurance.
Before acquiring any travel insurance coverage, we urge that you contact with a competent insurance specialist.
Conclusion
Overall, surfing at Taghazout is an amazing experience that I strongly suggest to everyone who enjoys catching waves. This Moroccan surf village offers all you need for a fantastic holiday, from the ideal weather to the breathtaking surroundings.
Whether you're a novice or an expert surfer, Taghazout has a plethora of surf camps and rental businesses to assist you make the most of your stay there.
So grab your board and prepare for an adventure – you won't be sorry!
Other Big Questions People Often Ask
Moroccan Nomads – Sahara Desert Nomadic Life
Tipping In Morocco – How Much To Tip Tour Guides, Drivers