Morocco Honeymoon packages
Morocco Honeymoon packages
Morocco honeymoon or have been married for a long time, there will be something you haven't thought of! A lovely honeymoon to remember.
For newlywed couples, Morocco is one of the most popular honeymoon locations. Anyone interested in culture, history, or natural scenery will find this a heaven. In this study, we provide the greatest tourist destination programs in Morocco, allowing you to go on a life-changing adventure.
We'll collaborate closely with you to determine precisely what you want out of your Morocco honeymoon.
Morocco is an excellent choice for a young married couple who wishes to enjoy their post-nuptial bliss with only an exotic getaway not too far from home. Morocco honeymoons are likely to be packed with lots of fun and dreams of romance, whether you choose city or sea, mountains or deserts (or a mix of all three). Begin your journey in Marrakech, the country's most famous city, where you can take a guided tour of all the best off-the-beaten-path sites, from locally beloved restaurants to incredible souqs. You can explore the magnificent Atlas Mountains from Marrakech for hiking and spectacular vistas while sipping mint tea. Continue reading
Congratulations! With the one you love, you are entering a magnificent new chapter of life. This is a great time of year, full of anticipation, delight, and planning! We realize how much time and effort goes into planning your wedding, so we want your Morocco Honeymoon to be as stress-free as possible.
It's time to start planning now that you've decided which nation you'd want to visit together. Morocco is beckoning you to a romantic break; all you have to do now is decide what you want to see and do in this magnificent nation!
Who is in charge of the planning?
One of the very first things you'll need to discuss as a couple is who will be in charge of arranging your vacation. It isn't always a question of who is better organized or has greater travel experience.
I'll presume there's no doubt in your mind about whether you'd like a private or group trip! Your honeymoon is an opportunity to put your heart and soul into the start of your new marriage. The intimacy and quality time spent together are really valuable! This should be preserved and enjoyed to the fullest extent possible.
Will you plan your vacation with a tour company that specializes in private Moroccan tours? Or do you want to get right into this journey and travel with just the two of you? If you decide to utilize a tour agency, be sure to tell them it's your Morocco Honeymoon packages.
They'll be delighted to see what sort of offers, packages, or unique extras they can put together to make your vacation to Morocco one to remember. Whether you're working with an agency or doing your research, the following information will be useful and instructive in helping you plan the perfect honeymoon.
Now that you've decided where to go on your Morocco Honeymoon packages, it's time to figure out when! Whether or not your wedding date is fixed in stone will determine this. Do you want to tie the knot at a certain time of year or month? Then, based on this specified date, your vacation may modify.
Alternatively, you may not feel compelled to take a Morocco Honeymoon packages right following your wedding, instead choosing dates that are more conducive to travel. If your trip plans are variable, read below for the ideal time of year to visit! When it comes to activities, places, events, and weather, think about what time of year is ideal for you. On the other hand, if your trip dates have already been set, look into what is at its finest at the time of year you will be visiting! Check out our guide to the Best Time to Visit Morocco.
Departure and Arrival
Here are four primary choices to consider when you arrange your arrival and departure:
Casablanca:
For cross-Atlantic or transcontinental travel, this airport is often the best choice. If you are traveling from the United States, direct flights are available from several airports (including JFK in New York) to Casablanca, making it a simple and handy alternative.
Marrakech:
Marrakech's airport is mostly utilized for smaller planes arriving from Europe.
Fes:
If coming in from a large European city, the Fes-Saiss airport is typically the best option. Intercontinental flights arrive and leave from Fes, however, they are frequently more costly than those arriving and leaving from Casablanca.
Tangier:
If you are spending part of your journey in Spain or traveling into Morocco from Europe, starting or finishing in Tangier is a terrific choice. The boat from Spain to Tangier, Morocco, is a convenient route to enter Morocco.
Round trip tickets are usually the most cost-effective alternative. If you're short on time in any manner, though, you may want to consider flying into one airport and out of another. This eliminates the need to return to your starting place, allowing you to make the most of your time in the nation!
When Should Cities and Regions Visit?
What cities do you want to visit? Is there a spot you've always wanted to visit? Is there a place that appeals to you as a fantasy vacation spot? A city that looks like it's straight out of a movie? Is there anything on your bucket list that Morocco could assist you with?
Make a list of "must-see" places when determining which cities or areas to include on your itinerary. Is Chefchaouen, the blue city, on your list of places to visit? Have you ever fantasized about riding camels in the Sahara desert and sleeping in a tent under a million stars? Is Essaouira, Morocco's beach city, calling your name? Do some study on what Morocco has to offer and what you'd want to see and do while you're there! Morocco has a lot more to offer than you may think at first.
Weather and Climate
Morocco has three primary climatic areas to consider: the Coastal Region, the Inland Region, and the Saharan Southern Region, due to its location along the Mediterranean, Atlantic, and the Sahara Desert.
The weather in the Coastal Region is typically moderate, with mild winters and pleasant summers. These cities are relieved of the cold that affects the interior areas and mountains, as well as the dry, scorching summers that come from the desert, thanks to the seaside breezes and weather patterns. Essaouira, Tangier, Casablanca, Rabat, and Agadir are some of the prominent cities in this area worth visiting.
The weather in the Inland Region is more like that of other Mediterranean nations. The weather will be rainy, damp, and chilly throughout the winter. While the summers might be scorching, the fall and spring seasons are when this region shines. Here, the mountains and valleys come to life, presenting towns and attractions like Fes and Marrakech. Even if you face more harsh weather than you anticipated, it's worth it since there's so much to see and do here.
The Saharan Southern Region is precisely what you'd expect it to be: a desert! Even in the dead of winter, there will be plenty of sunshine and mild temperatures. While the desert might be cool or even frigid at night, the force of the North African sun is seen as the sun rises! Temperatures are milder and more pleasurable in the spring and fall. However, if you plan on visiting during the summer, be prepared for the heat!
Check out our in-depth piece on the best time to Morocco Honeymoon packages in Morocco for more information!
Where should I stay?
It might be difficult to decide where to stay. Consider if you'd want to stay in traditional Moroccan riads or Western hotels. Are you trying to save money by staying in a 3-star hotel, a comfortable 4-star hotel, or a luxurious 5-star hotel?
If you're feeling overwhelmed by the possibilities on TripAdvisor, it's a good idea to seek advice from a travel professional. They'll be able to advise you on the finest spots to visit while staying within your budget.
Here are 8 charming for your Morocco Honeymoon packages hotel choices based on personal experience! There is something exceptional for you to explore, from Kasbah Tamadot in the High Atlas Mountains to the iconic Hotel La Mamounia in Marrakech, Riad Fes in the imperial cultural center of Morocco to the naturalistic getaway in the Dades Valley of L'ma Lodge! What is our recommendation? Spend at least one night in a five-star hotel: You'll only be in Morocco once (maybe), so why not book a five-star hotel in Marrakech or another city along the way?
Extras and Add-ons
What one thing would you add to your vacation to make it even more incredible? Golfing? Hiking next to a waterfall? In the desert, sandboarding? Are you interested in learning how to prepare authentic Moroccan cuisine? On the beach, horseback riding? Outside of Marrakech, how about a hot air balloon ride? A two-person spa package? This is the time to spoil yourself! This excursion is only for you and your partner. Go all out and indulge! It's your once-in-a-lifetime opportunity!
Make a list, then do some research or consult a travel agency about what is feasible in Morocco.
Pace and Length
How long will you be in the country? Our recommendation is to go at a slower speed than you expect. Most individuals attempt to visit too much in too short a time, resulting in a hurried vacation. When you look at the whole continent of Africa, Morocco may seem to be a little nation, but it is much larger than you believe! Traveling by vehicle or rail is one of the greatest ways to view the country up and personal, so keep in mind how long your drive or train trip will be as you go from city to city.
Tip: When it comes to estimating travel time between places, Google Maps isn't always the most reliable source. We've discovered that it often underestimates the amount of time it will take to go from one city to the next. Remember to factor in pauses for petrol, toilet breaks, and lunch breaks. When in doubt, try if you can get a more precise mileage estimate from someone who has traveled that route!
Travelers often tell us that their travels were overbooked and that they would have liked to add a day to rest and enjoy their accommodation. You don't want to have a hurried honeymoon!
What to Bring: A Checklist
Dressing in a Culturally Appropriate Way
While Morocco is accustomed to visitors from all over the world passing through, it's important to remember that the country still maintains a traditional Muslim culture. You can get away with more the more touristic your region is. The more remote your place, the more you should listen to locals and other ex-pats about what is appropriate (or inappropriate) to wear. Because the guests are largely tourists, you are free to dress whatever you like within the hotels. Bring some more formal dinner alternatives, particularly if you're staying in a 4 or 5-star riad or hotel!
For males, the typical rule is to avoid wearing shorts (especially in villages where they are viewed as undergarments rather than legitimate attire) and to stick to full-length trousers. When it comes to shirts, it's probably best to leave the tank tops at home and stick to t-shirts or long-sleeve shirts. When it comes to taking a refreshing dip in the pool, consider bringing your swimming trunks rather than a more European-style speedo.
For women, the majority of advice would advocate wearing sleeved shirts, slacks, or skirts that go beyond the knee, and avoiding low-cut tops in general. Shorts and tank tops are not recommended to wear when out and about. Women who travel often find that adhering to these standards helps them experience less unwanted attention and remarks.
It's a good idea to have a scarf in your bag for added protection. Consider a more modest one-piece swimsuit or a two-piece alternative like a tankini for swimming. Loose-fitting garments made of light materials keep you comfortable in the heat while still being respectful to Moroccan tradition. As the weather fluctuates during the day, layering garments may also be beneficial.
Clothing:
Winter: a thick coat if going to the mountains or desert, a jacket if going to the seaside; Summer: light jacket for evening depending on where you go) Spring and Autumn: a jacket to keep you warm from the overnight cold; Summer: light jacket for nighttime depending on where you travel)
Socks and undergarments are essential.
T-shirts and long-sleeve shirts (and/or tunics for women) are the most common choices.
scarves (warm for the winter, light for the warmer months)
Jeans, shorts, or slacks are all acceptable options.
Sweater, sweatshirt, or fleece are all good options.
Dress appropriately for formal meals.
Sleepwear
Swimming costume
Comfortable walking shoes (comfort is essential!). Make sure you're ready for a lot of walking.)
If you're going to a traditional, local hammam, wear flip-flops.
Papers & Documents:
Passport
Important document photocopies (and a set emailed to yourself)
Valid driver's license (or other forms of identification)
If you intend on renting a vehicle, you'll need an international driver's license.
Information and tickets for flights
Trip confirmation vouchers (if using a travel company)
Information, emergency contact number, and policy number for travel insurance
Records of vaccinations
Medications Prescriptions
An additional set of passport photographs
Cash Money Pouch or Belt
Card (debit or credit) (to use at ATMs or Cash Machines)
Padlocks and keys for the luggage
Small backpack or daypack
Soft baggage, a wheeled suitcase with straps, or a backpack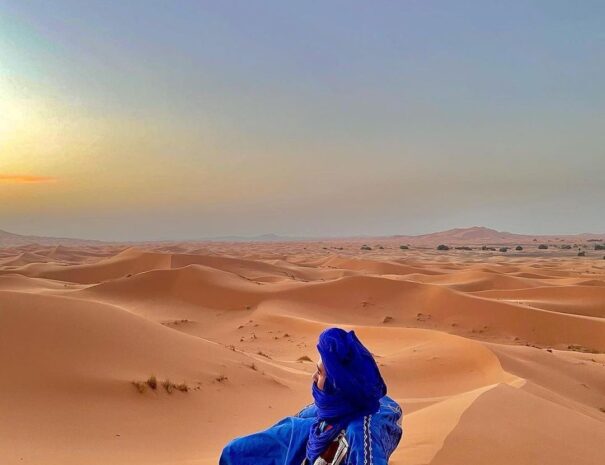 Merzouga Sahara Desert Morocco Honeymoon Overview:
Celebrate one of life's most important moments amid the beautiful Sahara Desert, one of the world's most romantic places. This Merzouga Sahara Desert honeymoon vacation includes stays in elegant and beautiful rural Riads in the Skoura Oasis and the Dades Valley, as well as overnight stays in luxury desert camps and romantic candlelight meals beneath the stars. A Marrakech sightseeing trip with a local guide will be your first fascinating experience in Morocco, allowing you to see the red city's highlights. The dynamic medina, brilliant colorful souks, Majorelle Gardens and le Jardin Secret, historic madrassas, gorgeous palaces, and the famed Djemaa El Fna Square are just a few of the attractions. Then, after a thrilling journey via the gorgeous Atlas Mountains and the famed Tizi-n-Tichka pass, you begin your honeymoon excursion to the Merzouga desert. You'll have lots of opportunities to snap photographs and savor the panoramic vistas of the gorgeous Berber settlements, verdant luscious valleys, and snow-capped mountains as you travel along the route. Kasbah Telouet, a historic residential palace, and Kasbah Ait Ben Haddou, a UNESCO World Heritage Site, will be the first destinations.
These are Morocco's most renowned kasbahs, and both are excellent examples of adobe-building design, providing insight into Berber climatic adaptability. The first night of your Merzouga honeymoon desert trip will be spent in a lovely rural riad in Skoura Oasis, where you will be treated to a couple's spa and Hamman experience for two to rest and unwind.
Morocco Honeymoon in Merzouga Desert – 7 days
Enjoy a private supper and spend the night in your stunning luxury riad, with time in the morning to visit the gorgeous Kasbah Amredhil and stroll through the lush palm groves. The following day, you'll journey off-road via the Valley of the Roses and the Road of a Thousand Kasbahs to Kela'a Mgouna, where you may buy sweetly fragrance organic cosmetics goods made from locally produced Damascene roses. You will spend the night in the Dades Valley, amid the Berber settlements, at a traditional guesthouse. You may also stretch your legs along the riverside or embark on a stroll with a local guide in the tight, steep Toudgha Gorges. You'll start out on that much-anticipated sunset camel ride after a welcome glass of mint tea at the luxury desert tent. As a result, you may include images of your group wearing blue turbans against a sunset. Celebrate this important event with a private candlelight dinner and champagne in the stunning backdrop of a star-lit Saharan sky, followed by an evening of Berber music and drumming around a campfire.
Before going asleep in a nice luxury tent amid the large dunes, try your hand at drumming. After such a peaceful and quiet night, it is definitely worth waking up early the next morning to witness the sun rise on the last day in the Sahara Desert. You go east to Agdz through the Dra'a Valley, passing past palm groves and several fortified Kasbahs, which are emblematic of Morocco's longest valley. You have supper and stay the night in a lovely guest home with a view of the valley. On your way back to Marrakech after your honeymoon desert excursion to Merzouga, you stop at Ouarzazate's iconic Kasbah Taourirt in the town center. You'll soon arrive to the Film Studios, located just outside of Ouarzazate, where you'll be amazed by the various iconic Hollywood film sets. In the afternoon, you return to Marrakech through the spectacular Atlas Mountains, putting your honeymoon in the Merzouga Sahara Desert to a close.
Highlights of a Merzouga Desert Honeymoon:
With a local guide, visit the lively souks, colorful gardens, madrassahs, beautiful palaces, and Djemaa El Fna in Marrakech.
Driving through the Atlas Mountains and the famous Tizi-n-Tichka pass provides breathtaking views.
Visiting Telouet's two famous Kasbahs and Ait Ben Haddou's Kasbah
Visiting a couple's spa in Skoura Oasis, which includes a hammam and massage, as well as a private dinner, all in a beautiful luxury rural riad.
Visiting the Amredhil Kasbah, which has been beautifully restored, and wandering through the green palm groves of Skoura
Going off-road along the Thousand Kasbahs Road, passing through the Valley of the Roses, and stopping at a cosmetics store in Kela'a Mgouna
Hiking the Toudgha Gorges and spending the night in a lovely guest house on the outskirts of the Dades Valley
Riding camels to the tops of Erg Chebbi's dunes (300m) and taking breathtaking photos
Relaxing under the Sahara sky with a private candlelight dinner and champagne, followed by a musical evening
In a luxury desert camp among the majestic Erg Chebbi Dunes, sleep in your own private comfortable tent.
Driving through palm groves with Kasbahs and Berber's villages dotting the landscape
Spending the night at a lovely riad on the outskirts of the Drama Valley, surrounded by palm trees
Exploring the Kasbah Taourirt, a symbol of the feudal era, and stopping at Atlas Studios to witness the filming sites of numerous Hollywood blockbusters
Returning to Marrakech, your honeymoon desert itinerary in Morocco comes to a close.
What is included in the Morocco honeymoon desert trip:
Transportation in a private air-conditioned 4×4 Toyota Prado Tx, as well as gasoline
Pick-up and drop-off at your Marrakech riad or hotel, as well as airport transfers
Local English/French/Spanish/Italian/English/French/Spanish/Italian/English/French/Spanish/Italian/ Driver/guide for Berbers and Nomads
Air-conditioned rooms/suites with private bathrooms are available in premium riads.
Two nights in a luxurious desert tent in Erg Chebbi, complete with a private bathroom and shower, lighting, lots of space to wander about, and authentic Moroccan furniture.
To commemorate this momentous event, there will be private meals and a bottle of champagne.
Breakfast, lunch, and supper are all served, including vegetarian and vegan alternatives.
A Hammam couple's spa with a massage treatment for two
A one-hour – one-and-a-half camel ride with a guide, as well as free sandboarding if wanted – simply ask the camp staff.
Luggage transport to and from the camp, as well as all lodging
Berber music and drumming
Free time to see Ait Ben Haddou and the Ounila Valley, as well as for hikes, photography, and tea/coffee breaks.
You have the option of asking the driver to stop when and when you choose.
A licensed local guide will take you on a sightseeing tour of Marrakech.
Fees for admission (except in Marrakech and Essaouira)
Local guides in the important tourist destinations
In the desert, there is tea, coffee, and mineral water.
What's not in the  package:
Morocco Honeymoon packages in the Sahara Desert of Merzouga – itinerary:
1st day: Sightseeing Tour in Marrakech:
The main plaza, Djemaa El Fna, is arguably best known for its juice kiosks, dried fruit and nut shops, ladies applying henna, snake charmers, storytellers, and a plethora of evening food stalls.
You will be accompanied by a professional local guide who will accompany you across Marrakech after breakfast in your riad for two. According to your schedule and preferences, you will be able to visit the following locations: Majorelle Garden, which formerly belonged to Yves St Laurent and is known for its unique hue of blue known as Majorelle blue.
Le Jardin Secret, a classic Islamic paradise garden separated into four equal portions on each side of the center crossroads walk, is another renowned and gorgeous landscape. Its water systems are supplied straight from the Atlas Mountains. The Koutoubia Mosque, Marrakech's most famous monument that towers above the city, is situated near Djemaa El Fna and is well worth a visit — non-Muslims are not granted admission. In the spring, the garden behind you is worth a visit, with the aroma of orange blossoms wafting through the air and people jostling for space on the many shaded chairs. El Bahia Palace, which translates to "beautiful palace," the Qur'anic School, the Ben Youssef Madrasa, which formerly housed 80 Quranic students, and the Saadian Tombs are all worth seeing. Tanneries and leather workers, metalwork in the form of countless lamps, carpets, and Berber rugs are among the souks, while the Mellah neighborhood with its Jewish souks has been tastefully preserved.
2nd day: Marrakech – Skoura Oasis
Depart at 8.30 a.m. from your Marrakech hotel or riad to traverse the High Atlas Mountains. You leave the main road after passing over the Tichka pass, which is the highest in North Africa at 2260 meters, and follow a side road to the Telouet Kasbah, which formerly belonged to the Lords of the Atlas, the Glaoui family. After the last Pasha died in 1956, each expansion to the structure was abandoned and robbed, and today sits in ruins, exposed to the wind and weather. As you approach the furthest end of the Kasbah, be prepared to be pleasantly surprised by the classic interior decorating. From here, you'll go through the Ounila Valley, which is full of twisting roads, surprises in the colors of the rock and soil, Berber settlements and gardens, and smaller Kasbahs.
You arrive in Ait Ben Haddou, almost at the end of the journey, for a delicious lunch, after which you will have more energy to explore this UNESCO World Heritage site and iconic background to many Hollywood blockbusters. We arrive to the lovely Skoura Oasis after an hour's trip. You will be provided with a couple's spa service for two upon arrival to rest and unwind. Spend the night in a beautiful remote riad overlooking the Dra'a Valley after a romantic private meal.
3rd day: Dades Gorges – Skoura Oasis:
After breakfast, take a stroll around the oasis, which is home to hundreds of palm trees, olive trees, and almond trees, as well as traditional cottages nestled amid the fields. A visit to the magnificently preserved Kasbah Amredhil, a great illustration of typical ancient Berber living, follows this stroll. Then we headed towards the Dades Gorges, passing via Kela'a Mgouna, the Valley of Roses, which is known for its Rose Festival in early May. We come to a halt here to look at the cosmetics manufactured locally from the valley's rich flowers. These goods are well-known and highly regarded across Morocco. From here, you may take an off-road path to get a better view of the scenery. You'll stop at taverns along the route, which are utilized by whatever Berber nomads chance to pass through and claim residency there.
Dades Gorge
Before heading to the Dades Gorge for lunch, we'll have a drink of tea with them. This enables you half a day to go for a walk in the valley, relax, wander among the fields and gardens, or have tea with a Berber family. You stay in a guest home for the night.
After breakfast, continue your Morocco Honeymoon packages​ in the Merzouga Sahara Desert a little distance to Tinghir and the striking Toudgha gorges, where you can take a short walk to appreciate the scenery. the sheer walls of the ravine and the tiny span of the sky above.
From there, you'll go to the Chebbi dunes through Tinjdad, the Oasis of Tafilalet near Erfoud, which is known for its Date Festival, and Rissani, which is the home of Morocco's current king's Alaouite dynasty.
Between Tinjdad and Erfoud, you may take a break and descend into the innovative subterranean water systems that run deep into the soil, keeping the water cold and avoiding evaporation. Climbing down to appreciate the cold below earth and marvel at the ancient engineering involved is intriguing. You'll be greeted with a drink of tea at the camp before riding a camel to the top of the dunes to view the sunset. Dinner follows, followed by a night in a nomad tent at the foot of the dunes.
5th day: Merzouga Desert
After breakfast, you ride or walk behind the camels, while they carry everything you need to cook your lunch, which your camel guy will prepare in the dunes. You'll walk for three hours in the morning, three hours in the afternoon, and then return to the bivouac for supper and the night. Alternatively, after breakfast, you may go farther into the desert. To begin, you will go to Khamlia, where you will meet the Gnawa tribe. They specialize in Gnawa music, which was imported to the United States through the slave trade from Sub-Saharan Africa. They'll perform a few for you. After that, you'll go to Rissani's ancient town. The Alaouite dynasty, Morocco's current governing royal family, was founded in this little hamlet. It is surrounded by 360 ksars (fortified villages with several towers) and has a big souk (open market) that is held three times a week. You'll take a stroll around the souk, which offers spices, veggies, household items, and handicrafts. Rissani was established on the site of Sijilmassa, which served as a meeting point for salt caravans traveling from Mali's Timbuktu. Then, in the afternoon, you'll board your camel and be escorted across the sand dunes of Erg Chebbi in Merzouga by a skilled camel guy for an hour to an hour and a half to watch the sunset. Dinner is cooked in the amp once again, and the evening concludes with drumming and music around a bonfire.
6th day: Merzouga Desert – Agdz:
If you get up early enough, you may see the dawn, when the color of the dunes and the dance of shadows is a breathtaking sight. We stop for lunch at Tazzarine (which was featured in the film 'Babel') and N'Qob on our way back west to the Draa Valley. We proceed to Tansikht in the afternoon, crossing the Dra'a River. We move north to Agdez, the valley's head, via the Dra'a valley, which is abundant with palm palms of 44 different date types. You will be provided with a couple's spa service for two upon arrival to rest and unwind. Spend the night in a beautiful remote riad overlooking the Dra'a Valley after a romantic private meal.
7th day: Agdz – Marrakech:
After breakfast, we travel for Kasbah Taourirt, commonly known as a Glaoui Kasbah and an Ouarzazate landmark.
The movie studios, located not far from town, are worth a visit for Hollywood blockbuster film fans who want to view many of the actual sets used in the production.
Kasbah Tifoultoute is tucked away off the main road, located on a rocky outcropping overlooking the valley and river, above the rapidly growing settlement.
We return to Marrakech via a different route, passing by various Berber settlements, farms, and gardens, where walnut, apple, quince, and pomegranate trees, as well as silver birch and oleander trees, can be seen everywhere.
We arrive in Marrakech at the end of the day, after crossing the Tizi-n-Tichka pass. Your Morocco honeymoon in the Merzouga Sahara Desert comes to an end as your driver leads you to your accommodation.
What you should know about a Merzouga Sahara Desert honeymoon:
This 7 days Morocco honeymoon in Merzouga, Sahara Desert, may be tailored to meet your specific needs.
You may always ask your driver if you can bypass certain sites and spend more time somewhere else.
To assist you in planning your Moroccan desert excursion below is a printable packing list.
To reserve the automobile, we demand a 30% payment of the entire amount, with the remainder due at our office in Ouarzazate.
We accept PayPal, bank transfers in Europe, credit cards, and cash as forms of payment (USD, Euro, GBP, or MAD)
These prices are subject to change based on the current currency rate.
Morocco Honeymoon packages​ overview:
Book one of our all-inclusive Morocco honeymoon packages in Morocco to commemorate your honeymoon! While traveling through this magnificent nation, stay in the most charming Moroccan-style hotels in Marrakech and Fes, as well as daring glamping memories in the Sahara desert and luxury resorts en route. Choose one of our excellent tours or contact us with your ideal Morocco Honeymoon packages in mind: our dedicated staff will go above and beyond to ensure that your honeymoon is one to remember.
Morocco, as the perfect honeymoon location, will not disappoint. We can combine your own tastes into a unique and immersive customized trip, whether you want a relaxing and luxurious honeymoon experience or a little more adrenaline and adventure.
8 Days Morocco Honeymoon packages​
Spend a week with your loved one discovering everything that the Imperial Cities have to offer in terms of romance! In Fes, go to the spa together, in Marrakech, take a cooking lesson together and make memories and a great dinner, and meander around the parks and souks hand in hand. A slower pace allows you more time spent together while still receiving a peek of Morocco's rich culture.
Private Transportation for 8 Days
A driver who speaks English and has been hand-picked
7 nights in a traditional Moroccan riad
Half-board consists of two meals each day.
Guided Tours in Volubilis and Meknes
Entrance Fees in Full
A trip to the spa, a culinary lesson, and a horse-drawn carriage journey
Day 1 of Your Itinerary Casablanca (D)
Your private driver will meet you at the airport when you arrive in Casablanca, Morocco's commercial center. Greetings from Morocco! After that, your driver will transport you to your Casablanca hotel, where you will check-in and rest. You will see the majestic Hassan II Mosque, one of the world's largest mosques, depending on the time of your arrival! It's time to let go of your worries and stress, and focus on enjoying every minute of this new season of life with your spouse while we handle the rest. You will have a great supper at the renowned Rick's Cafe, which is inspired by the romance classic "Casablanca."
Day 2 Casablanca Rabat Fes –  (B, D)
You will depart for Fes after a relaxed morning and a leisurely breakfast for two. On the way, you'll stop at Rabat, the King's capital and palace, for a quick tour of the lovely coastal city, which includes the historic medina, the Oudaya Kasbah, the Oudaya Gate, and the Hassan Tower. In the afternoon, you will arrive in Fes and check into your lovely riad. Fes is Morocco's spiritual center and is often one of the highlights of a trip to the country! The riad will serve dinner.
Day 3 Fes (B, D)
In your magnificent riad, you will share breakfast. You'll meet your guide in the middle of the morning for a half-day guided tour of the medina, one of the world's biggest fortified towns! Explore the small alleyways and everything they have to offer as a group, including visits to the King's Palace, the weavers, and the tanneries. Get a sense for the culture of this amazing city while creating lifelong memories! Lunch may be had at a typical restaurant located in the center of the medina. You have the afternoon free after lunch to rest and recharge at the riad or to explore Fes together. Inquire with your sales agent about doing an extra activity together, such as an artisanal workshop. Your delectable meal will be served tonight at a nearby restaurant.
Day 4: Fes Free Day & Spa (B, D)
This day is yours to enjoy, and you have the option of spending it in calm happiness. Relax and enjoy the tranquility of a Moroccan morning. Allow yourself to get swept away by the Mediterranean's famously sluggish pace. In the afternoon, you'll get a couples spa treatment at a luxury riad. Spa packages include everything from traditional Moroccan Hammam treatments to massages and cutting-edge skincare. Your driver will be available to you as required throughout the day! A nearby restaurant will provide the meal.
Day 5 Fes – Marrakech,(full day drive) (B and D)
You will leave together after breakfast and go to Marrakech. The scenic route takes you up into the Middle Atlas Mountains and along the High Atlas Mountains' base. You'll be taken aback by the view!
You'll check into your hand-picked riad once you arrive in Marrakech. Depending on your arrival time, you may want to head to the Jemaa el-Fna, the bustling medina's central plaza. The area comes alive at night with local storytellers, performers, and mouth-watering barbecue grills, giving you a taste of life in this vibrant city. Take in the stunning overhead perspective of the busy plaza while sipping a peaceful cup of mint tea on the patio of a neighboring café. Dinner will be provided in the riad for the two of you.
Day 6: Marrakech, (B, D)
In your gorgeous riad, enjoy a relaxing start to the day together. Your guide will meet you in the middle of the morning to begin your half-day guided tour of Marrakech, Morocco's southern treasure. You'll see the Bahia Palace, as well as many more hidden gems including the majestic Koutoubia Mosque and the well-known Jemaa el-Fna. The excursion will come to a close with a visit to the souk (market). You may like to visit some of Marrakech's stunning gardens after a delicious meal. Walk hand in hand through olive orchards and spectacular floral displays. Enjoy a free beverage on our behalf at the opulent La Mamounia. Celebrate your love for one another in a romantic setting! This evening's dinner will be provided at a nearby restaurant.
Day 7: Marrakech & Cooking Class on (B, L, D)
You have the option of viewing Marrakech early in the morning with an incredible hot air balloon journey for two (not included in the price, ask salesperson). You will have a free day in Marrakech after breakfast. You'll take a culinary lesson at La Maison Arabe, which will provide you with new memories and dishes to try! You'll have the tasty dish you prepared with the help of the expert culinary instructors for lunch today. Enjoy the simple pleasure of a romantic horse and carriage ride through the red city in the afternoon. Throughout the day, your driver will be at your disposal. A nearby restaurant will provide the meal. Enjoy your last night in Morocco!
Day 8 Marrakech – Casablanca, The journey begins (B)
Your driver will transport you to the Marrakech or Casablanca airport for departure after breakfast and at your pleasure. Good luck on your journey! ** If you want to fly out of Casablanca, plan a flight in the afternoon or evening, since Casablanca is roughly 2.5 – 3 hours away from Marrakech.