Hey there, fellow adventurers! Are you planning a trip to Cairo anytime soon and wondering what the best things to do are? Well, you're in luck because I've got some insider tips for you.
Having lived in Cairo for a few years now, I've explored the city extensively and have come up with a list of must-see places and activities that will make your trip unforgettable.
Cairo is a vibrant city full of history, culture, and delicious food. From visiting ancient pyramids to exploring bustling markets, there's something for everyone here. Whether you're a history buff, an art lover, or a foodie, Cairo has it all.
So pack your bags and get ready for an adventure of a lifetime as we explore the best things to do in this fascinating city together.
Book walking tour 8-Hour Private Tour of the Pyramids, Egyptian Museum and Bazaar from Cairo
Interesting Facts About Cairo
Hello, if you're considering a vacation to Cairo, you may be interested in learning some fascinating facts about this lively city.
Did you know that Cairo is Africa's biggest city? With a population of nearly 20 million people, it is brimming with energy and life.
It is also one of the world's oldest cities, having a history stretching back over 4,000 years. Cairo is brimming with remarkable monuments that testify to the city's rich history.
The Pyramids of Giza, for example, are situated just outside the city and have stood for approximately 5,000 years. The Great Sphinx is also nearby and has long been an emblem of mystery and intrigue.
These historical monuments are just a small portion of what makes Cairo such an amazing location; there is so much more to see!
Best Things To Do In Cairo
Now that you've arrived in Cairo, it's time to discover the city's top attractions. 
There is lots to do here whether you are interested in history, culture, or just want to have fun.
These are some of the best activities in Cairo that you should not miss.
See the Giza Pyramids – The Giza Pyramids are a must-see site in Cairo. These are the sole remaining wonders of the ancient world, and their magnitude and architecture never fail to surprise tourists.
Visit the Egyptian Museum, which houses hundreds of ancient Egyptian antiquities and displays the country's rich cultural past.
Take a Nile River Boat – A cruise along the Nile is a lovely and peaceful way to explore Cairo from a fresh perspective.
Khan el-Khalili Bazar is a lively bazaar with of stores offering everything from spices and textiles to jewelry and souvenirs.
Cairo has so much to see and do that you'll never run out of things to do. There's something for everyone here, from exploring ancient pyramids to shopping at local markets.
So go out there and explore this amazing city!
Check out other top things to do in Egypt
The Pyramids Of Giza
The Pyramids of Giza are generally the first thing that comes to mind when people think about Cairo. And for good reason: they are really world wonders.
These ancient monuments, standing tall and high amid the desert sands, are a tribute to human creativity and tenacity.
Seeing the Pyramids is an unforgettable experience. There is so much to see and do here, from riding camels across the desert to discovering secret tombs and rooms.
And when you stand at the foot of these massive structures, it's difficult not to be struck with awe and astonishment at what our forefathers were able to do so many thousands of years ago.
Egyptian Museum
Ancient civilizations and their histories have long piqued my interest. As a result, it's no wonder that I thought the Egyptian Museum in Cairo to be one of the most fascinating locations I've ever seen.
The Egyptian Museum has a large collection of ancient antiquities, including as mummies, jewelry, and sarcophagi. I felt like I had gone back in time the moment I walked inside the museum. The sheer size of the collection was intimidating, yet each item appeared to have a tale just waiting to be discovered.
I amazed as I walked through the corridors at the elaborate hieroglyphics engraved onto the walls and inscriptions on artifacts that provided views into everyday life in ancient Egypt. It was impressive to see how evolved their culture was thousands of years ago. I definitely suggest visiting the Egyptian Museum in Cairo if you want to learn about history or simply have a unique experience.
The museum is more than simply a place to study; it is also a place to enjoy centuries-old artwork and craftsmanship. Every object, from gold pharaoh masks to beautifully carved ceramics, was a monument to the ancient Egyptians' skill and inventiveness.
There were also multiple galleries devoted to Tutankhamun's riches, including his renowned golden death mask, which was far more amazing in person than any photograph could represent! Overall, my visit to the Egyptian Museum increased my appreciation for history and provided me with an outstanding experience that I will remember for the rest of my life.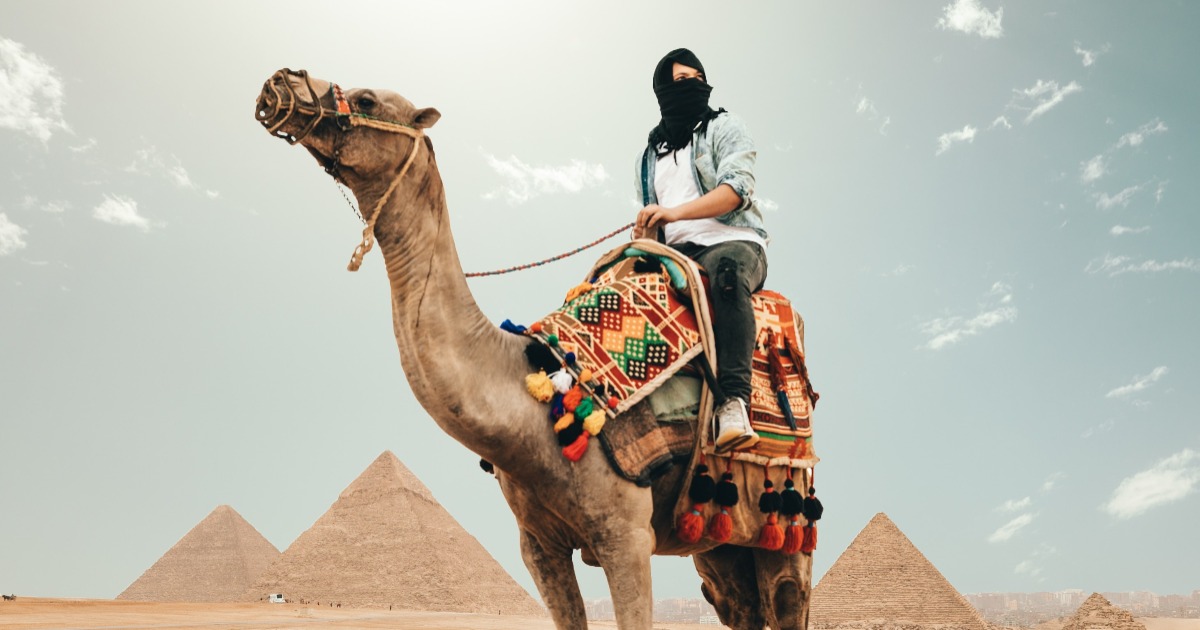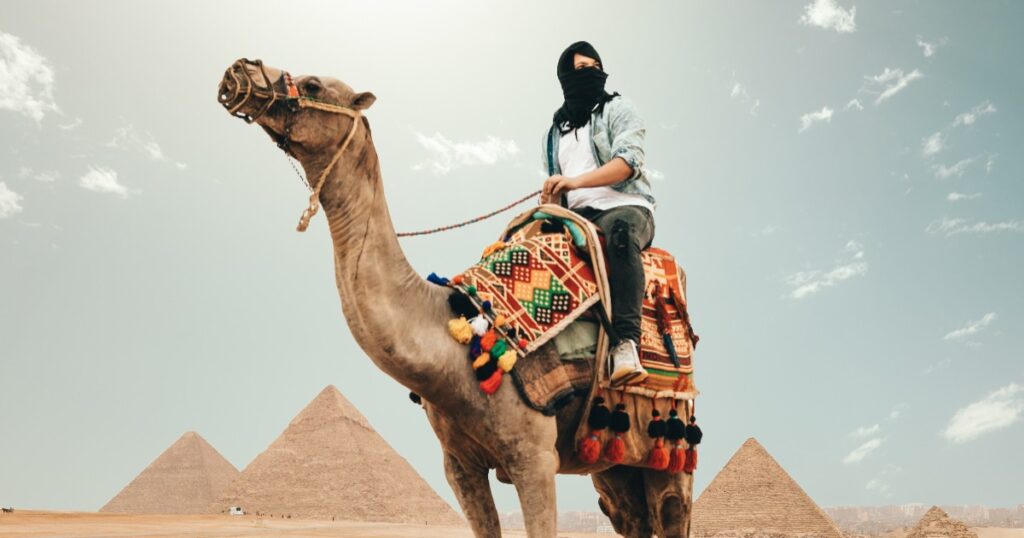 Islamic Cairo
After seeing the Egyptian Museum, it's time to explore Islamic Cairo. There are stunning mosques, historic buildings, and active marketplaces to explore in this neighborhood, which is rich in history and culture.
Walking through the small alleyways of this area will take you back in time and make you feel as if you're in a living museum.
The Al-Azhar Mosque is a must-see in Islamic Cairo. This magnificent mosque was erected over a thousand years ago and houses one of the world's oldest colleges. The elaborate features on the walls and ceilings are simply magnificent, and the courtyard is a tranquil refuge in the heart of the city.
Another must-see attraction is Khan el-Khalili Bazar, Egypt's biggest bazaar. Anything from spices to jewelry to souvenirs can be found here, all while taking in the sights and sounds of this busy area of town.
Take a walk along Al-Muizz Street and absorb all of its history.
At each street corner, try native street cuisine such as 'Koshary' or 'Ful Medames.'
Visit Ibn Tulun Mosque for a breathtaking sunset vista.
In conclusion, experiencing Islamic Cairo is a must-do on every trip to Cairo. It's an opportunity to go back in time and immerse yourself in centuries-old architecture, art, and culture while still experiencing a bustling contemporary metropolis. Therefore don't pass up this fantastic chance!
Salah El Din Citadel
Let us now discuss one of Cairo's most recognizable sites, the Salah El Din Citadel. Salah El Din, a prominent Muslim leader, erected this splendid stronghold in the 12th century to safeguard Cairo from Crusaders. It now stands as a tribute to Egypt's rich past and is a must-see for anybody visiting Cairo.
As you enter the citadel's gates, you'll be transported to a period of kings and warriors. The castle' design is breathtaking, with towering stone walls and turrets that appear to reach towards the sky.
You might spend hours visiting the citadel's numerous components, including its museums, mosques, and palaces. And if you come around dusk, you'll be treated to some spectacular views of Cairo from atop the citadel's walls.
Al-Muizz Li-Din Allah Al-Fatima Street
Going through Al-Muizz li-Din Allah al-Fatima Street seems like stepping back in time. The street, which originates from the 10th century, is adorned with exquisite specimens of Islamic architecture and is generally regarded as one of the world's best-preserved medieval avenues.
I couldn't help but be impressed by the complex decorations and lovely embellishments that graced each structure as I wandered along the cobblestone path.
If you're planning a vacation to Cairo, Al-Muizz li-Din Allah al-Fatima Street should be on your itinerary. These are four must-see attractions on this historic street:
Al-Hakim Mosque – Built in the 11th century, this mosque is notable for its majestic minarets and gorgeous courtyard.
Khan el-Khalili – This busy bazaar, which dates back to the 14th century, is an excellent spot to purchase souvenirs and traditional Egyptian handicrafts.
Bayt al-Suhaymi – This magnificently renovated 17th-century mansion provides a look into the lives of rich Egyptians at the time.
Bab Zuweila – This ancient gate represents the southern entrance to medieval Cairo and has a terrace with panoramic views of the city.
Overall, Al-Muizz li-Din Allah al-Fatima Street is a fantastic site that provides a fascinating insight into Cairo's rich history and culture. 
This street is well worth a visit whether you are interested in architecture, history, or just want to try something new.
Climb The Minaret At Bab Zuweila
When in Cairo, I strongly suggest climbing the Minaret at Bab Zuweila. This old tower stands tall and proud, providing breathtaking views of the city and its surroundings.
It's a bit of a trek to the top, but it's definitely worth it. When you climb the small stairway, you'll see elaborate carvings and stunning architecture from years ago.
Take a deep breath and enjoy the panoramic views of Cairo from the summit. The busy streets, towering skyscrapers, and ancient monuments combine to create an amazing spectacle.
Climbing the Minaret at Bab Zuweila is a definite must-do experience for anybody searching for a real flavor of Cairo culture and history.
Khan El-Khalili
You may be ready for some rest and relaxation after ascending the Minaret at Bab Zuweila. Fortunately, Khan el-Khalili, one of Cairo's most renowned marketplaces, is just a short walk away.
The stores in this busy souk offer everything from spices to jewelry to textiles. You may easily lose track of time strolling through the small alleyways and negotiating with sellers.
Traditional Egyptian food may also be found at Khan el-Khalili. Have some koshari or fuul medammes at one of the numerous street food vendors – both are tasty and satisfying!
There are many of cafés where you can kick back with a cup of tea and people-watch if you need a break from the bustle. Please keep a watch on your valuables – pickpocketing may be a problem in congested settings like this.
Mosque-Madrassa Of Sultan Hassan And Al-Rifa'I Mosque
A visit to the Sultan Hassan Mosque-Madrassa and Al-Rifa'i Mosque is a necessity if you want to immerse yourself in Cairo's rich Islamic heritage.
These two magnificent architectural marvels are positioned directly next to each other and are equally amazing.
Sultan Hassan's Mosque-Madrassa was erected in the 14th century and has a lovely courtyard enclosed by four iwans (vaulted halls).
The elaborate carvings and wall decorations are simply beautiful.
Meanwhile, the Al-Rifa'i Mosque, which was erected in the nineteenth century, is famous for its great size and stunning dome.
It also has a number of royal graves, including those of King Farouk and his family.
A visit to these two mosques will not only leave you speechless, but will also provide insight into Cairo's rich religious heritage.
Al-Azhar Park
After seeing the majestic Sultan Hassan Mosque-Madrassa and Al-Rifa'i Mosque, it's time to unwind and enjoy some greenery in Al-Azhar Park.
This magnificent park, located in the middle of Cairo, is an ideal getaway from the city's commotion. It has breathtaking views of Cairo's skyline, lovely gardens with lots of seats, and a lake where tourists may hire paddle boats.
Al-Azhar Park has a rich history in addition to its beauty. It used to be a waste dump until Aga Khan IV launched an initiative to transform it into a public green park in 1984.
Visitors may enjoy the park's tranquillity while also exploring its various attractions, such as the Ayyubid Wall Museum, or attending one of the many cultural events conducted there throughout the year.
Ultimately, Al-Azhar Park is a gem in the heart of Cairo that should not be overlooked. When you wander through this tranquil setting, you'll forget about your troubles and just enjoy being in nature.
The park caters to all interests and is ideal for picnics, romantic walks, or just sitting beneath a tree with a good book. What's the greatest part? The admission charge is fairly low, making it accessible to both visitors and residents.
Thus, if you're seeking for a spot to relax after visiting Cairo's bustling streets, go to Al-Azhar Park – your mind and body will thank you!
Coptic Cairo
Coptic Cairo should undoubtedly be on your list of sites to visit if you're searching for a genuinely unique experience in Cairo. This region has some of Egypt's oldest Christian churches and provides insight into the country's rich religious heritage.
Going through Coptic Cairo's small lanes seems like stepping back in time. Beautiful cathedrals and monasteries have been kept in the region for centuries. You'll also come across charming coffee shops and marketplaces where residents congregate to chat and sell items as you explore this portion of the city.
These are three must-see attractions in Coptic Cairo to help you make the most of your visit:
The Hanging Church is one of Coptic Cairo's most iconic monuments. It was erected upon the remains of two older churches and seems to be hung above an ancient gatehouse, thus the name "hanging."
The Coptic Museum has an extraordinary collection of Coptic art and antiquities, including as textiles, manuscripts, and icons.
Ben Ezra Synagogue: This historic synagogue was initially a church before being turned into a Jewish house of worship in the 9th century.
Coptic Cairo is a genuinely unique destination that will make an indelible impact on anybody who comes. Therefore, the next time you're in town, why not include it on your itinerary?
Cave Church
If you're seeking for a one-of-a-kind and awe-inspiring experience in Cairo, the Cave Church is a must-see.
This church is situated on Mokattam Mountain, not far from the city center. The chapel itself is situated within a cave and has stunning artwork and sculptures that will leave you speechless.
The Cave Church has a unique history since it was erected in the 1970s by trash collectors who were predominantly Christians. They worshiped in the cave until it was finally transformed into a regular church.
It is now, and appropriately so, one of Cairo's most popular attractions. Climb to the top of the mountain for spectacular panoramic views of the city, or just appreciate the inside of this one-of-a-kind house of prayer.
Garbage City
I definitely suggest visiting Trash City after touring the Cave Church. This one-of-a-kind area has become well-known for its recycling business and its people' ability to convert waste into beauty. The overpowering scent of trash will greet you as soon as you enter Garbage City, but don't let that discourage you from visiting this one-of-a-kind village.
The Cave Church of St. Simon is a must-see site in Trash City. This church is cut into a mountain and can accommodate up to 20,000 people at the same time! It's definitely a breathtaking sight to witness.
Furthermore, make a point of visiting the many businesses that offer recycled items such as furniture and clothes. You could even discover some interesting keepsakes to take home with you.
As you continue your exploration to Trash City, don't forget to admire the wonderful street art that adorns the buildings and walls. The brilliant colors and elaborate patterns demonstrate the community's inventiveness and resourcefulness.
If you're feeling brave, eat some of the delectable local food produced from fresh vegetables collected directly from Trash City's gardens. A tour to this community is both eye-opening and inspirational, demonstrating how people can work together to make beauty out of what others deem rubbish.
Walk Across The Nile River On The Qasr El Nil Bridge
Walking over the Nile River on the Qasr El Nil Bridge is an essential must while visiting Cairo. As someone who has seen this behavior personally, I can vouch to its beauty and thrill.
The bridge provides breathtaking views of both sides of the city, with the majestic Nile flowing underneath you. The ideal times to go are at sunset or early in the morning, when the light spreads a golden glow over everything.
It's also a really romantic and tranquil experience. Walking hand in hand with your significant other through Cairo's sights and sounds is an experience that will last a lifetime. Walking over the bridge affords a moment of peace and introspection in the middle of hectic city life for those traveling alone.
Therefore be sure to include this activity in your schedule; you won't be sorry!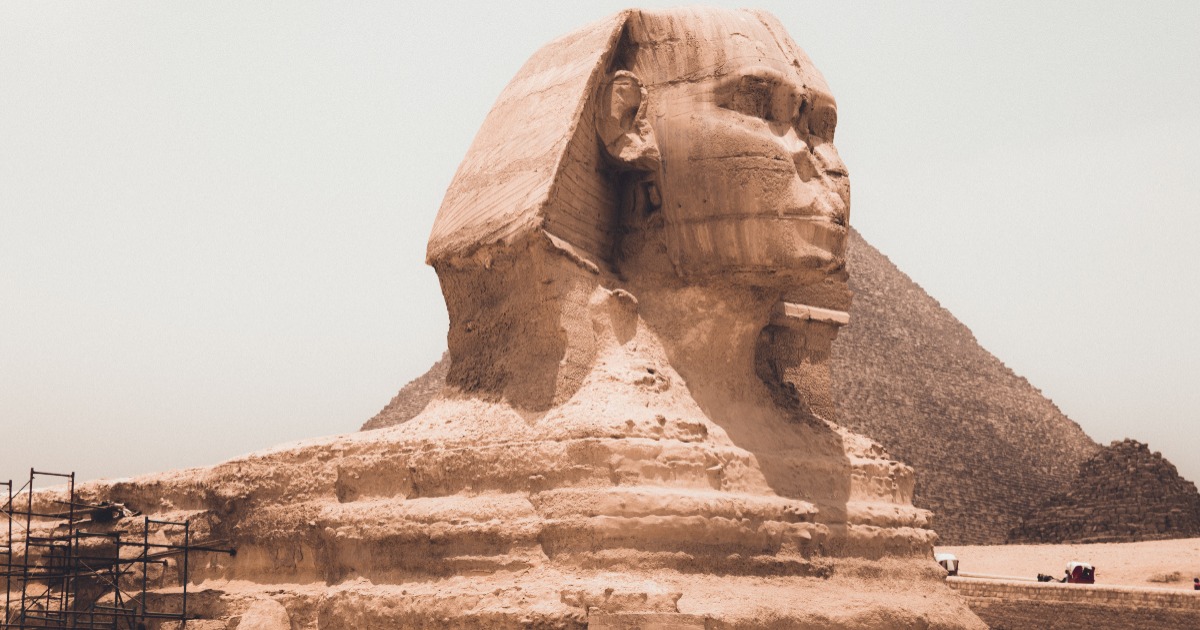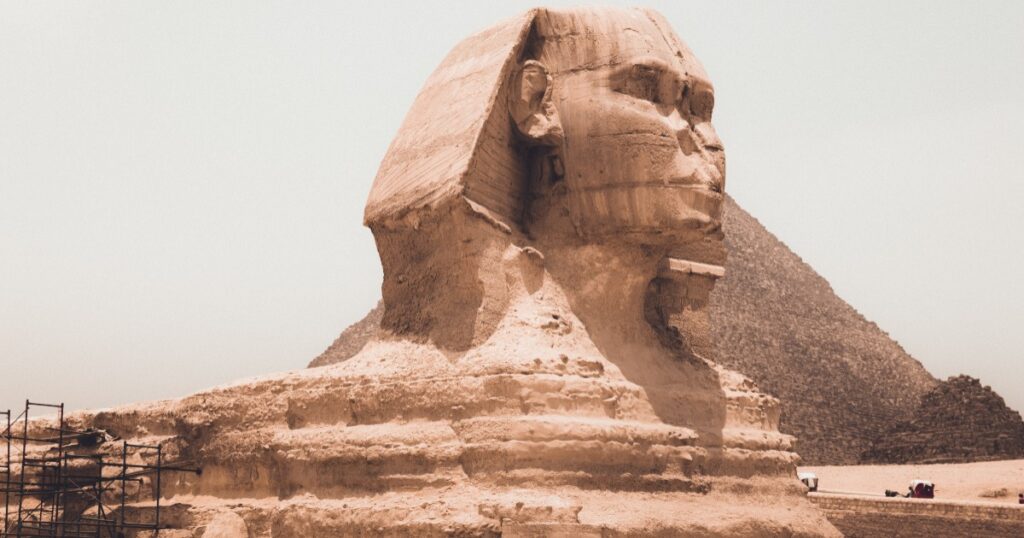 Cairo Tower
After wandering over the Qasr El Nil Bridge, why not visit the Cairo Tower, one of the city's most notable landmarks?
Its 187-meter-tall famous tower provides tourists stunning panoramic views of the city from its observation deck.
Ride an elevator to the top of the tower and ready to be blown away by the breathtaking views of Cairo's cityscape, featuring historic sights like the Pyramids of Giza, The Citadel, and The Nile River.
It's a great place to see Cairo in all its splendour and take some unforgettable shots. There are also eateries on various floors of the tower where you can get a snack while admiring the unrivaled views over Egypt's capital city.
The nicest aspect of visiting Cairo Tower is that it is open every day until late at night, allowing you to experience spectacular sunset views followed by a shimmering skyline after dark.
Don't miss out on this must-see site while in Cairo!
Day Trip To Dahshur
Are you looking for an experience outside of Cairo? Take a day excursion to Dahshur, which is home to some of Egypt's most spectacular ancient pyramids.
Dahshur, located only 40 kilometers south of Cairo, is readily accessible and provides an insight into ancient Egyptian history that you will not want to miss.
Explore the Red Pyramid and the Bent Pyramid in Dahshur, both erected during the time of Pharaoh Sneferu.
The Red Pyramid is Egypt's third-largest pyramid, called for its unusual reddish tint. Meanwhile, the Bent Pyramid derives its name from its distinctive bent form, which resulted from a design adjustment during construction. It is definitely a sight to see and will leave you in awe of the ancient builders' skill.
After seeing the pyramids, visit the surrounding necropolis and tombs for a more in-depth look at Egyptian burial rituals.
So gather your belongings, grab your camera, and prepare for an incredible journey in Dahshur!
Memphis & Saqqara
If you're searching for a history lesson in Cairo, you definitely must visit Memphis and Saqqara. These ancient towns bear witness to Egypt's vast and rich history, and they provide tourists with an extraordinary insight into the country's past.
Memphis, Egypt's former capital, is now an open-air museum with some of the most stunning sculptures and structures from the ancient world. You might marvel at the magnificent Ramses II monument or the Sphinx, which has stood vigil over the city for thousands of years.
Saqqara, a short distance away, is home to one of Egypt's earliest pyramids, the Step Pyramid. This magnificent edifice is said to be one of the first instances of colossal stone construction in history, dating back over 5,000 years.
Visit Memphis' open-air museum.
Appreciate Ramses II's statue.
In Saqqara, you may see one of Egypt's ancient pyramids.
Discover the history and culture of ancient Egypt.
Admire the magnificent Sphinx.
There's so much to see and do in Memphis and Saqqara that it's easy to get lost in this fascinating piece of Egyptian history. 
Whether you're a history buff or just like learning about other cultures, these two cities will leave you with memories that last a lifetime.
Therefore, why not go back in time and see what Cairo has to offer?
Bonus! National Museum Of Egyptian Civilization
The National Museum of Egyptian Culture in Cairo was certainly an unforgettable experience.
I was instantly transported to ancient Egypt as soon as I walked into the museum. The amazing displays and exhibitions left me speechless. Every item, from the complex hieroglyphs to the towering sculptures, presented a different tale about this intriguing society.
The interactive displays that enabled me to immerse myself in ancient Egyptian life were one of my favorite sections of the museum. I got to put on traditional dress, see tombs and temple reconstructions, and even learn how to sign my name in hieroglyphics!
That was a fantastic experience that not only taught me about this amazing culture but also left me with a deeper respect for it. If you're searching for an informative and engaging experience in Cairo, the National Museum of Egyptian Culture is a must-see!
Best Things To Do In Cairo: On A Map
As an additional activity to add to your Cairo schedule, I hope you enjoyed learning about the National Museum of Egyptian Culture. So, let's have a look at the top things to do in Cairo, which are all neatly arranged on a map.
The Great Pyramids of Giza are the first stop. While visiting Cairo, this renowned monument is a must-see. You may either enjoy them from afar or ride a camel and explore the region up close.
Next, visit the Khan el-Khalili market for a one-of-a-kind shopping experience brimming with brilliant colors and exotic aromas. Remember to bargain with the sellers for amazing bargains on souvenirs and local items.
Afterwards, pay a visit to the Muhammad Ali Pasha Mosque, which is famed for its gorgeous architecture and city vistas. These are just a handful of the many fun things to do in Cairo; be sure to include them all on your itinerary!
Now that you know where everything is, it's time to organize your day and begin visiting this amazing city. Cairo has something for everyone, from historic monuments to contemporary attractions. So take out your map and prepare for an incredible experience in Egypt's buzzing metropolis!
How Much Time Do You Need In Cairo?
If you're thinking about visiting Cairo, you may be wondering how much time you'll need to see all the city has to offer. The fact is that there is no one-size-fits-all solution to this topic. It all depends on your hobbies and travel preferences.
Even if you just have a few days in Cairo, you can explore some of the city's most famous sites, including the Pyramids of Giza, the Sphinx, and the Egyptian Museum.
If you have more time, try visiting some of Cairo's lesser-known areas, like as Zamalek or Maadi. Day trips to adjacent places like as Saqqara or Memphis are also possible.
Finally, it is up to you how much time you need in Cairo and what activities you choose to highlight during your vacation.
How To Get Around Cairo
For first-time tourists, getting about Cairo may be rather scary, but once you get the feel of it, it gets much simpler.
The metro system is one of Cairo's most popular ways of transportation. It is inexpensive, quick, and efficient, and links the majority of the city's important areas. The metro operates from early morning until midnight, making it an excellent alternative for people who wish to see the city without being trapped in traffic.
Another alternative is to take a cab or use a ride-sharing service such as Uber or Careem. Taxis are widely accessible around the city and quite inexpensive in comparison to other large cities. If you do decide to utilize a ride-sharing service, be sure you have access to mobile data since certain regions may not have a reliable connection.
Ultimately, navigating about Cairo takes some patience and flexibility, but it's an adventure in and of itself, as well as a terrific opportunity to learn about the local culture.
Do You Need To Hire A Guide For Cairo?
Let's start with the greatest things to do in Cairo now that you know how to get around.
First and foremost, go to Giza to see the Great Pyramids. This world's oldest treasures are a must-see for anybody visiting Cairo. For a memorable experience, you may ride a camel or travel inside one of the pyramids.
The Egyptian Museum is another excellent attraction. Thousands of Egyptian antiquities, including Tutankhamun's wealth and mummies, may be found here. It's amazing to think about how evolved this civilisation was and how much they accomplished thousands of years ago. Make sure you allow yourself enough time to properly examine all of the exhibits.
Consider enjoying a felucca ride on the Nile River at twilight or visiting Khan el-Khalili Market for some shopping and a colorful environment.
Finally, while you're here, don't forget to enjoy some excellent Egyptian food – try koshari or ful medames for a taste of local delicacies. Cairo is an incredible place that should be on everyone's trip itinerary, with so much to see and do.
Cairo Pass
If you're going to Cairo, let me tell you about something that will make your vacation even more exciting: the Cairo Pass.
This pass is a ticket that enables you to visit various attractions across the city without having to purchase individual tickets for each one. That was really handy for me since it saved me both time and money.
These are some of the finest things to do in Cairo using the Cairo Pass:
See the Pyramids of Giza, which are one of the world's most recognizable sights.
Visit the Egyptian Museum: 
This museum, which houses over 120,000 items, including King Tutankhamun's jewels, is a treasure trove of ancient history.
Enjoy a Nile River Cruise: Relax and take in the stunning sights of Cairo from a new angle.
Walk through Khan el Khalili Market, a lively market packed with brightly colored booths offering everything from spices to souvenirs.
But wait, there's more! Other sites included in the package include the Salah El Din Citadel, Coptic Cairo, and many more.
Hence, if you want to make the most of your stay in Cairo, I strongly advise purchasing a Cairo Pass.
Where To Stay In Cairo
So you've chosen to go to Cairo! That's fantastic, but now you must determine where to stay.
Let me provide you with a few possibilities. If you want to stay in luxury, the Four Seasons Hotel Cairo at Nile Plaza is the place to stay. It's in the middle of the city and has stunning views of the Nile River. The rooms are big and well appointed, with all of the conveniences you could want.
Don't worry if you're on a tight budget; there are lots of low-cost solutions available as well. The Osiris Hotel is an excellent alternative for visitors seeking genuine Egyptian hospitality without breaking the budget. It's near to many of the city's attractions and provides comfortable rooms with air conditioning and complimentary Wi-Fi.
Now that you've decided where to stay in Cairo, it's time to organize your schedule! There's so much to see and do here that I'm certain you'll have an amazing experience. This bustling city has something for everyone, from seeing ancient pyramids to shopping at local markets.
So gather your belongings and prepare for an adventure!
Conclusion
Overall, my vacation to Cairo was an incredible experience packed with breathtaking historical sights and a rich cultural heritage.
The Pyramids of Giza were the highlight of my vacation, but I also strongly suggest seeing the Egyptian Museum and Islamic Cairo.
Navigating Cairo might be difficult at times, but with proper preparation and knowledge, you can have a pleasant vacation.
There are several ways to navigate about Cairo, whether you hire a tour or utilize the Cairo Pass for ease.
Moreover, with a wide range of hotels accessible in various regions of the city, choosing the ideal spot to stay is simple.
If you're seeking for a historical and cultural experience, Cairo should be on your travel bucket list!
Book 3 days tour to Siwa oasis from Cairo or 4 Days Nile Cruise From Aswan To Luxor Including Abu Simbel & Hot Air Balloon