Sandboarding in Merzouga desert Erg Chebbi
Sandboarding in Merzouga desert Erg Chebbi Morocco
Sandboarding in Merzouga desert Erg Chebbi Morocco has been more popular in recent years. Sandboarding may seem simple to experienced snowboarders and skiers.
Sandboarding, despite the soft and warm sand, entails ascending high dunes and speeding down at 30 to 40 mph! Sandboarding trips are often combined with camel trekking, stargazing, and camping in Merzouga's desert dunes.
Sandboarding in Merzouga is a fantastic way to have fun while learning about the sand dunes of Merzouga. You may enjoy sliding down the desert sand dunes on your board after you arrive at our desert camp near one of the biggest sand dunes.
Additional info about the Sandboarding in Merzouga
Sandboarding in Merzouga desert – Walking shoes that are comfortable, such as athletic sneakers. For this journey, long sleeves, long trousers or skirts, and a thick jacket are recommended. A parent or guardian must accompany the children.
Sandboarding in Merzouga desert Erg Chebbi Morocco is a popular dunes activity in Erg Chebbi. Explore the sand dunes of Merzouga with a sandboarding adventure in the Sahara desert of Merzouga. It is a well-known pastime in the Merzouga Sahara dunes, and it is generally always included in our camel trekking adventure for an overnight stay in the desert.
Rent a Sandboard and explore the expanse of the Erg Chebbi, Morocco's tallest and longest uninterrupted tract of imposing sand dunes.
Sandboarding in Merzouga desert Erg Chebbi Morocco
We will deliver the sandboards to you once you reach at the guesthouse. You may either park your vehicle and get sandboards before heading to the sand dunes, or you can keep them in the car and drive to the sand dunes' edge, then leave the car till you return.
The Erg Chebbi dunes, which are Morocco's biggest and largest dunes, provide a wide range of activities. The reason why most people who like sandboarding or snowboarding should not pass up the chance to attempt this fantastic desert pastime.
Sandboarding in Merzouga is a fantastic method to explore the Merzouga desert's sand dunes. The longer the trip down, the larger the sand mound.
When you're in the desert, you may carry the sand boards with you on camels or in 4WD. Experience sliding down a mountain of sand on your board once at your camp in one of the biggest sand dunes. It's tough while yet being enjoyable.
Sandboarding in Merzouga in Morocco
As a birthday surprise, I had planned for us to go sandboarding in the dunes, but it would have to wait until later in the day. His greatest birthday dream was to spend the whole day playing computer games, so he awoke at the crack of dawn and spent the greater part of the morning immersed in his laptop with a broad smile on his face.
Unique Desert Tour
At 1 p.m., Säid Unique Desert Tour picked us up in his 4×4 and drove us into the desert. It was a thrilling trip across the dunes, soaring over the hills and plunging into the troughs while clinging to the rails for dear life. After about 20 minutes, Säid pulled over and let us out. There were dunes for as far as the eye could reach, hundreds of dunes extending far into the horizon. We ascended a ridge and saw a large Bedouin tented camp below us. Persian rugs and elaborate Moroccan lamps adorn white tents. It was really stunning!
We had to sip mint tea first, as is customary in Moroccan culture before we could sandboard, and then the fun started! We began by just sitting on the boards and flying down the dunes once they were hauled to the top of a dune. I won't lie, trudging back up the dunes in the heat about killed me, but the exhilaration of flying down the dunes was worth it.
Tai was able to grab onto the exterior of the 4×4 with a turban-wearing Berber on the way back to the campground. It was the icing on top of a fantastic birthday celebration for him. How many children get the opportunity to spend their 12th birthday sandboarding among the Sahara Desert's dunes? I'm not sure Tai appreciates how fortunate he is right now, but I hope that when he looks back on these experiences later in life, he recognizes what a genuinely amazing upbringing he had.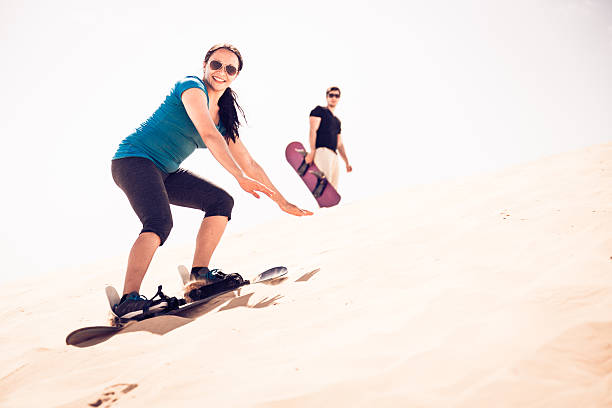 We have customized different tours itineraries from Marrakech, desert tours, and city tours. However, if the plans below do not match what you are looking for, please fill in our contact form with your needs. 
Highlights overview of Sandboarding in Merzouga desert:
Visiting the Sahara Desert and Erg Chebbi in Morocco is an unforgettable experience. The time spent in the desert will remain one of the most enchanting and captivating experiences of one's life, and you will want to return.
The most popular destination in the Sahara Desert is Erg Chebbi, which is about a two-day trip from Marrakech. Don't worry if you become bored along the route; there are lots of activities and landmarks to keep you occupied, including stops in Berber communities, oasis, and well-known movie locations. There's much more pleasant to be enjoyed once you get to the Sahara Desert.
The Erg Chebbi dunes are situated 40 kilometers south of Erfoud, near Merzouga.
They have a surface area of around 28 kilometers north to south and may reach heights of up to 150 meters.
A visit to a Berber village is a must.
With so many Berber communities lying on the outskirts of the Sahara, it's unavoidable that you'll travel through many on your way to the desert. It's certainly worth spending an hour in at least one of these communities to understand more about traditional Berber village life (albeit tourism has altered it).
To get to the settlements, you'll most likely have to travel through and around the Atlas Mountains, as well as through and around dry, sandy mountains, towering gorges, stunning waterfalls, and lush, green valleys — the latter of which seems completely out of place in the desert.
Spend time meandering through alleys dotted with decaying terracotta buildings and mosques, as well as tied-up mules and camels, in the villages.
Stop to play football with the local kids or look at the local artwork and rugs for sale before completing your day with a great chicken tagine supper.
Watch the Sunset From Atop a Sand Dune
The Sahara Desert is one of the most spectacular sunset viewing locations on the planet. When you observe the sun begin to melt into the horizon, you'll quickly forget about the scorching in your legs and the sand in your shoes.
It's difficult to measure distances when you can stare in any direction and see nothing but sand in your sight line. It's one of those magnificent moments that makes you feel little in such a large environment.
Go on a bumpy camel ride.
You won't completely understand the Desert and Erg Chebbi unless you've ridden a camel across the sand dunes. Riding a camel is an essential element of any vacation to the Sahara Desert, and if you've never done it before, it'll be a fascinating experience.
Make sure you have a firm hold on the saddle's front handlebars, as you'll be jostled from side to side and tossed up and down as the camel gallops through the sand dunes in a less-than-graceful manner.
But it's all worthwhile. You'll get a workout for your leg muscles as you try to remain upright while taking photographs from a new viewpoint, experiencing the local Berber people's mode of transportation, and taking photos from a different vantage point!
Watch the Sunrise
You've already watched the sunset the night before, so why not finish the job and see it rise the next morning? Look around your tent once again for the tallest sand dune and struggle up for yet another breathtaking vista of the sand dunes.
Sandboarding in Merzouga desert
Given that the Erg Chebbi dunes are one of the key attractions, Merzouga has a plethora of sand-related activities. Sandboarding in Merzouga desert is a must-do activity for anybody visiting Erg Chebbi, mostly because it is so much fun.
You can't miss out on the amount of fun that only sandboarding can bring, whether you're already familiar with the fundamentals of skiing and Sandboarding in Merzouga desert or you're a first-timer.
Before visiting Erg Chebbi, there are a few things you should know.
Wrap yourself with a blanket: During the day, the desert might be scorching hot, but at night, temperatures can plummet to below freezing. Pack many layers of clothes in your backpack before you depart to prepare for the two temperature extremes.
When you're shivering on a mattress beneath the stars, the additional sweaters will come in handy!
Bring lots of water and sunscreen: The Sahara Desert's scorching heat makes dehydration a real possibility throughout the day. Before you depart, make sure you have enough of water and sunscreen with you so you can keep hydrated.
You'll be able to acquire water along the road, but it will grow more costly as you go closer to the desert. You should also bring a hat to cover the top of your head, or just buy a traditional Berber headscarf at one of the communities along the route.