ATVs quad biking in Merzouga, Morocco
ATVs quad biking in Merzouga Morocco
ATVs quad biking in Merzouga is a wonderful and entertaining way to explore the sand dunes of Erg Chebbi.
You've arrived at the correct spot if you're seeking the greatest quad tours in Merzouga, Morocco. Sahara Camel Rides offers unique ATV quad bike trips to discover the gold Erg Chebbi dunes, climb to the top of the largest dune, visit a tiny oasis, and take photographs of beautiful panoramas…book your Merzouga quads adventure with our trained Berber team to have a good time.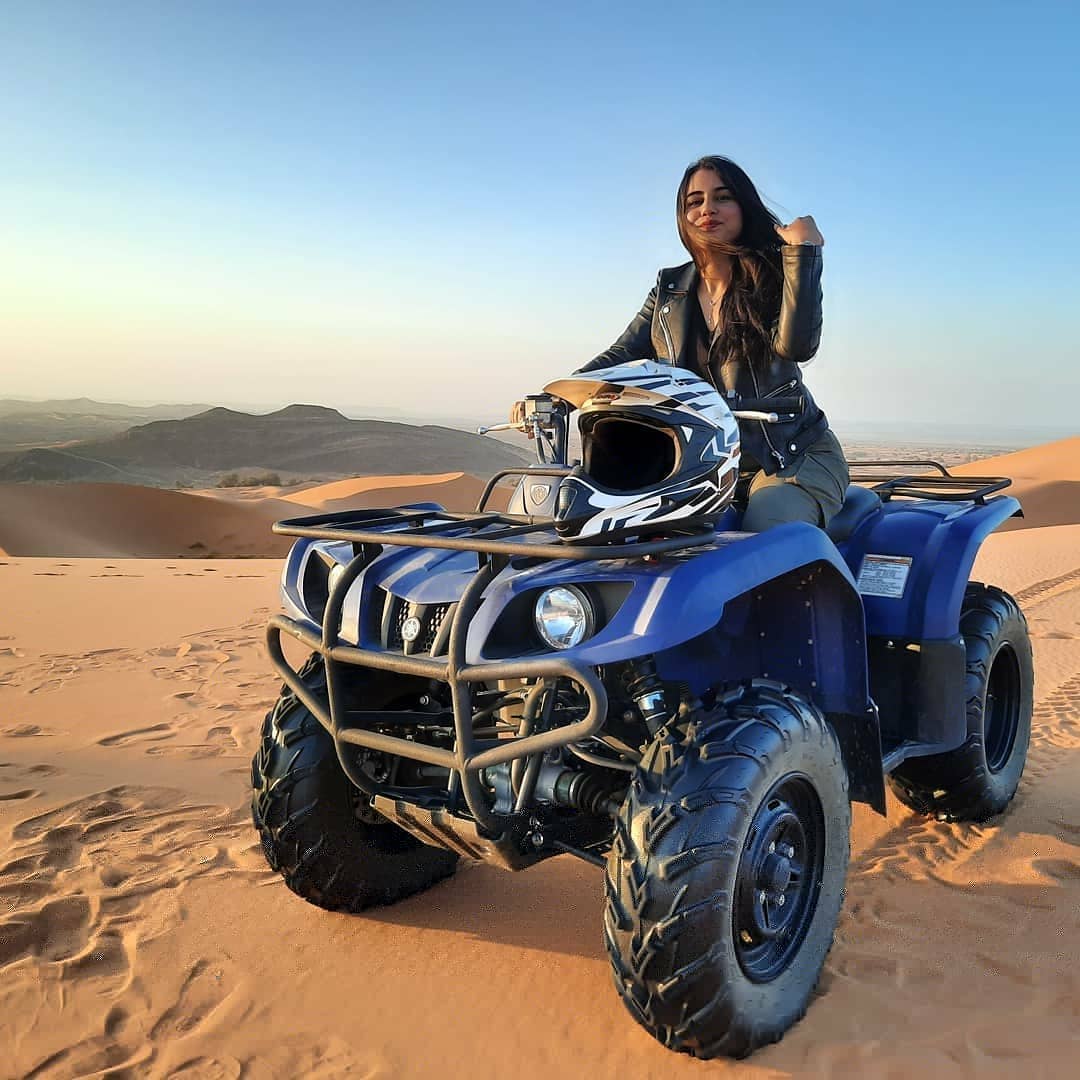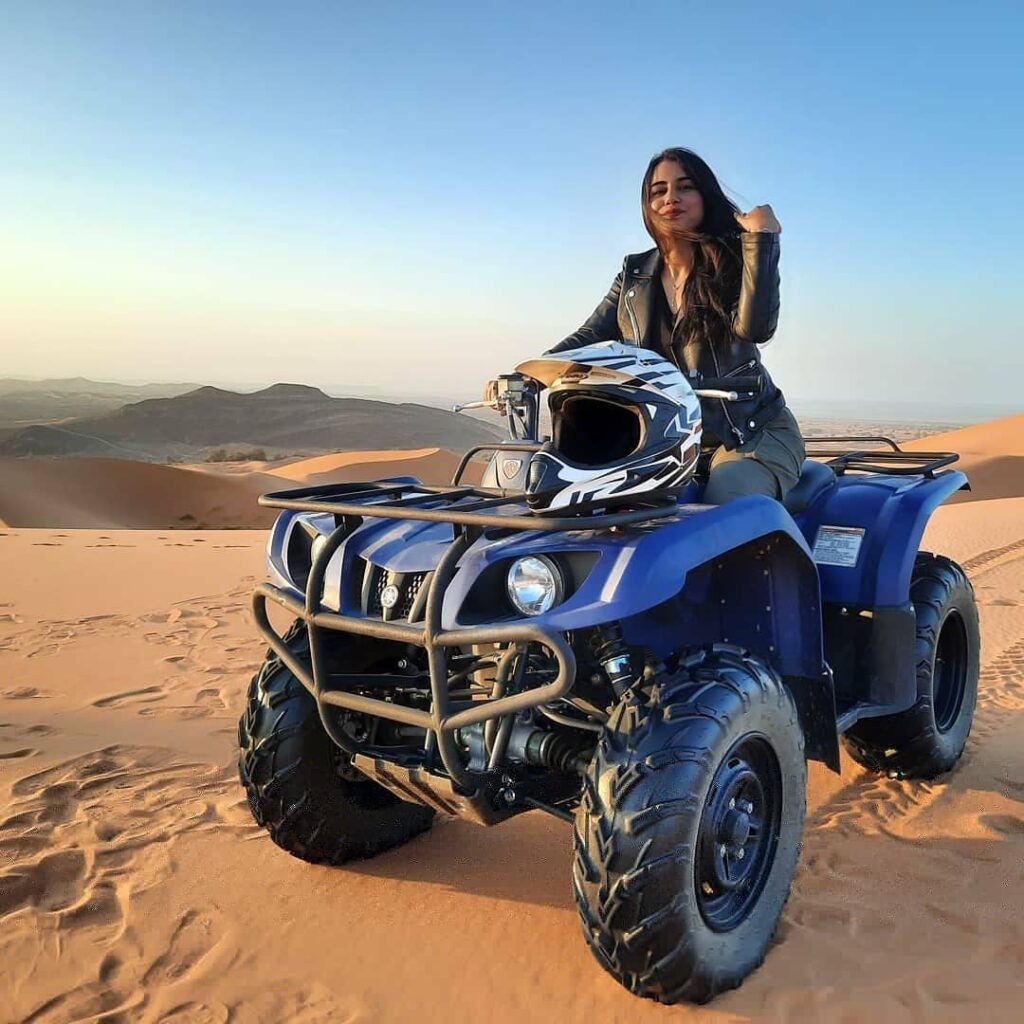 On this ATVs quad biking in Merzouga, you'll ride a powerful moto quad across the Erg Chebbi sand dunes and the beautiful desert vistas that surround Merzouga Sahara. This is a once-in-a-lifetime opportunity!
Merzouga ATVs Quad biking Adventures is a terrific activity that mixes the thrill of riding a quad bike with the beauty of Morocco's biggest Sahara desert, the Erg Chebbi dunes.
To offer the best possible fun, we use the most up-to-date Moto Quad Bikes and equipment to ensure that your great Merzouga Quad Riding excursion works smoothly and enables you to put your riding skills to the test!
Because your satisfaction is our top priority at Merzouga Quad bike, we encourage our clients to take their time on their Morocco Quad Adventure tours: time to ensure they have the proper equipment, time to ensure they are comfortable on their Quad bike, time to customize a trip to meet their specific needs, and time to enjoy the Merzouga Quad experience.
Itinerary ATVs quad biking in Merzouga for 1 Hour
You will be picked up from your accommodation and given all the facts and information you need for your ATVs quad biking in Merzouga for 1 Hour by your desert guide. He'll put helmets on you and take you off-roading to get a feel for the quads before bringing you into the sand dunes, where you'll be treated to stunning views and picture possibilities. The tour is private, with each passenger having their own quad, however, two people may share one quad. If you'd want to see the dunes but can't drive, we have four-seat buggy dunes that you can rent with a driver. To participate in the 1 hour Sahara Quad, you do not need to be an expert or have done quads previously. We understand that most people are afraid of driving through sand dunes, but we can tell you that you have never done these adventures before, so the first 5 minutes will be challenging for you, but you will have a fantastic time at the end of the 1 hour Sahara Quad Biking excursion.
ATVs quad biking in Merzouga for 3 to 5 Hours
ATVs Quad trip in the Merzouga desert for 3,4 or 5 hours is a fantastic adventure that will enable you to see the desert in a different way than a camel ride or 4WD tour. Because the Quad can take you deep into the Erg-Chebbi desert dunes and to the highest hill in the region, where you can get an incredible panorama of the sand dunes.
Merzouga quad riding takes 3 to 5 hours and allows you to meet local nomads and have lunch with them, as well as visit the mines village and khamlia village, where you may stay and listen to Gnawa music.
If you take a 3- to 5-hour Quad excursion with Sahara Safari Adventure, you'll get the chance to see a variety of locations like the black desert with its acacia trees, Jbel Begaa, a massive mountain in the Sahara desert, and Erg Znigui ( another desert with a beautiful view of the black mountains and orange sand dunes ).
A full day excursion on ATVs quad riding in the Merzouga desert regions is a fantastic experience in the Sahara by quads that will take you to see, feel, and experience the finest of what the desert has to offer. A whole day tour in the desert includes a picnic lunch in the desert beneath the shade of a tree and views of various landscapes; it will be a wonderful outdoor experience by the quad safari in the Merzouga desert.
The full-day Merzouga quad trip will take you to some interesting locations where you may enjoy driving your quad while admiring the changing nature. On our safaris ranging from 3 hours to many days, we always combine desert dunes, Berber communities, and the black desert mountains.
Several days in the desert by ATVs Quad bike
A multi-day quad biking trip (2 days or more) is strongly suggested for experienced motorcyclists, motorbike enthusiasts, and anybody else who wants to spend a lot of time in the desert riding a quad bike and sleeping under the Saharan skies.
During our quad safari excursion, we'll be accompanied by an aid vehicle that will transport our baggage, petrol, and other necessities. The quad riding will begin and conclude in Merzouga, however the nights will be spent in the desert distant from Merzouga hamlet. Camping or staying in modest guesthouses in the desert will be the only options for lodging.
Contact us and we'll try our best to put together an unique Quad riding trip that you'll love and that will provide you with an amazing experience in the Sahara desert.
Would you like to go on an ATV quad biking in Merzouga for 1 Hour quad biking tour that includes quad, buggy, camel trekking, desert camp, 4WD desert tour, or sandboarding in Erg Chebbi's Merzouga Sahara desert? There are a variety of Erg Chebbi Sahara desert trips available, including Merzouga camel trekking, desert luxury camp, sandboarding, and a 4×4 excursion. Merzouga quad riding is a fun sport that may be done in the Merzouga desert. You'll be able to locate Erg Chebbi sand dunes and embark on adventures to explore the golden sand dunes of erg Chebbi, reach the summit of the highest dune, a small oasis, and take photographs of the magnificent panoramic and beautiful surroundings. Our trips are suitable for all groups: (teams, families, Christmas and birthday celebrations) or a group of friends getting together for a fun day out, an adventure to remember! Contact us to arrange the ideal quad bike trip in the Merzouga Sahara desert of Erg Chebbi, allowing you to go on a magnificent and unforgettable experience.
ATVs quad biking in Merzouga for 1 Hour Quad Biking Tour is a fantastic daytime activity that combines the thrill of driving a quad 4×4 automatic through one of the most beautiful areas of the Merzouga Sahara desert in Erg Chebbi.
With this ATV quad biking in Merzouga for 1 Hour tour, you'll travel through the erg Chebbi sand dunes and the stunning desert landscapes that surround the Merzouga Sahara desert of erg Chebbi on the four wheels of a powerful quad. Merzouga Sahara desert ATV quad biking tour journey is a great exercise that combines the annoyance of a Quad bike with the beauty of the Merzouga desert and the vastness of the Sahara desert in Morocco Sahara erg Chebbi dunes to confirm your ultimate adventure experience. We'll utilize contemporary moto Quad bikes and equipment to ensure your fantastic Merzouga Quad riding experience and provide you the opportunity to test your biking abilities. We'll have a quad bike, buggy, and desert driving classes available. Our pleasant and expert safety guides will show you around and teach you about various historical and cultural attractions. Our services, guide, or local driver in a position to transfer across the terrain expertly and who will take excellent care of you and give you suggestions and guidance that will make your adventure extra comfortable and exciting is one of the simplest ways to benefit from the Sahara desert of Merzouga by quad.
We have customized different tours itineraries from Marrakech, desert tours, and city tours. However, if the plans below do not match what you are looking for, please fill in our contact form with your needs.