Moroccan salads are a fun and delectable way to learn about the culture and cuisine of this North African country. These recipes may be as basic or as elaborate as you wish, with a range of tastes, textures, colors, and ingredients.
There's certain to be a great Moroccan salad that meets your preferences, whether you're searching for something light and nutritious or something more decadent.
Let's look at some of the numerous varieties of salads available in Morocco and how they might complement your dinner!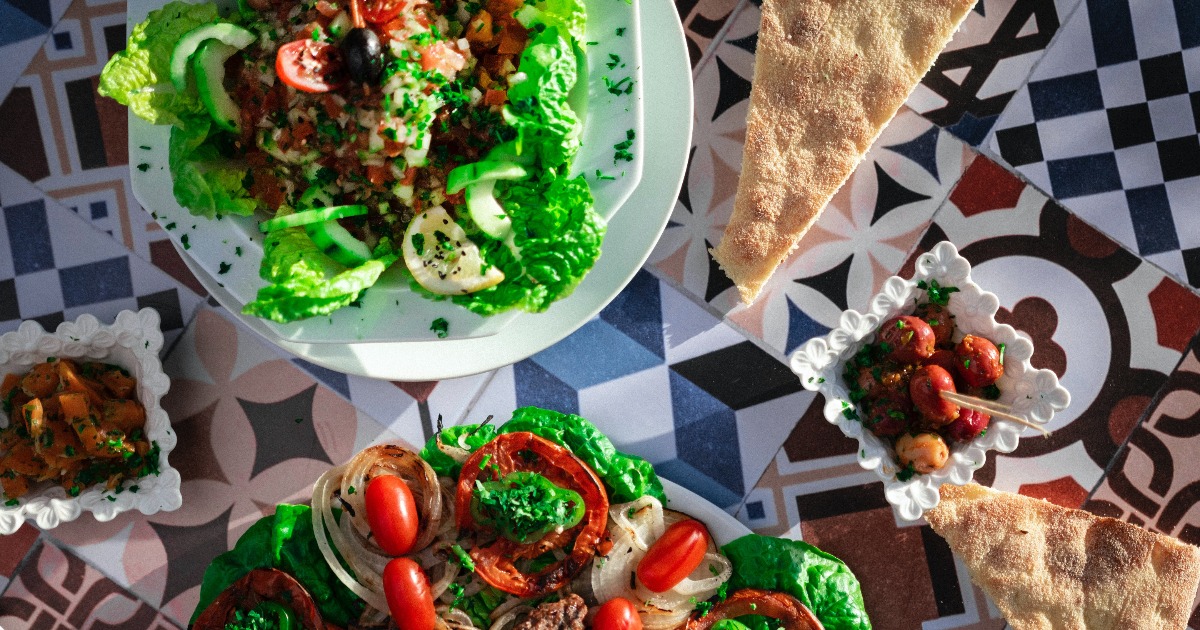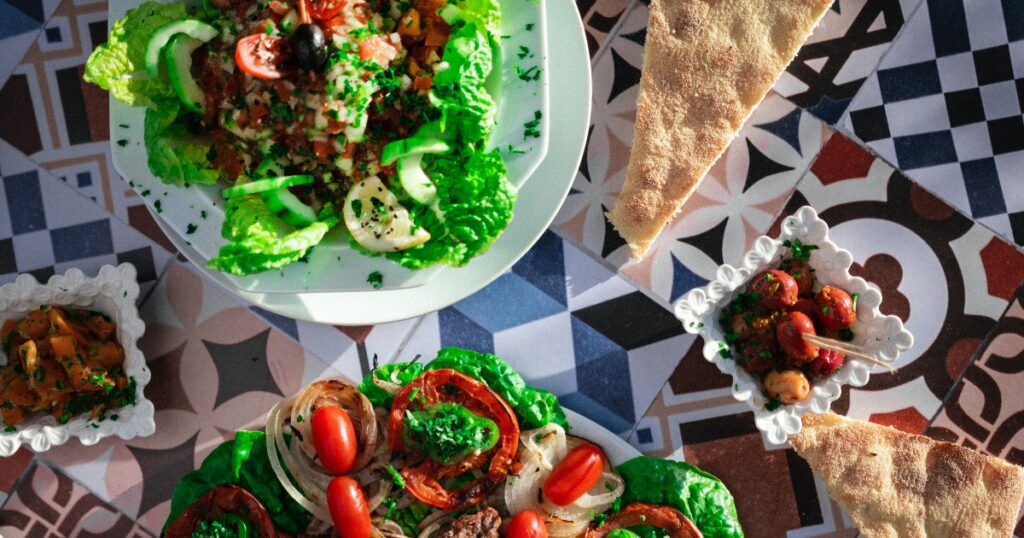 Moroccan salad varieties
Moroccan salads are a tasty and nutritious complement to any meal. Moroccan salads provide a variety of tastes for everyone to enjoy, ranging from basic vegetable salads to innovative mixes of cooked and raw ingredients.
"Chakchouka' is the most popular Moroccan salad. Cooked tomatoes, peppers, onions, garlic, and spices like cumin and paprika make up this salad. This traditional meal, which is often served with eggs or potatoes on the side, is filling enough to serve as a main course.
'Zaalouk' is another popular variation in Morocco. Cooked eggplant is combined with garlic, tomatoes, olive oil, and spices such as cumin and paprika in this salad. Depending on personal desire, it may also include chickpeas or other veggies. The spices combine to provide a wonderfully tasty dish that works well as a side or appetizer for any dinner.
Moroccan salads are guaranteed to add something extra to your next dinner party or meal, with so many inventive versions available!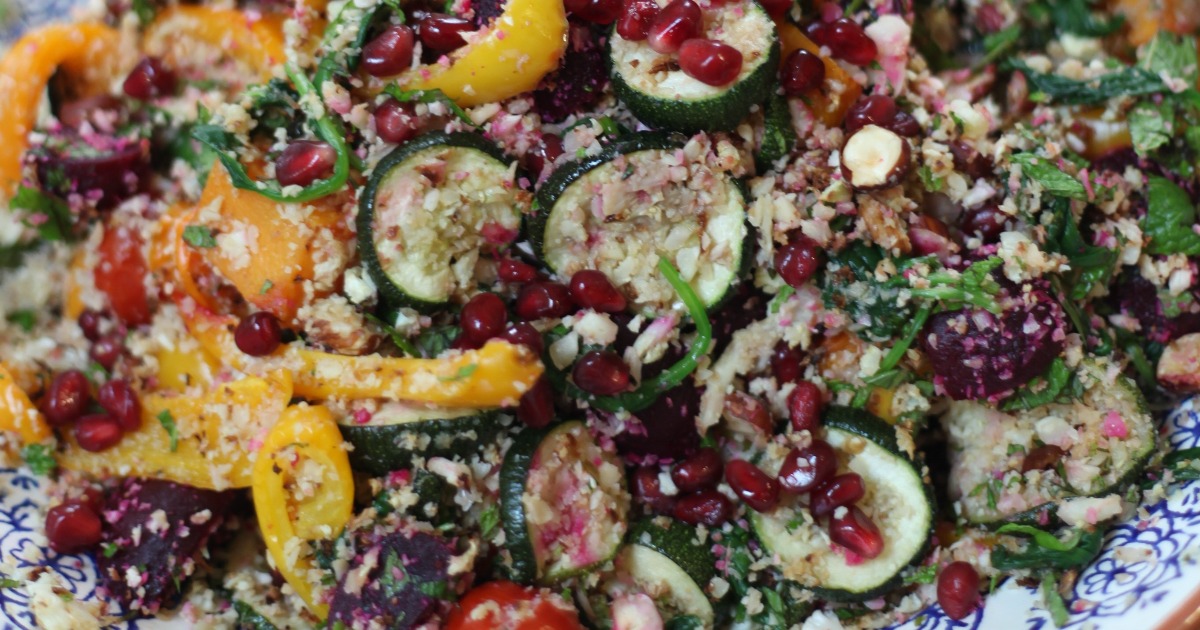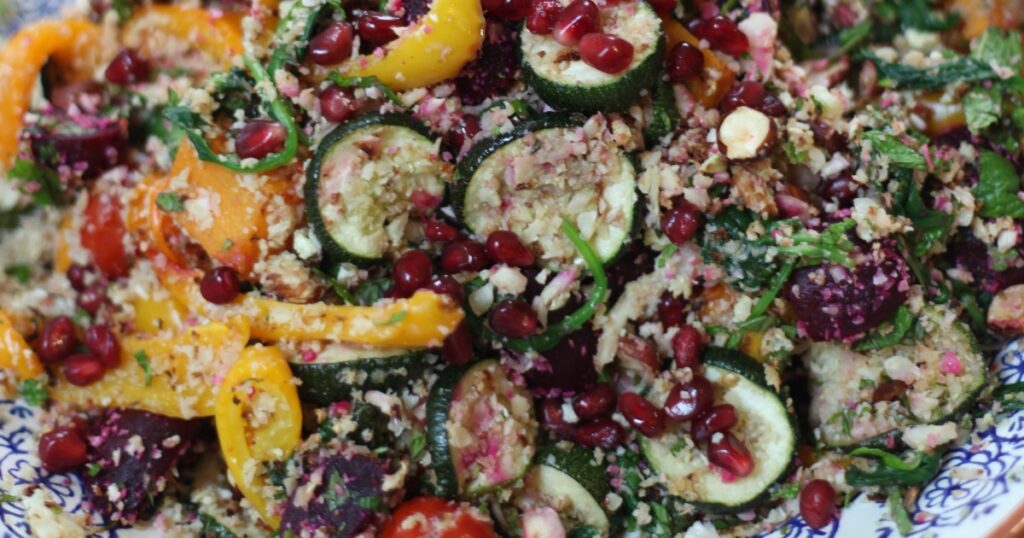 The Advantages of Moroccan Salads
Moroccan salads are a terrific way to receive all of the important nutrients your body requires. They are packed with vitamins and minerals from fresh vegetables, herbs, and spices, which may enhance general health.
They are also high in dietary fiber, which may help lower cholesterol and control blood sugar levels.
Moroccan salads are a low-calorie alternative for people trying to lose weight or maintain their current weight. The veggies provide a good amount of food without adding too many calories, and the light dressing provides taste without adding too much fat or salt. As a result, they are an excellent alternative for folks who wish to enjoy their meals without overindulging.
Moroccan salads are also ideal for people looking for new culinary experiences due to their range of tastes. There's something for everyone, from the sweet taste of lemons to the hot bite of chili peppers!
Furthermore, they come together quickly and simply, so you don't have to spend hours in the kitchen just to make a tasty dinner.
Overall, Moroccan salads are a nice and healthy alternative that everybody may enjoy.
Moroccan Salad Preparation
Moroccan salads are a quick and easy way to add a distinct taste to your meals. Fresh veggies, herbs, olive oil, and lemon juice are the main components in most Moroccan salads.
To begin preparing your own salad, collect all of the essential components. Make sure you have a wide range of ripe veggies on hand, including tomatoes, onions, cucumbers, peppers, and olives. Other ingredients, such as cooked chickpeas or boiled eggs, may be added for protein and texture.
When all of the components are prepared, it's time to construct the salad. To begin, combine all of the veggies in a large mixing dish with some olive oil and lemon juice. Combine all of the ingredients until the oil and lemon juice are evenly spread throughout the salad. Then, for added taste, add any herbs or spices you choose.
To add a bit of freshness to your salad, garnish it with chopped parsley or mint leaves. Serve immediately or refrigerate until ready to serve in the refrigerator!
Have fun with your homemade Moroccan salad!
Salad Ingredients Popular in Morocco
Moving on from the preparation, let's have a look at the elements that are often present in Moroccan salads. Many of them are mainstays of any Mediterranean diet: olive oil, onions, tomatoes, garlic, and parsley.
Moroccan salads often contain fresh lemons or limes for a hint of acidity and a sharp taste, in addition to these recognizable ingredients. Olives, either green or black, are often used for their salty and delicious flavor.
Moroccan salads may be spiced up with some heat as well. Chili peppers are popular salad toppings that lend a spicy bite. The Algerian chili pepper is one of the most popular types; it has a distinct taste with just enough heat to complement the other ingredients in the meal. Paprika is another typical ingredient that provides color and taste without adding too much heat for people who prefer gentler spice levels.
Moroccan salads benefit from herbs like cilantro and mint, which add depth and freshness. For texture and crunch, some recipes call for extra ingredients such as olives, capers, feta cheese, or almonds.
Whatever combination you pick, all of these ingredients work together to produce a tasty and bright salad that will excite your taste buds!
How to Make a Traditional Moroccan Salad
Moroccan salads are a tasty and healthful meal that comes together quickly and easily. Depending on personal preference, it may be served as an appetizer or as a side dish.
Couscous is often used as the salad's basis, which is then topped with vegetables such as cucumbers, tomatoes, carrots, and onions. To enhance taste, olives, raisins, and other dried fruits may be added. Spices like cumin, turmeric, saffron, coriander, and paprika give the dish a distinctive but mild flavor.
To make a traditional Moroccan salad, start by cooking the couscous according to the package directions. Once cooked, toss in any veggies or fruit you're using into the couscous until completely combined. Then, to taste, add spices such as cumin, turmeric, saffron, and coriander.
Finally, if desired, garnish with olives or raisins. This delectable meal may be served hot or cold; either way, it's guaranteed to delight! Make this real Moroccan salad at home; it'll quickly become a family favorite!
How to Make a Delicious Moroccan Salad
Choosing the correct ingredients is the first step in producing a wonderful Moroccan salad. Fresh veggies, herbs, and nuts are required for a colorful and appetizing dinner. To make a great texture and taste combination, mix tomatoes, cucumbers, onions, parsley, mint, and cilantro with olives, raisins, dates, almonds, and pistachios. Try adding preserved lemons or orange slices to your salad for an added taste boost.
Next, you'll need to pick what kind of salad dressing to use. Lemon juice or vinegar with olive oil is a traditional dressing. Alternatively, you may make something more distinctive by combining spices like cumin or coriander with other ingredients like garlic and honey. Whatever choice you make, avoid overpowering the salad elements by applying too much dressing.
It's now time to construct the salad! Begin by arranging the veggies in a layer on the bottom of a big basin or platter. Overtop the veggies, sprinkle with nuts and dried fruits, as well as any other ingredients such as preserved lemons or oranges. Then sprinkle your preferred dressing over everything and toss gently until everything is uniformly covered.
Enjoy your tasty Moroccan salad!
Moroccan Salads in Combination with Other Dishes
When it comes to Moroccan salads, the options are almost limitless. These scrumptious meals provide a variety of tastes and textures that may be eaten on their own or as part of a bigger meal.
While Moroccan salads are ideal as a side dish, there are several ways to combine them with other foods for a delectable, complete dinner experience. To make a whole dinner out of Moroccan salads, choose one or two varieties to offer. A basic chickpea salad, as well as a roasted cauliflower and carrot salad, are always popular. Try a tangy tabbouleh or a spicy harissa slaw for added zing. Salads created with couscous or quinoa for an added nutty texture will add flavor to your meal.
After you've decided on your salads, choose another meal to go with them. The possibilities are endless; offer some savory kebabs or grilled fish with the salads for a light but filling lunch. If you want something heartier, mix the salads with robust stews like tagine or couscous served in traditional clay pots.
Make some traditional flatbreads, such as khobz, to dip into the savory sauces that often accompany Moroccan salads. Whatever combinations you pick, it will be a great feast! With so many delicious alternatives, why not make the most of your next dinner party by serving real Moroccan food to your guests?
Recipes for Popular Moroccan Salads
Why not add some Moroccan flavors to your salad repertoire if you're searching for something new to try? Moroccan salads are a delicious way to spice up any meal and can be as simple or elaborate as you wish. There's enough for everyone, from basic dishes with couscous and fresh veggies to hotter alternatives like harissa-spiked chickpeas. Let's look at some of the most well-known Moroccan salad dishes.
The classic tabbouleh comes first. This parsley-based salad is a Middle Eastern favorite, and its aromatic herbs and crisp bulgur wheat make it difficult not to enjoy. It also comes together fast and effortlessly (all you need are parsley, tomatoes, cucumbers, mint leaves, lemon juice, olive oil, and bulgur wheat), making it ideal for hectic weeknights.
Zaalouk is up next. In Morocco, this roasted eggplant spread is often served as an appetizer, but it may also be served as a delightful side dish or main course salad. To prepare it, roast some eggplants until soft, then combine them with garlic, tomato paste, cumin, and olive oil until a thick paste forms. Serve it with pita bread or mix it with your favorite salad greens for a fresh take on a traditional lunchtime dish.
Shoraba Khodar, a robust chickpea salad flavored with harissa sauce and topped with feta cheese, is a spicy option. Begin by sautéing chickpeas in olive oil until golden brown. Remove from heat and put aside. In a separate dish, combine the chopped onion, parsley, garlic cloves, harissa paste (available in most grocery shops), lemon juice, and salt before pouring over the cooked chickpeas and topping with feta cheese crumbles immediately before serving. Enjoy!
Common Moroccan Salad Ingredient Substitutions
Everyone's attention is drawn to the brilliant colors of the Moroccan salad, which is filled with sweet and savory ingredients. Pungent peppers, crisp cucumbers, and fresh herbs provide a diversity of textures to the dish, tantalizing the taste receptors. But what if you don't have all of these materials on hand? Don't panic; there are several replacements for basic Moroccan salad items that will result in a great dinner.
Instead of cumin or caraway seeds, for example, use ground coriander as an aromatic spice. Chickpeas may be substituted for black-eyed peas to make a protein-rich meal. For a more robust taste, use Kalamata olives instead of Mediterranean olives. To add a particular sweetness, replace the tomatoes with roasted red peppers.
Finally, herbs such as mint or basil are vital for bringing out the taste of the other components. If you can't locate these fresh herbs in your local grocery shop, dried herbs are an alternative; simply modify the quantities accordingly!
With these easy modifications, you'll be able to whip up a tasty and nutritious Moroccan salad in no time.
Dressings for Moroccan Salads
Moroccan salad components may vary widely, allowing for a broad variety of substitutions based on taste and availability. While certain recipes depend significantly on traditional ingredients such as olives or preserved lemons, there are plenty of inventive alternatives. Sweet potatoes, winter squash, and even chickpeas may be delicious additions.
However, when it comes to dressing, many Moroccan salads stick to more traditional tastes. Dressings are often made using olive oil as a base, lemon juice, and spices such as cumin and paprika. Herbs like parsley and cilantro may be added for taste and freshness.
Ras El Hanout spice mixes offer a fragrant scent to the salad while also delivering modest undertones of warmth and sweetness.
Dressings help bring out the tastes of the salad's ingredients while also adding depth that makes each mouthful distinct. An average meal may suddenly become something amazing by blending various oils, herbs, spices, and citrus juice into one delectable sauce!
Decorative Ways to Serve a Moroccan Salad
Putting together a Moroccan salad doesn't have to be tedious! With a few easy ornamental touches, you can transform your salad into a work of art. There are several ways to make your salad appear as good as it tastes, ranging from pomegranate seeds and fresh herbs to bright veggies and edible flowers.
Let's look at some creative ways to liven up your Moroccan salad. Using elements that naturally contribute color and texture is one way to make a Moroccan salad stand out. Chopped vegetables such as bell peppers, carrots, radishes, red onions, cucumbers, tomatoes, and olives provide color and texture. For a flash of color, add pomegranate seeds or dried fruit such as currants or cranberries. Add edible flowers like hibiscus petals or lavender sprigs for visual flair and an additional special touch.
Consider topping your salad with a variety of tasty spices such as cumin, coriander, paprika, turmeric, cinnamon, or ginger for an added kick. Garnish with slivered almonds or sesame seeds for a nutty crunch and some chopped parsley or mint leaves for brightness. A small spray of olive oil flavored with garlic or lemon juice will provide the final touch to the salad!
Whatever you decide to do with your Moroccan salad, these innovative ideas are guaranteed to amaze your guests.
At a party, serve Moroccan salads.
Moroccan salads are a terrific way to add savory, vivid, and unusual items to your party menu. The secret is to combine the correct vegetables and seasonings.
Many dishes use traditional spices like cumin, paprika, garlic, parsley, cilantro, mint, and lemon juice. These tastes are both robust and delicate, yet they combine to provide an outstanding flavor profile that will delight visitors' taste buds.
The first step in making Moroccan salads is to choose the vegetables that will be used. Carrots, tomatoes, cucumbers, olives, bell peppers, potatoes, zucchini, and green beans are also popular selections. If desired, other ingredients, such as chickpeas or hard-boiled eggs, may be added. Make sure to chop all of the veggies into tiny pieces so that they cook evenly when mixed with the dressing.
After you've prepared all of the veggies, it's time to create the dressing. Moroccan salad dressings are traditionally prepared with olive oil and lemon juice. You may also add other herbs and spices, like garlic powder or cayenne pepper, if preferred.
Once all of the ingredients are incorporated, pour over the salad and stir until everything is completely coated. Serve your Moroccan salads on a wide dish with colorful decorations like pomegranate seeds or chopped almonds sprinkled on top for an extra stunning look.
This vivid and flavorful meal will wow your visitors!
Breakfast Salads with Moroccan Flavors
Breakfast is the most essential meal of the day, but it doesn't have to be monotonous. Moroccan salads are a delicious way to start your day with intriguing and delectable food that will fuel you for the day ahead.
Combining fresh vegetables such as cucumbers, tomatoes, and peppers with classic spices such as cumin and coriander may result in a delectable flavor profile that will tempt your taste buds. You can prepare a variety of Moroccan salads for breakfast with a few easy recipes that are guaranteed to delight even the pickiest diners!
If you want something more substantial for breakfast than a salad, consider adding some protein-rich items like chickpeas or fried salmon. Grilling or pan-frying these ingredients enhances the taste and texture of your food. Cooked grains like couscous or bulgur wheat may also be added for extra filling strength, which works well with a mild vinaigrette sauce.
When it comes to making excellent Moroccan salads for breakfast, the choices are almost limitless! To make your mornings simpler, try preparing all of your components the night before so that all you have to do in the morning is assemble them. This way, you won't have to spend as much time in the kitchen getting things ready.
Using this easy approach, you may have a great Moroccan salad every morning without sacrificing vital time in your hectic schedule!
Moroccan Salads in a Variety of Ways
Moroccan salads are a tasty and nutritious way to experience classic Middle Eastern food. They have a wide range of tastes, textures, and colors that may be mixed to create a really one-of-a-kind meal.
Moroccan salads are often made with tomatoes, cucumbers, olives, onions, lettuce, parsley, mint leaves, garlic cloves, and olive oil. For enhanced taste, these components are often combined with spices such as cumin and paprika.
Moroccan salads may be served as a side dish or as the main course of any meal. For a quick side dish, combine all of the ingredients in a bowl and serve with grilled fish or chicken.
Consider adding cooked couscous or quinoa to your salad for added protein if you're looking for something more substantial for lunch or dinner. To add a crisp bite to your salad, sprinkle it with feta cheese or roasted chickpeas.
Moroccan salads are quite adaptable and can be eaten in a variety of ways. You'll appreciate the mix of tastes and textures that make this recipe so distinctive, whether you serve it as a side dish or as the main course of your next supper.
Experiment with various ingredients until you discover the right combination for you!
Moroccan Salad Storage and Reheating
After examining the many ways to enjoy Moroccan salads, it's time to think about how to preserve and reheat them. There are a few things to keep in mind to ensure the salad keeps its taste and texture.
The first step is to swiftly chill the salad once it has been cooked. Spread it out on a big dish or tray, and then move it to smaller bowls or containers after it has cooled.
Moroccan salads should not be left at room temperature for longer than two hours. The longer they are left out, the more likely they are to deteriorate.
When keeping the salads in the fridge, use an airtight container and avoid overcrowding. Salads should be consumed within three days after being refrigerated since they will go bad beyond that.
Allow them to come back up to room temperature before serving by taking them out of the fridge approximately 30 minutes before you want to eat them. Never boil or microwave your Moroccan salad!
With these easy measures, you can guarantee that your salads are always fresh and tasty.
Conclusion
Finally, Moroccan salads are a wonderful and nutritious opportunity to experiment with different tastes and textures. They're simple to create with few ingredients and may be served for breakfast, lunch, or supper.
With so many distinct varieties, you're certain to discover one you like! Furthermore, if you cook too much for one dinner, you may save or reheat it for another.
So, why not try your hand at preparing your own Moroccan salad today? You will not be sorry!