Are you seeking for a one-of-a-kind experience during your Moroccan vacation? Then staying at one of these luxury desert camps should surely be on your list.
Glamping In Morocco has become one of the coolest things to do in Morocco. But, to be honest, there are some genuine stinkers out there, and it's also not simple to acquire an overview of Morocco's greatest luxury desert camps. With this list, you'll be all set for an unforgettable event.
Whether you wish to explore the Agafay desert, which is only a short distance from Marrakech, or lie beneath the stars in the Sahara desert. This collection of Glamping In Morocco locations will have you covered!
The 8 Best Luxury Desert Camps Glamping In Morocco
One of the most fundamental aspects of Berber culture is desert camping. Add a dash of luxury and you've got yourself one of Morocco's most wonderful experiences.
During the day, you may participate in one of the camps' activities, such as a quad ride, or simply rest by the pool. In the evening, you may dine on Berber cuisine by candlelight and perhaps take a stroll in the desert under a starry sky.
The Best Luxury Desert Camps in Marrakech's Agafay Desert
The calm Agafay Desert is approximately 40 minutes by car from Marrakech's hustle and bustle. It's the ideal escape if you want to enjoy a desert experience but don't have time to go all the way to the Sahara desert.
The Agafay Desert is distinguished by the fact that it is composed of rocks rather than sand. Although its white dunes give the appearance that you are in the Sahara sands.
In the midst of the desert, there lies an unexpected oasis, a refuge of peace and tranquillity where fauna and flora may flourish. Frogs and turtles dwell quietly in the oueds, surrounded by water and rocks, in this paradise.
This stony desert will undoubtedly startle you and make you forget about the overwhelming ambiance of Marrakech's center.
Agafay Luxury Camp is number one.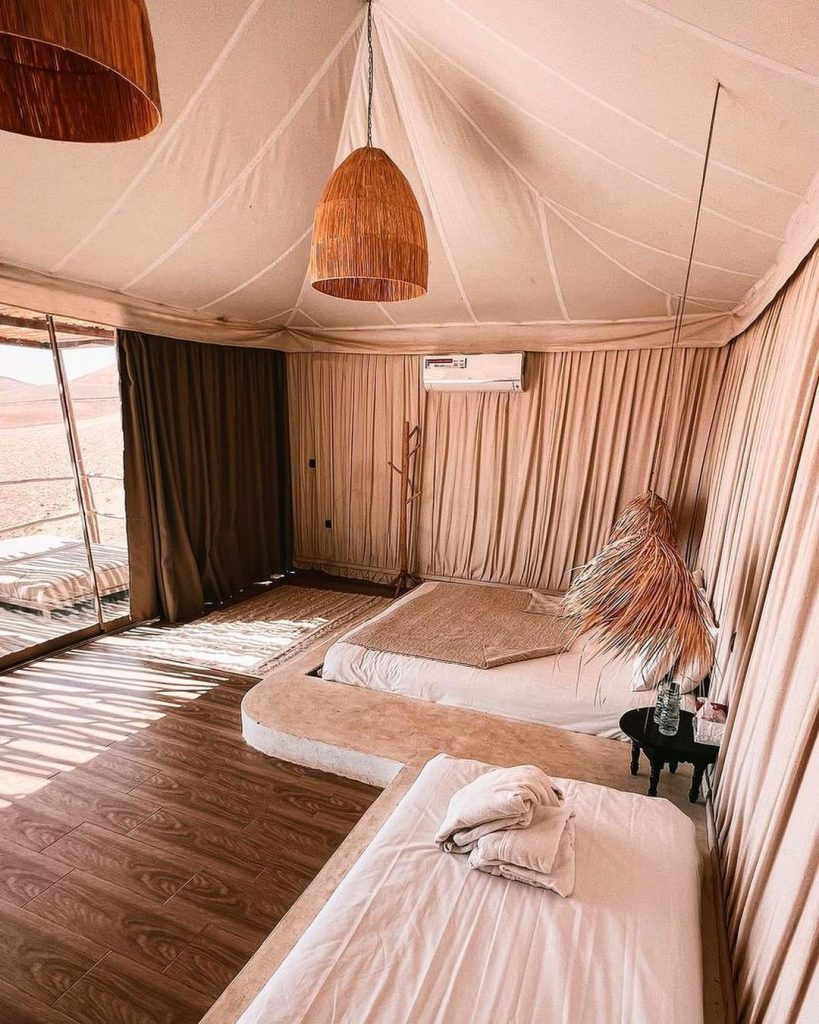 In the center of the Agafay desert, the Agafay Desert Luxury Camp provides a soothing natural experience.
There are 18 luxury tents that combine traditional elegance, great service, and comfort to give a "safari for the spirit."
The deluxe tents are arranged in a romantic manner and include WiFi, power, a phone, a wood burner, hot water, and so on. You may unwind in the indoor/outdoor bathtub or relax on the own sundeck, which has a daybed and two massage beds. All while enjoying views of the neighboring mountains, dry rivers, and stone dunes ocean.
All of their tents are modular, which means they can be opened from all sides, allowing you to enjoy the benefits of sleeping outside.
As a guest, you may also enjoy a camel sunset ride, a quad ride, or desert horseback riding.
CLICK HERE TO CHECK FOR RATES & AVAILABILITY
La Pause Camp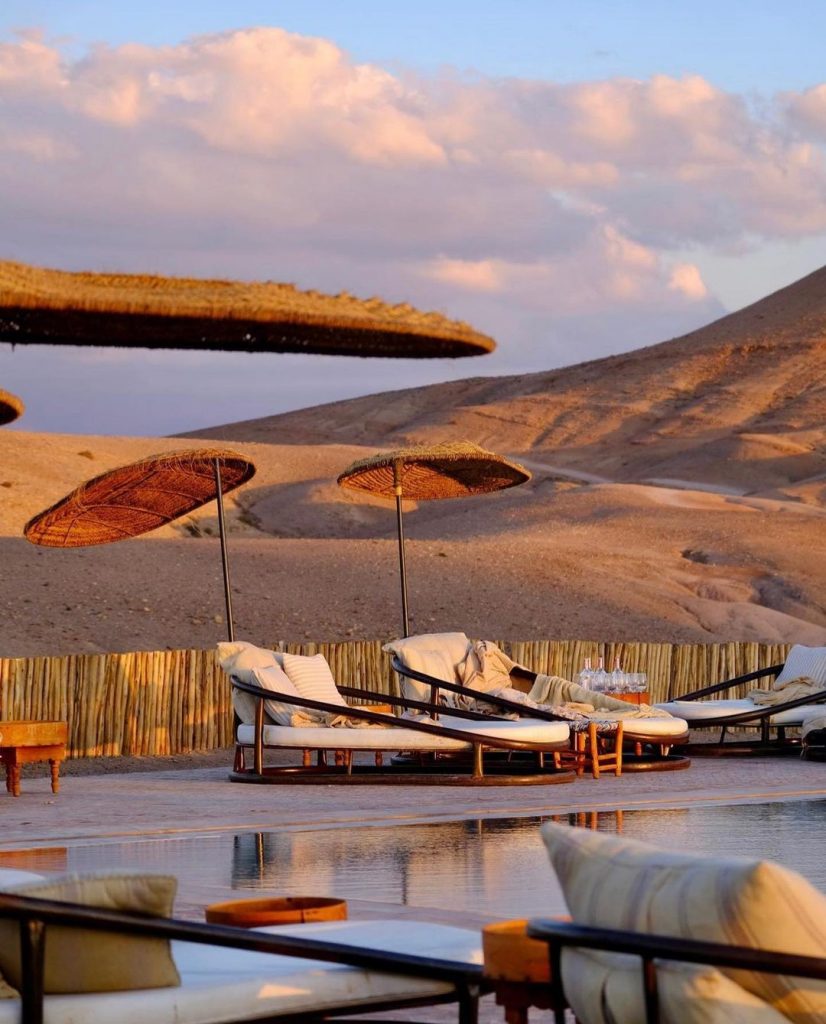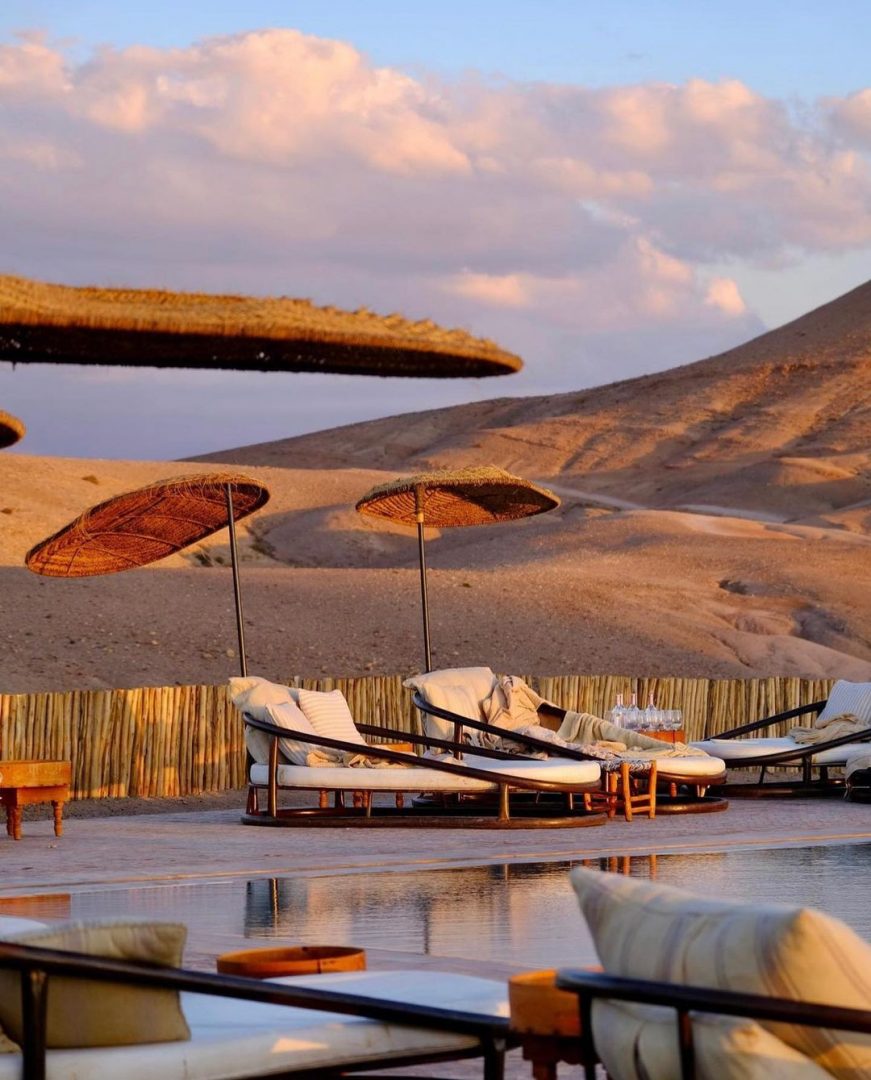 La Pause satisfies travelers seeking simplicity by providing great services and concentrating on what matters most: enjoyment. Whether you want to unwind in tranquility, test your adventurous spirit on a Moroccan desert excursion, or celebrate a particular occasion.
La Pause offers two types of accommodations:
The lodges are attractive and typical roomy buildings. They are ideal for people who value privacy and authenticity. Their lodges all have private bathrooms and are heated (wood stoves, etc.).
Their bivouac tents enable you to actually retreat and connect with nature in a conserved setting, providing a truly exclusive and sophisticated Glamping In Morocco experience.
To get the most genuine experience La Pause does not provide power or air conditioning. When it comes to illumination, they choose candles to offer a genuinely spectacular experience.
CLICK HERE TO CHECK FOR RATES & AVAILABILITY
3: Terre des Etoiles – The most sustainable desert camp in Morocco.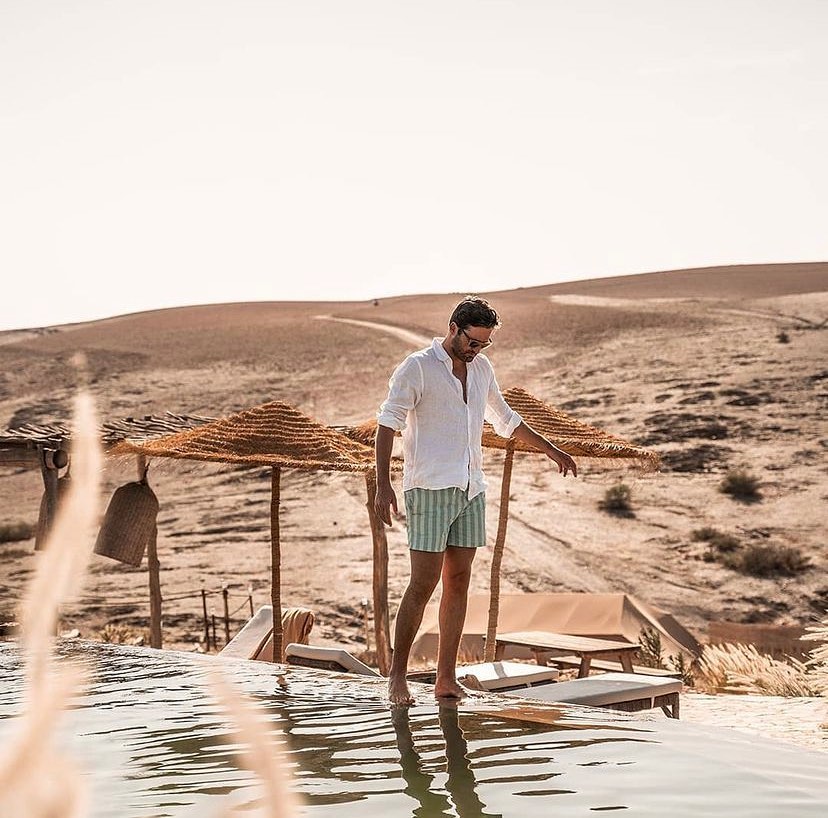 Terre des Étoiles will provide you with an unforgettable desert experience! The camp, designed by Pierre-Yves Marais, encourages guests to immerse themselves in the unique accommodations and intriguing surroundings. Guests enjoy perfect intimacy and the ability to thoroughly unwind in a tent that combines traditional and modern amenities.
The camp lodge, which takes center stage for a variety of activities near the land and stars, is also an ideal launching pad for several retreats around this magnificent terrain.
By selecting Terre des Étoiles, you are also committing to the concept of sustainable adventure. Terres des Étoiles' entire staff is committed to responsible management, particularly in the treatment of waste and water utilization.
As a result of their efforts, the Terre des Étoiles team was given the Green Key mark, the most recognized international environment label for tourist accommodation and food and beverage services.
4: Camp Inara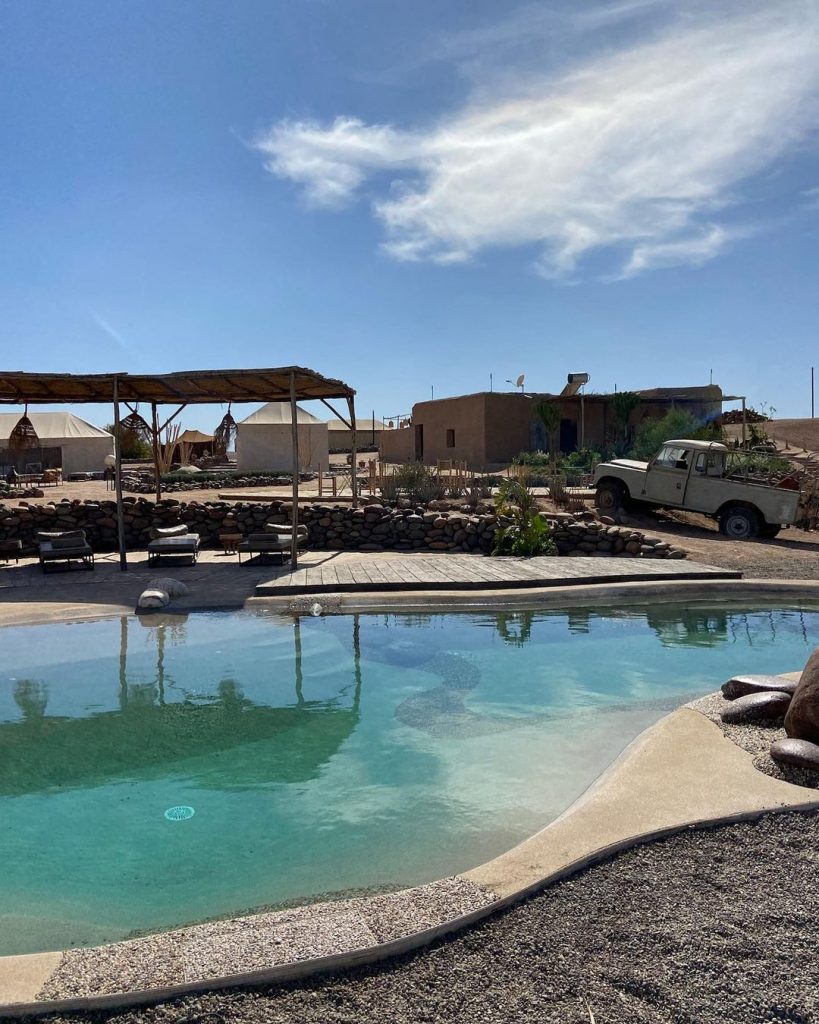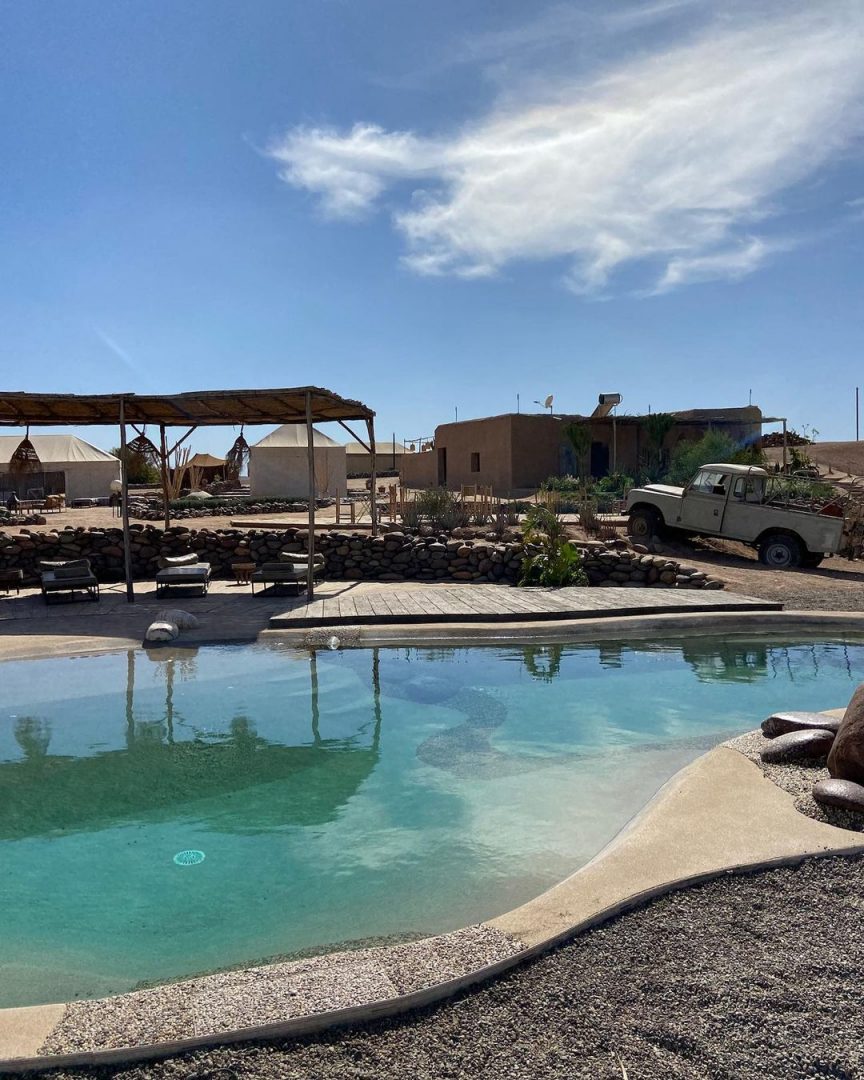 Inara camp is divided into two sections in the midst of a 10-hectare area.
The upper level has a restaurant that invites passengers for an outstanding meal.
The special experience of a night in the desert awaits you down below the bivouac section. Consisting of 18 luxury tents of 30m2 each with an inside king size bed, living area, and separate bathroom with shower (hot water) and toilet, the camp maintains intimacy and respects serenity while realizing each individual's desert fantasy.
5: Nkhila Lodge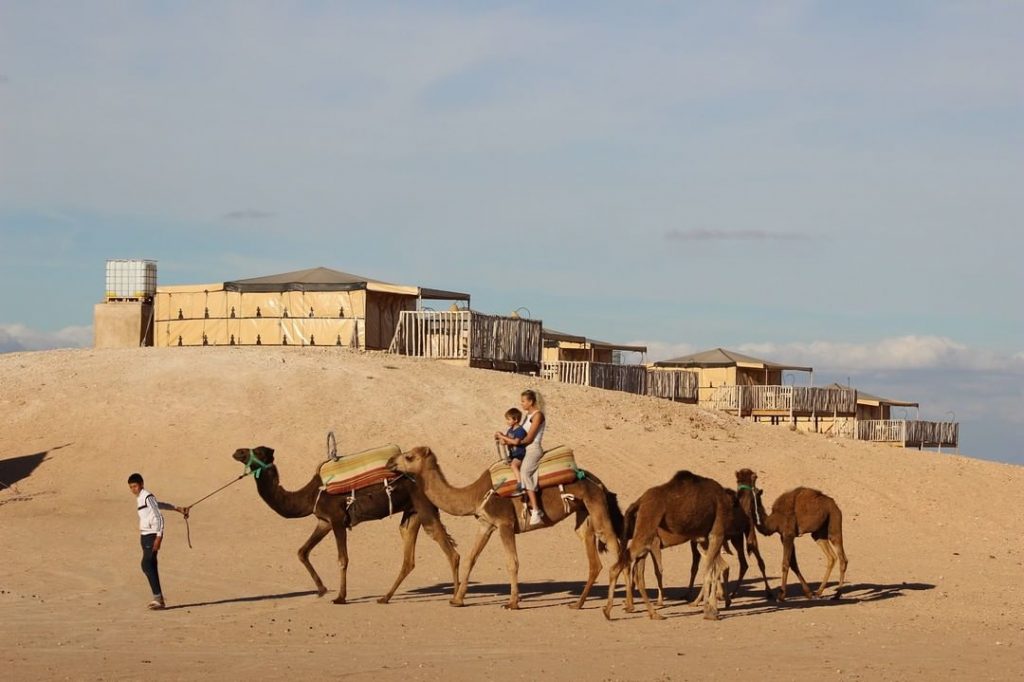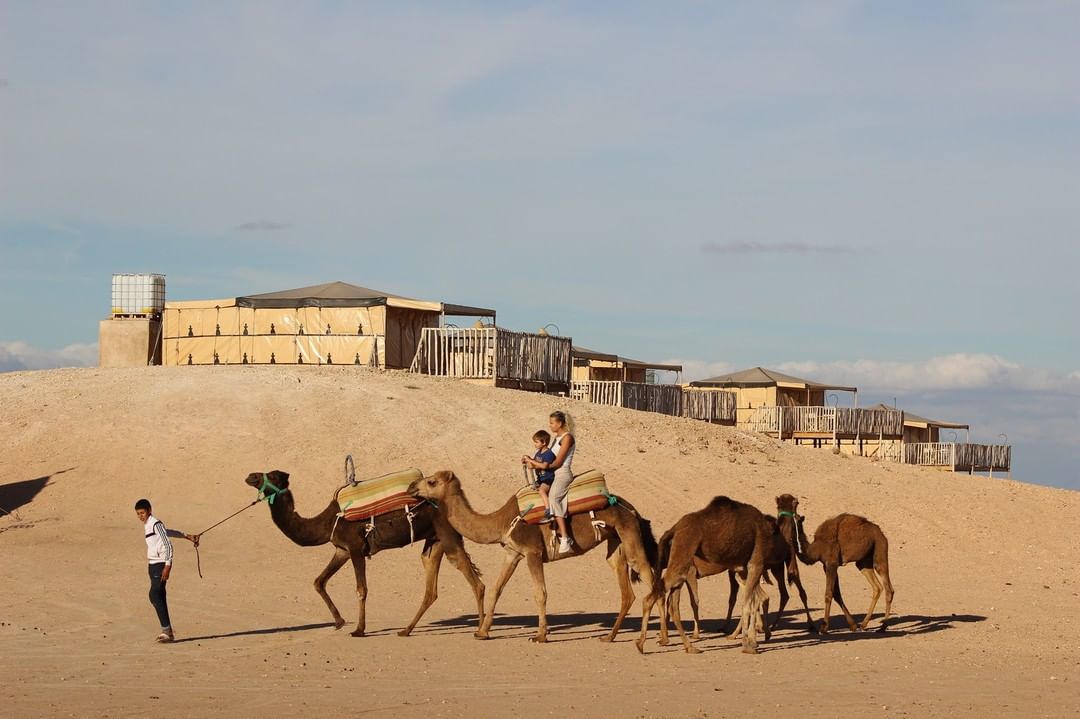 Nkhila Lodge is a one-of-a-kind tented wilderness lodge perched on a high plateau in the midst of Marrakech's Agafay Desert Glamping In Morocco. Guests may sleep in magnificent stargazing tents erected on stilts facing the High Atlas mountains and a distant view of Mount Toubkal.
These beautiful ensuite tents with glass ceilings are spaced 15 meters apart to provide seclusion and provide a unique perspective of the African night sky.
The campsite is solar-powered and designed to allow guests to enjoy the nighttime grandeur of Africa's dark skies. Alternatively, you may stay in a cozy desert nomad tent.
6: Agafay Oxygen Lodge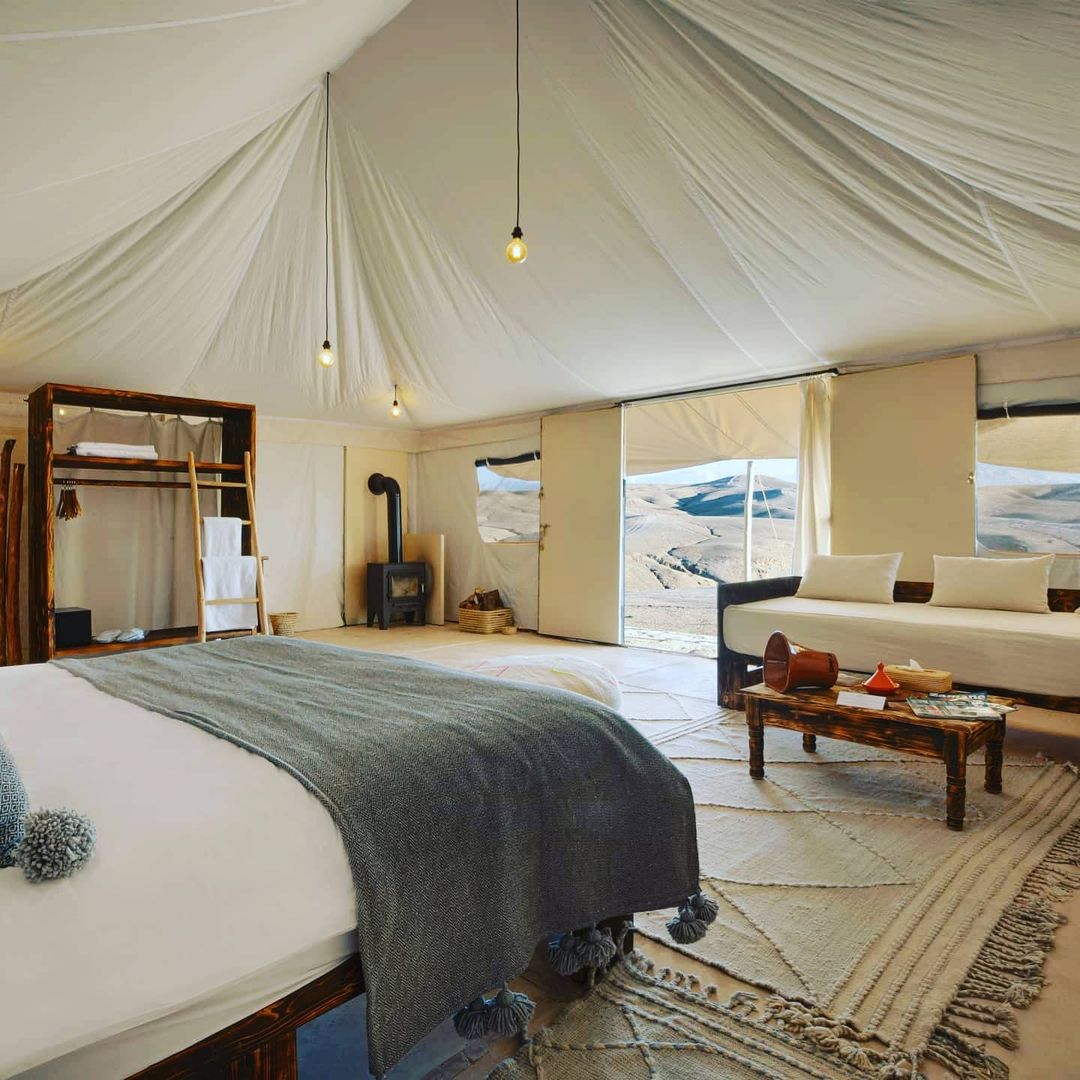 The Oxygen Lodge Agafay is a spectacular luxury desert camp set in the middle of Morocco's Agafay Desert, about 35 minutes from Marrakech.
Their unusual lodging will provide you with a spectacular night under a sumptuous tent decorated in a style that combines Arabo-Moorish handcraft and French Art Deco.
In addition to the Lodge Tent offered for their stay, guests will be able to roam around the whole 20-hectare estate and enjoy a Restaurant Lounge tent with a terrace affording a beautiful view.
Every dusk, a Tea and Fire Ceremony is held… A beautiful time of conviviality for guests.
CLICK HERE TO CHECK FOR RATES & AVAILABILITY
Luxury Desert Camps in Morocco's Sahara Desert Merzouga
The Sahara Desert captures the imagination of many people, and once there, you'll understand why.
The Sahara Desert is the world's largest desert, covering virtually the whole northern half of Africa. While visiting is a little more time consuming than simply driving an hour to the Agafay Desert, it is well worth the journey!
On the route, you may see some of Morocco's most beautiful sights, including Ait-Ben-Haddou, the Dades Gorges, and Ouarzazate.
7: Sahara Desert Luxury Camp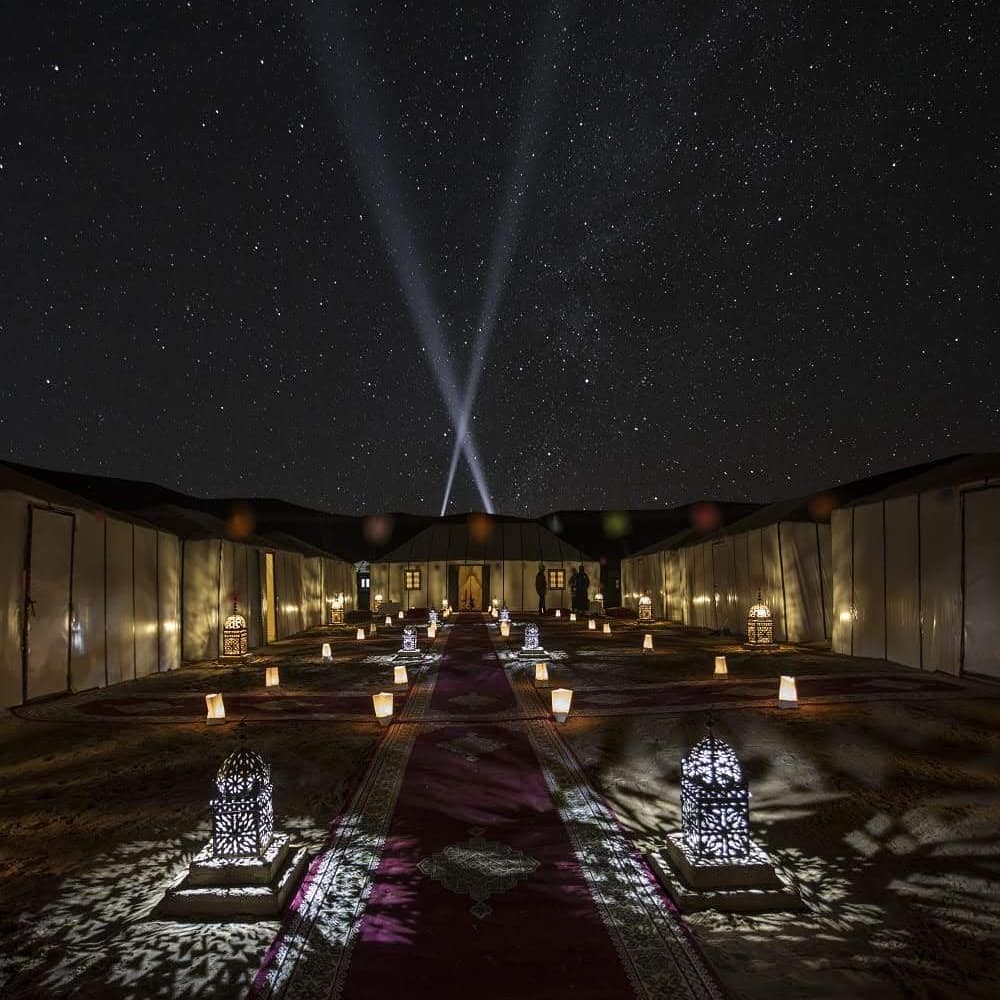 The Sahara Desert Luxury Camp is located among the Erg Chebbi Merzouga Sand Dunes, Morocco's largest sand dunes.
Enjoy a unique night beneath the stars, surrounded by the stunning hues of the sunset and sunrise. You will also get the opportunity to ride a camel at sunset and dawn from the top of the dunes.
It is a contemporary and pleasant desert camp with numerous housing choices such as standard tents and deluxe tents, as well as traditional Moroccan dishes for supper and breakfast amid the Sahara desert.
They also provide activities including camel rides, sandboarding, 4×4 trips, quad bikes, and buggies.
8: Luxury Camp Elegante
Elegante Deluxe Camp is the ideal Moroccan luxury desert camp for a romantic trip.
It is only 5 minutes' drive from Merzouga Lake and features a library, a sun patio, and a sun deck.