The Agafay Desert is only an hour's drive from Marrakech's vibrant souks and dizzying maze-like market alleyways. The Agafay, literally unspoiled by civilization, is a stark contrast to the buzz and bustle of Marrakech.
Most tourists visiting Morocco are aware of Sahara desert excursions, although they are not always feasible. While some two-day excursions are available, the minimum advised time to complete the journey is three days. When choosing a desert tour from Marrakech, travelers should think about how much time they want to spend in a vehicle.
The travel from Marrakech takes roughly 8 hours if you go straight, although most organized groups will stop at least a few times along the route. The actual time spent in the Sahara desert is frequently relatively short. We spent less than 12 hours in the desert on one of my first excursions, just long enough to ride a camel in at dark to the tents and ride the camel out in the morning. It was nothing like I had envisioned.
So what if you don't have the time to do this journey, or if you want to spend time in the desert but a Sahara excursion isn't your cup of tea?
If you don't have the time or inclination to make this lengthy journey, there are various desert trips available from Marrakech. Few people are aware of the adjacent Agafay Desert, which is located just outside of Marrakech. While you won't find golden, rolling sand dunes here (it's a stone desert), you may still get a private desert experience with a breathtaking perspective of the High Atlas Mountains. Furthermore, it is close enough to Marrakech to be a day excursion.
What can you do on this day trip to Marrakech?
There are several options available depending on the Agafay desert camp you select. However, one of the finest things to do is to slow down and relax. Of course, this is a great setting for your Marrakech camel ride (and believe me, it's a lot more atmospheric than riding a camel in the city!) You can easily go trekking or arrange for supper with local families – yeah, people live out here!
Other activities include horseback riding and quad bike riding, or you may bring cards and board games to socialize with your trip partners. In addition, some camps provide hammam and/or massage services to visitors in specially prepared tents.
When the sun goes down, eat a nice supper while staring at the stars over a nearby bonfire. It won't be as clear as the Sahara because you can still see parts of Marrakech's lights, but it's great for astronomy!
Which luxury desert camp should you go with?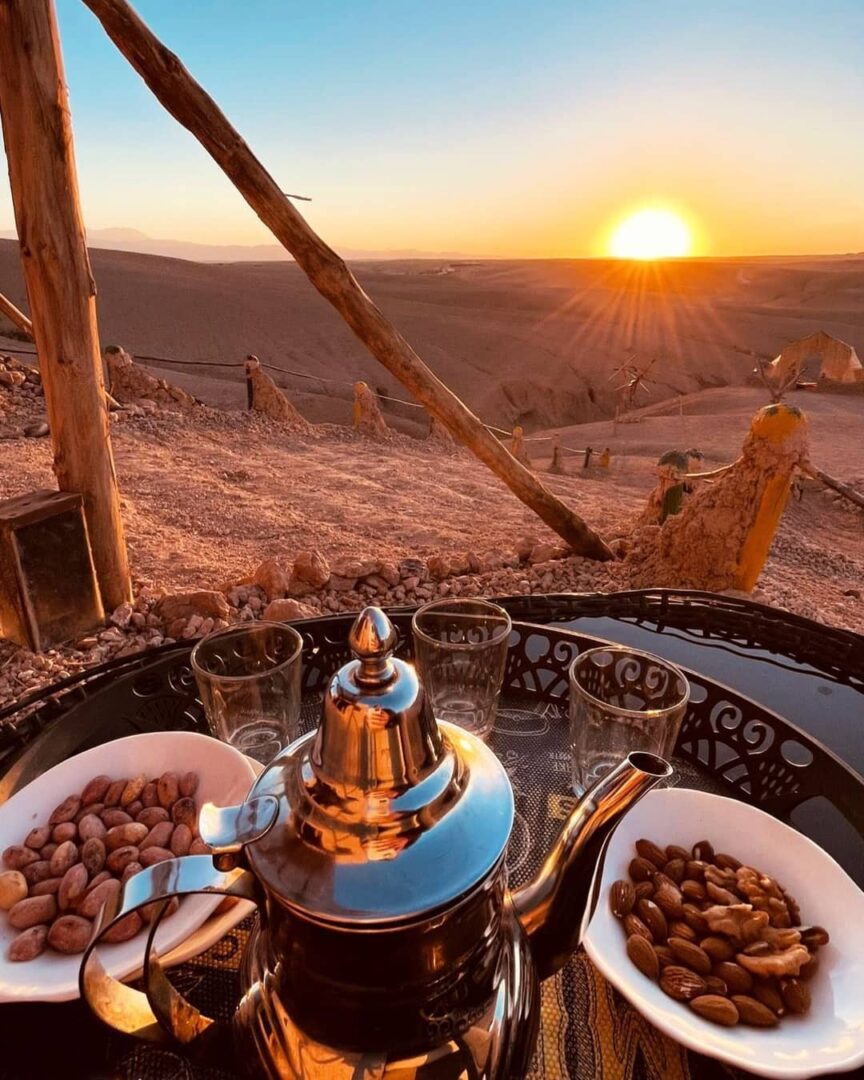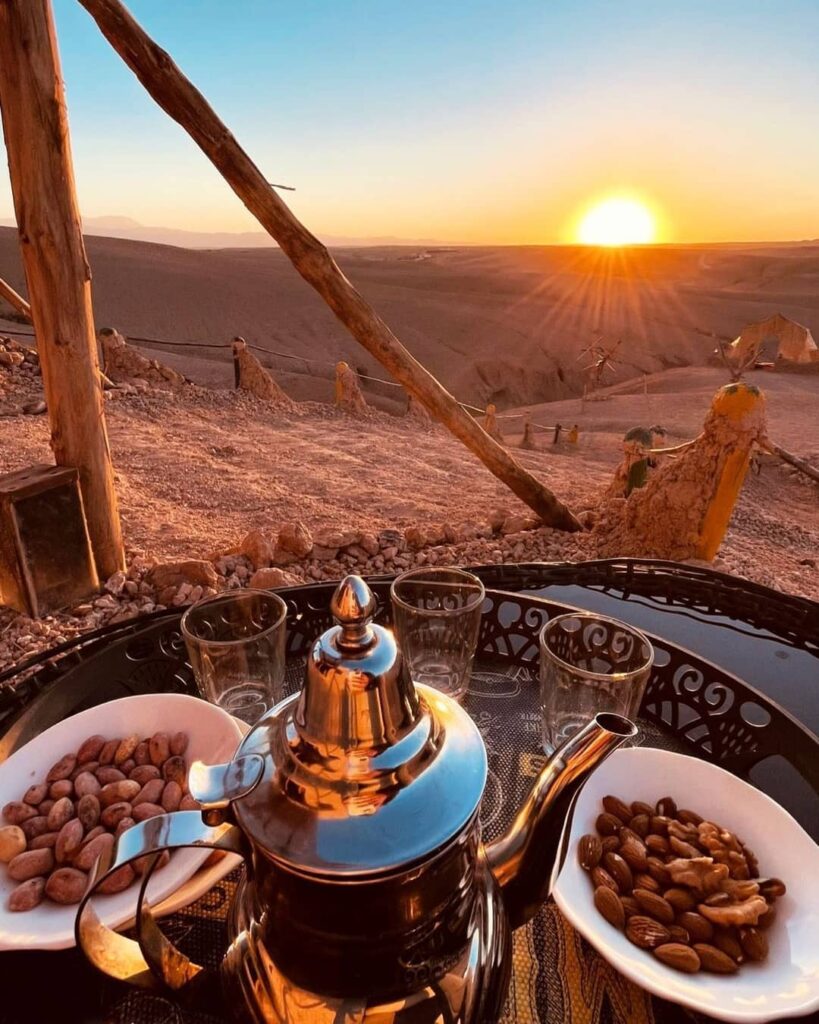 There are numerous Agafay desert campgrounds to select from, but the Les Vents du Sud (LVDS) camp is my favorite. Why? I've found the service and employees here to be outstanding. You'll feel thoroughly taken care of, the tents are fantastic, and the cuisine is delicious. All of these elements contribute to a memorable experience.
There are, of course, other camps that you may visit.
What can you anticipate from an overnight stay?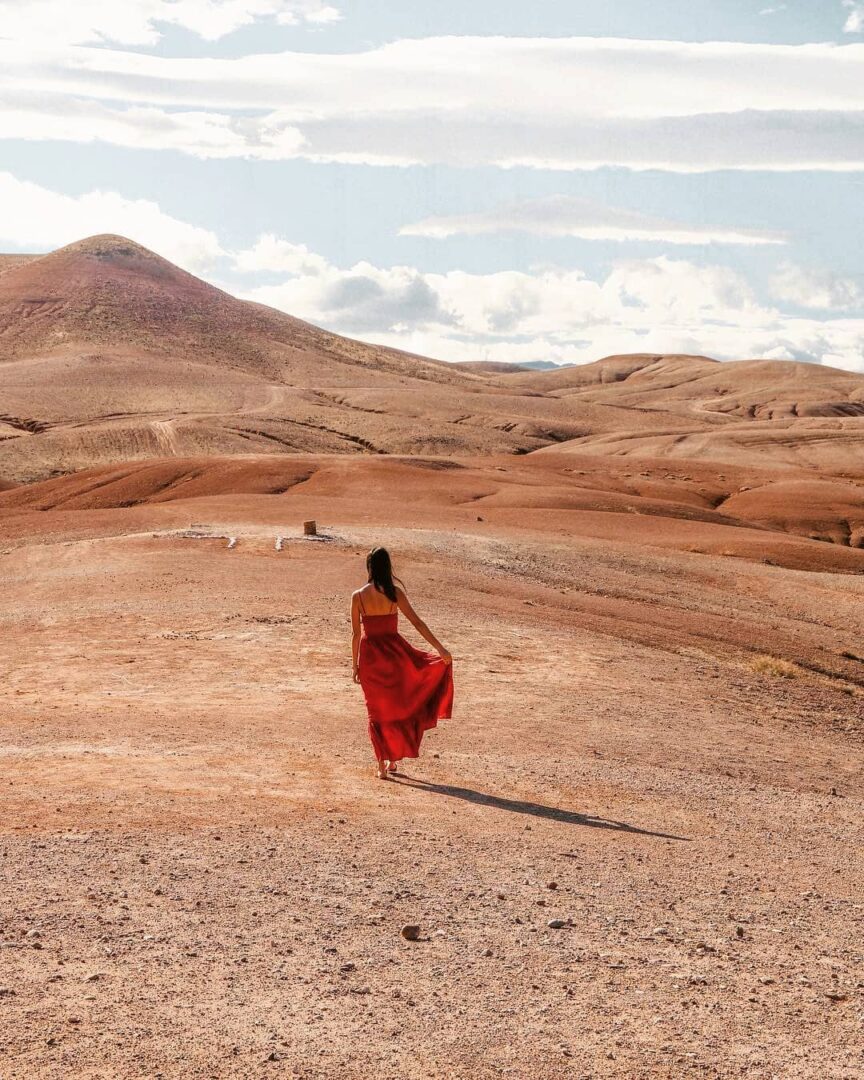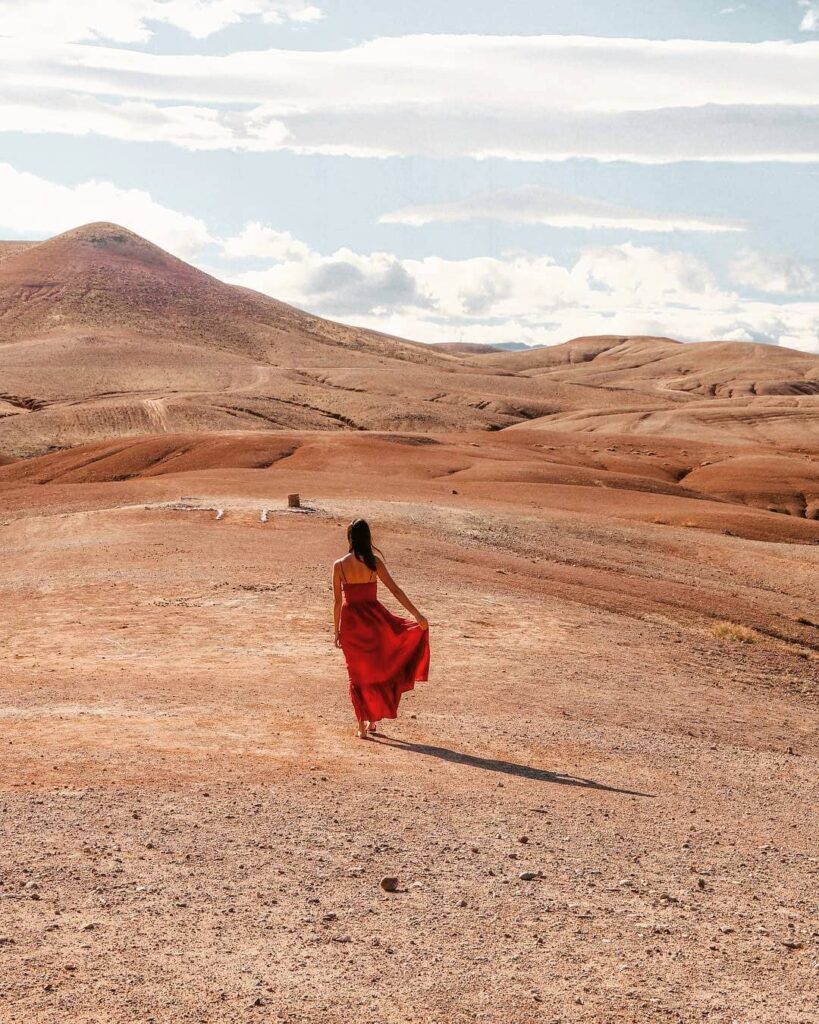 You may travel on a day excursion from Marrakech or spend the night in the Agafay Desert. If you intend to stay the night, you should ask the following questions:
Which types of meals are provided?
Which types of sleeping arrangements/accommodations are available?
What types of activities are included?
What kinds of activities are available?
Is there a heating or cooling system (depending on the season)?
How many more visitors could there possibly be?
any other inquiries that are particular to your own requirements
LVDS provides a tent area for guests who prefer a more private experience or who are planning a celebration (yes, you can have a party or even a wedding in the Agafay desert!). This is fantastic since it means that both sorts of tourists may enjoy the experience they desire.
If you stay the night, each tent features a king-size bed, a living area, and a bathroom with a toilet and a hot water shower. They're attractively furnished and blend perfectly with the surroundings. During the warmer months, the mattresses may be moved outside to allow you to sleep beneath the stars!
A day or night in the Agafay desert is a terrific opportunity to get a taste of the Moroccan desert without traveling too far!
Overnight High Atlas and Agafay" package sub heading= "Explore the High Atlas towns by day and spend the night beneath the Agafay stars!"
Pick up from your hotel or riad in Marrakech.

Before arriving at the Agafay camp, take a lovely journey across the Atlas Mountains.
Dinner, overnight, optional camel ride, and more!
ATV riders and quad biking in the Agafay Desert
Off-the-beaten-path treks take you through dunes, over rugged buttes, and through secret valleys. All of them provide stunning vistas of the Atlas Mountains in the distance.
Ride through trails with dry hills, oases, and rivers on a half-day tour " 2 hours" to the foot of the Atlas Mountains.
Your trusty ATV transports you through beautiful secret gorges to the Agafay Desert. You may also replace your meal with a superb lunch or supper at an Agafay luxury camp restaurant.
Concerning this activity
5 hours in length
Start time: 10 a.m. or 5 p.m.
Vouchers can be printed or downloaded to a mobile device.
There is immediate confirmation.
English, French, and Arabic are the languages of instruction.
Obtaining (Option)
If you are in Marrakech, depart from your hotel or airport between 9 a.m. and 9:30 a.m., and return in the afternoon between 4 p.m. and 4:30 p.m.
You will be picked up from your hotel or riad in downtown Marrakech, or at the nearest car-accessible location (look for a vehicle with our logo ). For an extra cost, pick-up from a place outside of Marrakech is possible. After booking, you will receive an email with details on the specific pick-up location.
Experience
Highlights
Cross beautiful landscapes with a guide who will accompany you during the quad ride.
Observe the Agafay desert Luxury camp
Enjoy a traditional Berber meal made by a Berber household (Option)
Explore a traditional way of life that hasn't changed in centuries.
Description in detail

This excursion offers a little bit of everything, from adventure to breathtaking mountain scenery and delicious dining at the famed Agafay luxury camp restaurant "Option."
A full-day tour at the foot of the Atlas Mountains is available. You'll travel from your Marrakech hotel or riad to the Agafay desert. Explore the desert's natural beauty. Ride through the Agafay Desert's beautiful hidden canyons.
A large quad and all essential equipment (goggles, hood, helmet, and raincoat) will be given in perfect condition. Your knowledgeable and attentive guide will accompany you throughout the day, tailoring the speed and route to the level of the participants.
Enjoy a superb lunch or dinner made by a Berber chef and be welcomed inside a well-known Agafay luxury camp restaurant. Discover a way of life that hasn't changed in hundreds of years.
Cross the Agafay Desert, appreciating the parched hills that resemble Saharan dunes. On the way back to Marrakech, you'll be treated to breathtaking vistas of the Atlas Mountains.
Quad Biking in the Agafay Desert
This activity requires at least two persons.
If you have already scheduled a night at the camp, you may take advantage of special pricing by using the discount code that you got through email.
Includes
Gas as well as other required equipment
professional assistance
Water was used during the journey.
Tea break in the large tent
Liability insurance with a limit
Access to the famed colorful steps and the enormous infinity pool for photographs.
Transfers from your hotel (or the nearest parking area to your riad)" Option 50 Euro per vehicle per way"
What's Not Included
Excursion 4×4 High Atlas & Agafay desert with lunch
After breakfast, go for the high Atlas in a 44-seater vehicle driven by a bilingual chauffeur. During this day, we hope to show you the high Atlas, the Toubkal mountain, and the Kik plateau. Stop for a cup of tea at home and a meal in Agafay's desert. Return to Marrakech in the late afternoon
Camel Ride at Sunset in Agafay Desert
A sunset camel ride in the Agafay desert will make your vacation in Marrakech absolutely unique.
Our driver will pick you up from your hotel 3 hours before dusk and take you to Agafay Desert, which will take 45 minutes by vehicle. While you are there, you will be greeted cordially by our crew in the Berber Tent, where we will select the best Camels for you to ride and you will immediately begin your Camel Ride tour in the Agafay desert for 1 hour.
Take advantage of the sunshine and the desert to create some stunning photos! After the Camel Ride in Marrakech's Desert, you return to the Desert tent for an authentic Moroccan Tea.
Agafay desert is an excellent photographic setting for wedding photography, pre-wedding photoshoots, bachelor parties, and so on.
The Agafay Desert is a photographer's dream for both experienced and inexperienced photographers.
This Agafay camel excursion is ideal for friends and family; even the infant had a good time!
Finally, return to your Marrakech hotel to wrap up your Camel trekking adventure in the Agafay desert.
What's included in the sunset camel ride in the Agafay desert?
Hotel pickup and drop-off
Transport by air-conditioned minivan or 4×4
Professional Driver speaks English
1 Hour Camel tour in Agafay desert
Berber clothes
Beautiful views and amazing experience.
Tea