The city of Dakhla is located in Western Sahara, a disputed region of the globe. There has long been debate about whether it belongs to Morocco or should be considered an autonomous country. When I go, my purpose is to help the local economy and infrastructure. I have no political agenda. Our trip to Dakhla was entirely self-funded and was not supported by any corporation, government, or group. I understand that there are individuals on both sides of this discussion, and I respectfully request that you abstain from discussing your political views in the comments section of this page.
Dakhla Morocco
Dakhla is a medium-sized city with a population of little more than 100,000 inhabitants located 400 kilometers north of the Mauritanian border. The city is constructed on a peninsula that stretches down from the mainland, forming a lagoon region renowned for kite surfing and animal viewing. Unlike the rest of Morocco, this section of the Sahara was under Spanish sovereignty for hundreds of years and has strong links to the Canary Islands. Dakhla was designated as the capital of the Spanish Sahara.
The region's recent history and backdrop are complicated. Things became a bit more chaotic in the 1960s and 1970s, with both Mauritania and Morocco putting pressure on Spain to give up the region.
It was considered jointly managed by the two nations beginning in 1975, but neither recognized the other, resulting in the Western Sahara War, which lasted from 1975 until 1991 when an UN-sponsored ceasefire went into force. The majority of the territory is presently under Moroccan administration, although an interior sector is governed by the Sahrawi Arab Democratic Republic, which is run by the Polisario Front, a contentious third-party player.
I understand this all seems a little alarming, but if you're visiting Dakhla, it's a really safe city with beautiful beaches. Apart from kite surfers, there aren't many international visitors; instead, Moroccans make up the majority of tourists.
Dakhla has a mild year-round temperature, so you won't be as hot as you might in other parts of the Sahara. One thing to bear in mind is that it might be very windy. If you have little children, it may not be the ideal choice for a beach trip, but if you have active teenagers, they will love all of the alternatives.
IS DAKHLA SAFE?
The most common question I've been asked since arranging our trip is, "Is Dakhla safe?" There is a lot of information out there on this. I can only comment from my personal experience and from conversations with Dakhla residents.
I was never in danger or felt threatened.
Many people prefer to stay in beach resorts, which are tiny, secluded settlements. If you visit the city of Dakhla, you will find the people to be quite nice and welcoming. Dakhla is a breath of fresh air for women who visit and find other places in Morocco to be a headache in terms of street harassment. Even while I was sitting alone outside, no disrespectful remarks were made to me. This was something absolutely unique, in my opinion.
There are some locations to avoid, just as there are in any other destination. The SADR-controlled inland areas are not recommended. Also, if you want to travel to Mauritania, you should be aware that traveling in convoys is recommended (and, according to some sources, necessary) from places south of Dakhla to the border.
If you want to hire a car in Dakhla, keep in mind that GPS reception is fairly restricted – this is the Sahara, after all, and there are few paved roads. Many paths are unmarked and on dirt. I shook my head many times, wondering how anybody found their way. Driving off-road when you don't know where you're going is not a smart idea because some portions of the land are still mined.
HOW TO GET TO DAKHLA
Given the long-distance, there are few choices for getting to Dakhla. It's also one of the most costly places to visit.
By Airplane
Dakhla is served by both domestic and international aircraft. There are direct flights from Agadir and Casablanca, and Royal Air Maroc connects you to these destinations from other parts of Morocco. These domestic flights are fairly pricey, with round-trip tickets costing approximately $200 per person.
Air Arabia is now offering substantially lower-cost flights from Marrakech to Dakhla. If you're going to make the trek, this is a fantastic alternative.
International flights arrive from France and Germany, as well as the Canary Islands on a seasonal basis. The airport at Dakhla is TINY. Because it is only one runway and one tiny terminal, you don't have to worry about getting lost or arriving too early for your trip.
Taking the bus
Supratours, CTM, and the less expensive SATAS offer bus service from major Moroccan cities to Dakhla. Tickets cost roughly 500 dirhams and are not available in advance. Keep in mind that this is a long road. The distance between Marrakech and Dakhla is around 1,400 kilometers, and the bus travel takes 24+ hours.
Traveling by Car
If you're looking for a memorable road trip, this is it. It will take you at least two days to complete the drive, with a stop in the middle. It should also be expected that you will encounter several police stops along the trip, so follow the regulations of the road and be prepared for this. You should also avoid driving at night since there are no lights and you can come face to face with a camel crossing the road.
WHAT TO DO IN DAKHLA

At first sight, there didn't appear to be much to do in Dakhla, yet we ran out of time to visit all we wanted!
KITE SURFING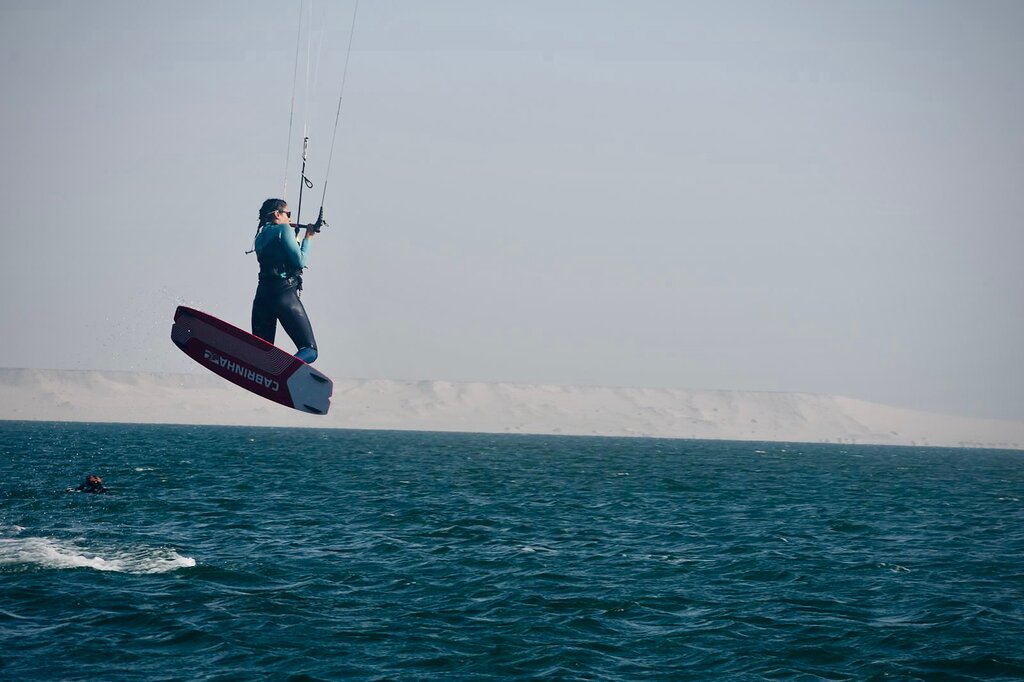 This is the most popular reason for visitors to Dakhla. In the region, there are hundreds of hotels and resorts that specialize in kite surf camps. There are also numerous additional outfitters that only provide kite surfing equipment and transportation to kite surfing locations.
There is something for everyone, whether you are a novice or an accomplished player. If you intend to kitesurf, check into package offers that incorporate a room, aboard, and your equipment to save money. For example, if we didn't want the package, we could do 8 hours of kite surfing instruction for 300€ or spend around 80€ per hour.
Are you concerned about what to wear to the beach? With these choices for fantastic swimsuits and coverups, I've got you covered.
LA DUNE BLANCHE
So I wasn't sure about it, but we were informed we HAD to watch it. It's essentially a massive sand dune in the center of a lagoon. When the tide goes out, the water recedes, revealing a vast expanse of land. When the tide comes in, it encircles the dune but only goes so far up.
It's a little unusual, but it's also very fantastic! This is an excellent place to watch migrating birds, and we were told that kite surfers use it as a jumping-off point into the lake when the tide is high. If the water was high enough, I could imagine it being enjoyable to use as a natural slide!
IMLILI
This is maybe one of the oddest things I've ever seen. The Imlil Desert is located around 100 kilometers south of Dakhla. There are 160 natural saltwater pools called sebkha's in the center of this dry landscape. Not only that, but these water holes are home to little saltwater fish.
There are also freshwater wells nearby, which attract herders and wild animals. It's very strange, yet immensely fascinating to witness. The ocean is not far away (maybe 20 kilometers), and there are numerous really lovely beaches to explore before returning to the city.
SAHARAWI TEA
If you can pull it off, this is an experience that every tourist in the area should enjoy. Saharawi tea is produced and consumed in a unique manner. It entails a LOT of pouring and the consumption of 3-4 cups of tea, each of which tastes somewhat different. This was one of my favorite activities since it actually provides a cultural experience. Be prepared for a lengthy operation; I guess it took more than an hour!
DAKHLA SOUK
There is a modest souk (in contrast to Marrakech) in Dakhla city that you should visit. There are a lot more varied items to buy in this city than in other cities. Among the items I purchased were Melhfa cloth (the lightweight wraps used by Saharawi women), Saharawi loose tea, acacia sap for sweetening tea, and el aych, a sort of grain/cereal popular in the region. I wish we could have stayed for a longer period of time!
DAKHLA OYSTER FARMS
Oysters are one of the region's most important exports, primarily to Europe, however, local growers are working to increase Moroccan interest in this cuisine. The location makes sense; the lagoon is a protected region, therefore the water and surroundings surrounding the oysters are exceedingly clean.
All harvesting is done by hand, and great care is taken to keep the oysters safe. We went in the morning and afternoon; in the morning, we saw employees collecting and inspecting the oysters, but by the afternoon, the water had risen and they were entirely hidden.
THE OSTRICH FARM
I'm sure there's a name for this farm, but I'm not sure what it is! We only came for a short visit to view these strange birds, which are grown and either transported overseas alive or utilized for meat in high-end restaurants. I wouldn't say it's worth a long stay, but for 10dh per person and if you can catch it while it's open (like with many things in Dakhla, timetables appear to be loosely held), it's worth a stop on your way into Dakhla.
You're wondering about the Dakhla beach. So, here's the deal. Yes, Dakhla has a plethora of lovely beaches. There is also a LOT of wind. So I don't believe I'd come here if my main goal was to lie on the beach and get a tan – because you'll be covered with sand. Sorry!
WHERE TO EAT IN DAKHLA
If you stay in one of the kitesurf hotels, your stay will almost certainly be all-inclusive. This is a good idea if you don't have transportation in and out of town because it's quite a distance and most of the resorts aren't really close to anything. However, the cuisine might become monotonous after a while. In those circumstances, here are a few recommendations for locations we enjoyed!
BEWok Asian at Dakhla Westpoint
If you make a reservation, you will be able to enter this restaurant. It provides Asian food, which may be a welcome sight if you're bored of the same old fare, and the sushi is delicious!
Ntifi
This is a little eatery in the heart of Dakhla. Our chauffeur drove us here for Friday couscous, and it's definitely a local spot. Everyone that ate here was a local! The owner and his wife were quite involved, and his Fassi wife is in charge of the kitchen. On Fridays, they serve couscous, while on other days, they provide delicacies such as r'fissa or b'stila! They could have cooked us camel couscous if we had ordered the day before, but alas. Instead, our driver went down the street and grabbed us some grilled camel skewers to go with it. Very delicious, authentic Moroccan cuisine.
Talhamar
This is the oyster farm's restaurant. You may have fresh or grilled oysters, as well as a selection of other seafood. Our favorite dish was the octopus tajine, which was perfectly prepared and not chewy at all. What's offered changes depending on the season — I recently missed out on lobster. The raw oysters are just 4dh each, while the tajine is 40dh. The prices are really affordable! A word of caution, however: there is no restroom, so plan accordingly!
One of the misconceptions about eating in this area is that they eat a lot of camel meat. They don't, as it turns out. Even when we inquired about it, we couldn't seem to find a camel anywhere. Camels appear to be valued a lot more alive than dead down here, as they are farther north.
WHERE TO STAY IN DAKHLA
When I first started looking for places to stay in Dakhla, I realized that very few allow you to pay online or are listed with booking aggregators. In a few cases, pre-payment through bank transfer was also asked before the stay. This is something to consider when making a reservation.
Attitude of Dakhla
This is one of the area's most popular kite surfing motels. While we contemplated staying here, we knew we wouldn't be kitesurfing, and it's a really active place. There are two campgrounds, three distinct types of lodgings, and a variety of financial ranges, making it a viable option to explore. Your accommodation is all-inclusive.
Ocean Vagabond
This hotel, which includes locations in Essaouira and Dakhla, is a perfect place to get away from it all. We attempted to book this hotel initially, but they need a minimum 5-night stay, and we were only there for four. There is massage, yoga, kitesurfing, and lots of room to rest on-site. Because the resort is an ecolodge, they strive to be as environmentally friendly as possible.
Hotel Dakhla Club
This is the hotel where we selected to stay. It is a newer hotel that has just been open for approximately a year. It features kite surfing as an option, but we didn't end up trying it. Overall, we had a good time here. The pricing was reasonable (it is all-inclusive), and we found the personnel to be kind, outgoing, and inviting. The food was also delicious, albeit by day four I was growing weary of eating the same/similar stuff and could have used a little more variation. Overall, a wise decision!
Morocco Desert Tours, If you're seeking single-day or multi-day trips in the area, go no further than this firm. They are devoted to the area's ecological stability and provide a variety of highly fascinating tours for visitors.
is Dakhla safe?
Yes I know Dakhla is safe, I often go there and I have never missed anything and I think as you do that you know Dakhla, suntan, swimming pool, and so on.
I know Dakhla since 2006 and I think it is safe and no one has ever been attacked or robbed in Dakhla and it is safe…
I spend my vacation with my family in Dakhla and I think it is safe and no one has ever been attacked or robbed in Dakhla and it is safe…
I often go there and I have never missed anything and I think as you do that you know Dakhla, suntan,swimming pool and so on
Is Dakhla worth visiting?
Dakhla (Arabic: الدخلة) is the capital city of the Western Sahara territory controlled by Morocco. It is situated in a large oasis in the Sahara Desert (the southern part of Morocco), and has been home to successive civilisations: the Phoenicians (known as the Lixus), the Romans, the Vandals and the Byzantine Empire.
#Morocco is a country in north-west Africa. It has a coastline on the Atlantic Ocean, and the Mediterranean Sea to the north. The land within this region is mostly mountainous. Morocco has a long, narrow coastal plain in the north, a central plateaus and highlands covered by mountains (Middle Atlas and High Atlas), and large deserts