Visit Morocco with the Unique Morocco Desert Tours travel agency and see the Fantasia (Tbourida) In Morocco Horse Museum
It consists of a group of horse riders dressed in traditional attire racing down a straight road at the same pace to create a line; towards the conclusion of the ride (approximately 200 meters), all riders fire in the sky with historic gunpowder weapons.
The performance's problem is synchronization during acceleration, especially while shooting so that just one shot is heard. The two Arabic terms that characterize the key events in the Fantasia are 'Harrga,' which means a movement, and 'Barood,' which means gunpowder. The Fantasia horse is of the barb type.
The performance is based on historical Berber and desert knight raids during battle. Fantasia is now regarded as both a cultural art and a type of combat art.
Each area in Morocco has one or more fantasia organizations known as Serba, totalling thousands of horse riders across the country. Performances are typically held at local seasonal, cultural, or religious festivities known as museums (Arabic for "season").
Fantasia 1001 Nights: Dinner + Show from Marrakech
A typical "cadales" tent nestled among a palm grove near Marrakech, decked out pleasantly with thick cushions and stocked with a selection of wonderful Moroccan delicacies that have made the country's food so renowned all over the globe. Sit back and relax in the beautiful ambience of the night, nibbling on the different delicacies, before heading over to the adjoining stadium, where the night really begins with an incredible dinner performance.
The Fantasia, which originated in the Rif area, is a war ceremonial comprised of opposing cavalry groups. Admire the extraordinary skill and agility of the horse riders and their pure Arab steeds, and feel your adrenaline rush when all the horsemen blast their rifles into the sky, leaving a commotion of bursts and yells behind them.
Spend the night listening to the songs and dances of the folkloric armies, musicians, and acrobats from all over Morocco who accompany the war ceremonial, and marvel at the night's big surprise: the Sultan and his beloved wife flying above the crowd on a magic carpet.
Tbourida Fantasia in Islamic countries:
Most Islamic countries have a significant equestrian heritage that is based on the symbolism of the horse in Islam. There are Fantasias with "mehari" (riding camels) in Saudi Arabia, and it is done as a communal equestrian game at large traditional festivals in Algeria. Battle rides are aroused in this dance, which is interrupted with bursts of rifle bullets. The dance emphasizes the horseman's and mount's nobility. The Kabyle dance, performed by ladies from the high highlands of Djurdura, celebrates the rich harvest and olive picking and is where women show their excitement before to Fantasia. Men do the dance, which is popular throughout Algeria's west. The stomping of the feet that accompanies the dance conveys a connection to the land as well as the ability to persevere.
The Fantasia (Tbourida) In Morocco is properly characterized as an event with a team of competing horses and accompanied by the sounds of shooting muskets; the latter is typically done for visitors. Fantasia horses are well-bred, well-groomed stallions with full muscular bodies. No regular workhorse is permitted to participate in the Fantasia. Furthermore, there is a Berber tradition that "only males and virgin women are allowed to ride these amazing creatures," since non-virgins may lead the stallion to loose its power and speed.
This beautiful equestrian exhibition begins with a procession of ladies on horses from the Zayaan tribe. Traditionally, a parade of horsemen takes place. The virgin ladies of the Zayaan tribe are first in line, followed by the village males. The Aid el Baroud comes next (the Festival of Gunpowder). Rows of armed horsemen lined up by rank squeeze their knees forward, sink their heels into the girth, and take up a battle stance by standing up in their stirrups in this part. The horse riders charge in a straight line at the same pace, forming a line; at the end of the ride, all riders fire in the sky with an antique gunpowder gun known as a Moukahla. The performance's challenge is synchronization during acceleration and, notably, shooting such that just one shot is audible.
The act shows Islam's perception of the deep bond between man and horse. While each area in Morocco has one or more fantasia groups known as Serba, if you are a horse enthusiast, Tissa will be the most appealing. Tissa, located 33 kilometers from Taounate in the Rif Mountains, is the destination for horses and riders from the region to compete in an annual horse fair. The competition is assessed based on the horse's speed, discipline, and appearance.
In the month of July, you may also see the Fantasia in Marrakesh, beyond the city walls at the Bab Jdid. In the palmary of Marrakesh, there is also a restaurant named Chez Ali that provides Fantasia as entertainment, with Berber singing, dance, and fireworks as you dine on a typical dinner of miswhi (Moroccan roasted lamb) and couscous. Tourists and horse enthusiasts from all around Morocco may attend Fantasia in El Jadida, a beach city 190 kilometers south of Rabat. This horse show was conducted for the first time on October 22-26, 2008, with the theme "Pride and Passion." The town was converted into a spectacle of medieval revelry, color, and song.
Fantasia, also known as the Aiin Aouda, or Mock Horse-Back Battle, is an annual equestrian show and celebration of traditional folklore held in Meknes in July. Hundreds of rushing horsemen (and women) dressed in traditional attire take part in this horse-riding show. Fantasia is an excellent example of Moroccan folklore.
The Fantasia (Tbourida) In Fes Morocco: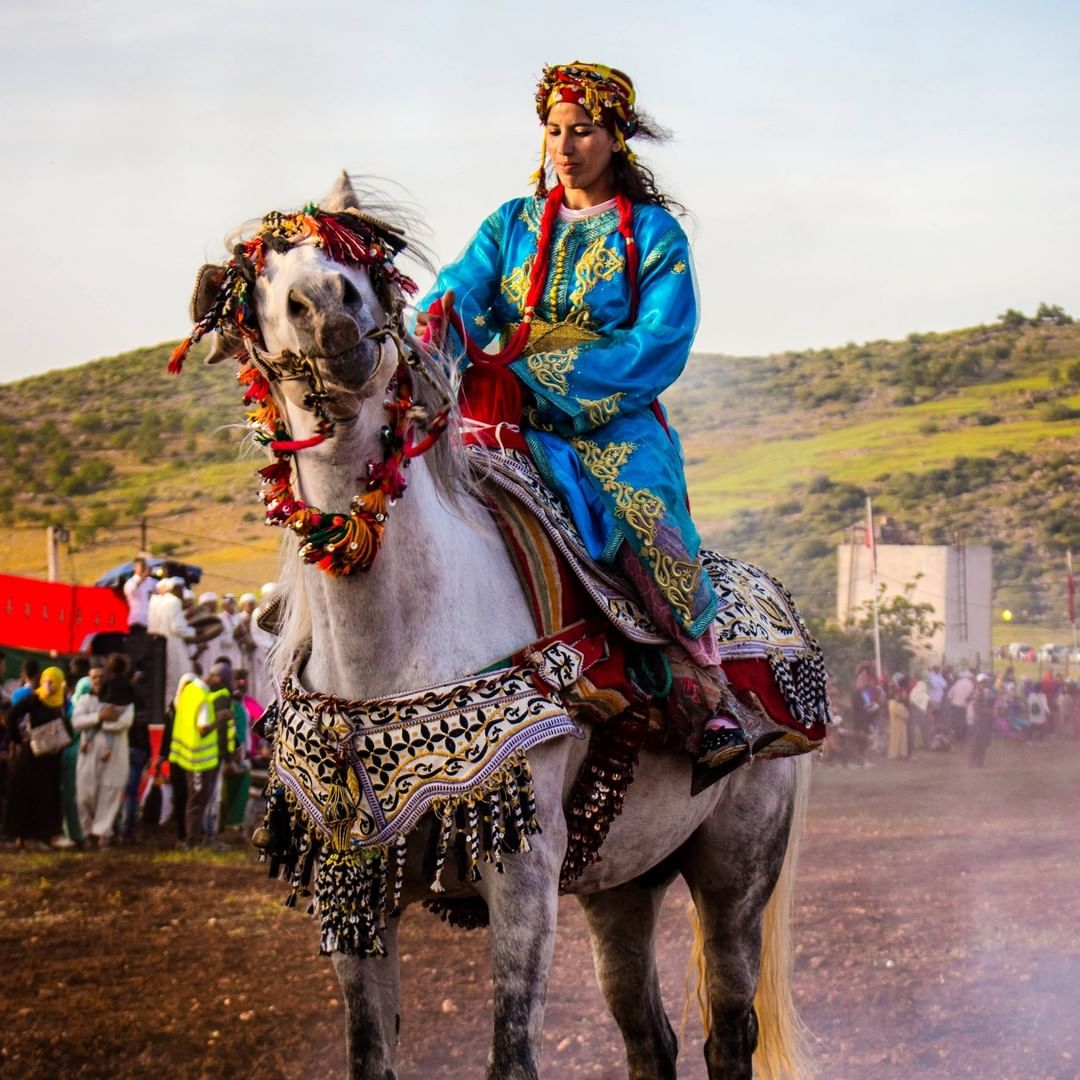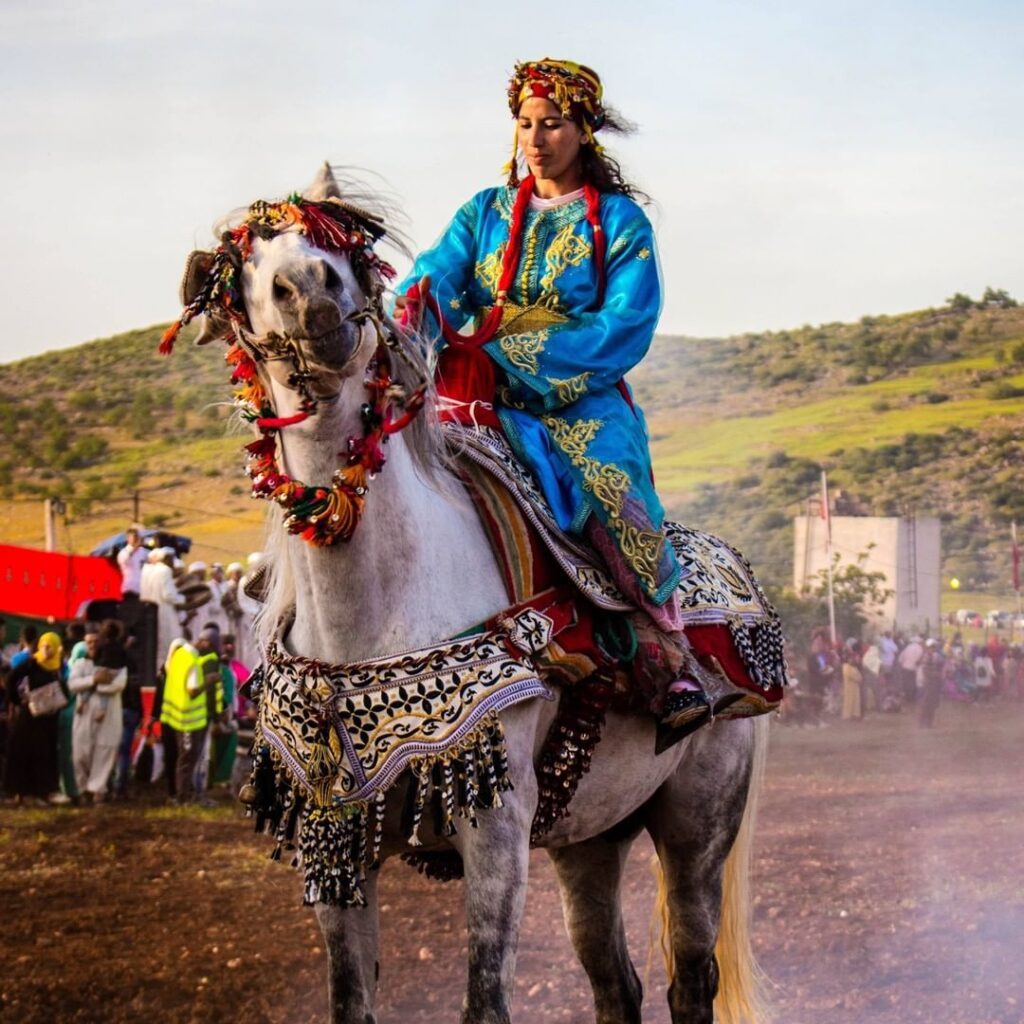 Every year, towards the end of September/early October, a big horse festival is held in the little village of Tissa, just outside of Fes. As with other Moroccan events, finding out the actual dates and details ahead of time might be difficult. However, if you chance to be in Fes during the festival, it may be a fantastic cultural experience.
Tissa is a tiny village located around 40 to 50 minutes outside of Fes. The trip from Fes to Tissa is scenic, passing through farms, hills, farmland, and the occasional river. The two most convenient modes of transportation are probably a big cab or private transportation. Grand taxis are ancient Mercedes Benz automobiles that can fit four passengers in the rear and two people in the front, including the driver. You are charged by the seat. So, if you're used to having a little more legroom, you might pay for the two seats ahead and have extra room to stretch out. The magnificent taxis travel between cities and are usually reasonably priced. There are also a number of travel agencies, such as The Travel Source, that can help organize private transportation and a driver to and from the celebrations if notified in advance.
When you arrive in Tissa, it's easy to figure out where the activities are taking place. All you have to do is keep an ear out for the sounds of big bangs. The event is famous for its fantasia. Fantasia is the term given to a classic equestrian performance in which groups of horse riders dressed in traditional attire and carrying traditional guns form a long line and charge straight ahead, attempting to maintain a single formation. When they reach the end of the field, they will come to a complete stop and fire their weapons into the air.
The group that can keep the best formation and fire their weapons all at once, making it seem like one large blast instead of multiple tiny bangs, is the most praised and is most likely to be in the running for prize money at the end of the five-day event. The Tissa horse festival in September 2012 was attended by young males ranging in age from about 12 to individuals in their early 70s. Fantasia is a cultural custom that is typically handed down from grandpa to father to son. It involves not just tremendous talent and practice, but also a bond between the horse and its rider. It's worth noting that they don't utilize live ammo.
If you want to watch an event like the fantasia in Tissa but can't make it during the festival dates, there are a handful of restaurants, particularly in the Marrakech region, that will put on a meal and a performance for its customers. Traditional music, belly dance, and fantasia are frequently featured in the program. Please let us know if you'd want to include anything like this in your program.
The Fantasia (Tbourida) In Morocco Folklore Show, Marrakech
Overview:
Enliven your Moroccan vacation with this fantastic night out in Marrakech that blends an exquisite supper with traditional Moroccan folklore.
The Fantasia dinner is held at the magnificent Chez Ali restaurant and is a full Arabian Nights experience. Waiters and waitresses dressed in their own tribal costumes double as entertainment under the enormous tents in the Marrakech palm grove. Throughout the evening, several folklore troupes move through the tents, dancing, singing, and generally enliven the evening.
The Fantasia, based on an old battle rite, is the evening's climax, with tribesmen and women from all parts of the nation putting on magnificent horse and gun exhibitions.
While enjoying the spectacular show, eat typical Moroccan foods such as couscous and Mechoui.
THE DINNER CHEZ ALI MARRAKECH ENDS AROUND MIDNIGHT :
At the Fantasia (Tbourida) In Morocco Dinner Evening and Cultural Show in Marrakech, you can enjoy all the color and excitement of Moroccan folk entertainment as well as a fantastic lunch.
Travel to a lovely palm grove and sink into a cushioned Berber tent to enjoy a sumptuous Moroccan supper serenaded by exotic singers, musicians, and belly dancers. Then, gather in a sand arena to witness spectacular exhibitions of tribal horsemanship, fire eaters, acrobats, and dancers, ending in a breathtaking flying carpet show.
Marrakech Fantasia supper and cultural show Witness an awe-inspiring Moroccan spectacle complete with belly dance. Sit on the sofas surrounding the room and enjoy a traditional supper. Round-trip hotel transportation is included. Marrakech should be visited. Marrakech, Marrakech-Tensift-El Haouz area, first trip Begin your adventure with a pick-up from your hotel in Marrakech or a central meeting location. Then, proceed to the Fantasia show location, which is a palm grove with Berber-style tents and a sand arena. Step into a tent and sink into the plush floor cushions.
Then, enjoy a traditional Moroccan feast of roast lamb, couscous, and mint tea while listening to Berber music and seeing belly dancing performances. Then, take a seat in the outdoor arena and enjoy an exhilarating folklore performance that includes horsemen, dancers, magicians, and other exotic acts. Witness a ferocious performance of Moroccan horseback riding by horsemen dressed in traditional fighting attire. Admire the speed of pure Arabian stallions as riders act out combat scenes, do acrobatics, and fling firearms into the air. Then, when skilled fire-eaters, acrobats, and magicians hit the stage, you'll be treated to a slew of colorful entertainment.
ADDITIONAL INFO :
 Pick-up and drop-off from / to any accommodation in the city of Marrakech or a closer one
 meeting point accessible by vehicle
 Free cancellation up to 48 hours before the start of the activity
 Duration: 4 hours (this includes transfers, fantasia show and dinner)
 Confirmation will be received at time of booking
 Infant seats are available on request if indicated at time of booking
 Children must be accompanied by an adult
 What to bring: a camera
 Live guide and driver: English, French
 Adult price applies to all travelers
WHAT'S INCLUDED in The Fantasia (Tbourida) In Morocco:
 Hotel Pick Up and Drop Off
 Air-conditioned minivan or 4WD Fuel included
 Professional driver / Guide
 English or French speaking driver
 Entrance tickets to the Show
 Moroccan typical dinner
WHAT'S NOT INCLUDED in The Fantasia (Tbourida) In Morocco:
 Lunch
 Drinks
 Tips and gratuities
 Personal expenses
 Anything not mentioned in the program
GOOD THE KNOW :
All of our proposed trips may be changed and adapted to meet your specific demands, so you can select one of our tours departing from Marrakech, Fez, Casablanca, and so on. If the tour itinerary you're searching for isn't mentioned on our tours page, please contact us and we'll make one for you.
Our prices vary according to the number of tourists, season, and kind of accommodation; if you are searching for a VIP luxury trip in Morocco, we offer both budget and luxury options.