These are Morocco's most accessible Erg Chebbi Merzouga Sahara hills, but they're not easy to squeeze into a quick trip. They're roughly a 10-hour drive from Fez and at least as long from Marrakesh, so you'll need at least a three-day round trip to fit them in. They're best seen as part of a trip between Marrakesh and Fez, or as part of a tour to the southern oasis from Marrakesh.
Now is the time to discover Morocco's treasures and start planning your Morocco Desert packages!
Erg Chebbi sand dunes Merzouga
Visitors may get a sense of the Sahara's ever-changing scenery by walking across these vast dunes made of golden sand. These towering shapeshifters, which stretch for more than 50 kilometers near the Algerian border amongst the wind-blown dunes, are a popular tourist attraction for both residents and visitors. While adjacent Merzouga is the area's tourism hub, it's the overnight trips into the desert, whether by foot, camel, or automobile, that give visitors to Erg Chebbi with a breathtaking Moroccan retreat.
You may be able to stop along the route to sit on the magnificent dunes and watch the sunset if the time works out. When you arrive at your tent, you will be astounded by nature's splendor and the fact that the stars are so close to you! Then, before sunrise, you'll mount your camel and ride back to the Kasbah, stopping at a good vantage point to watch the sunrise. Fortunately, you may have the opportunity to go sandboarding or hiking on the dunes. Quad bikes are also available for hire.
Erg Chebbi is a fictional character created by Erg Chebbi.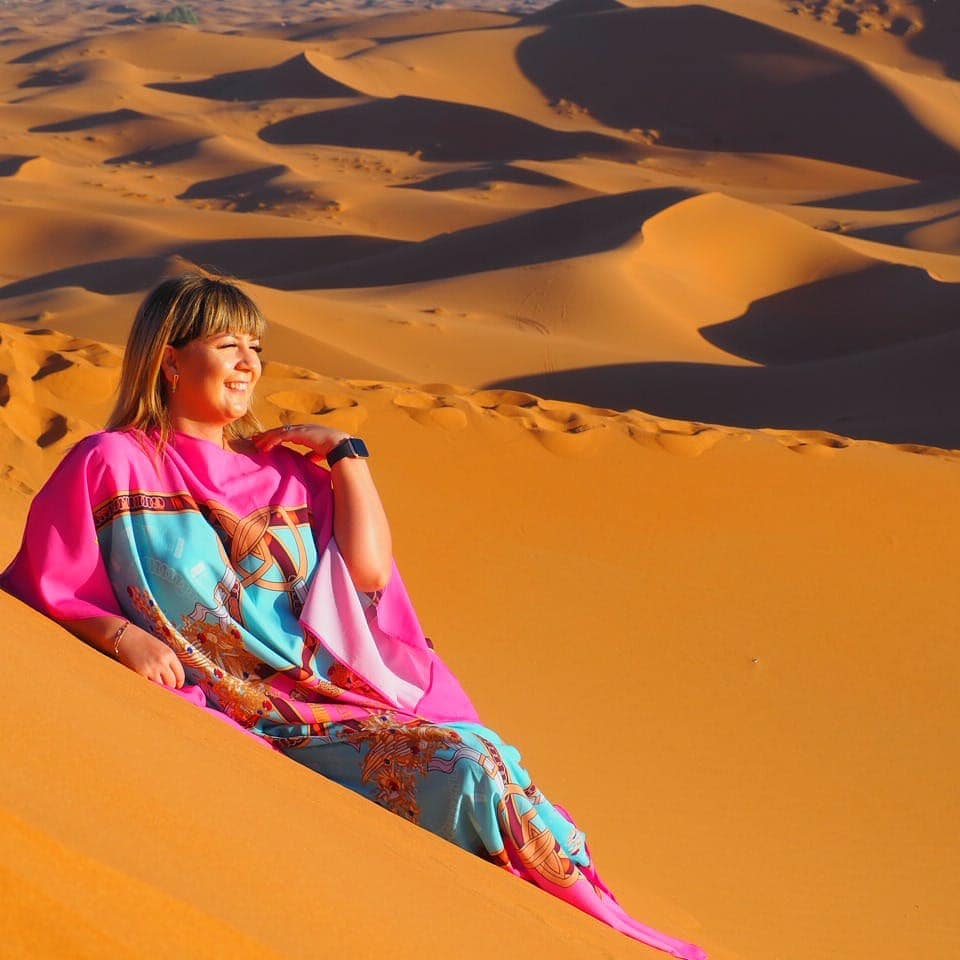 Morocco is recognized for its many musical styles, and the Erg Chebbi drumming tradition is well-known across the nation. The sound of this unusual kind of drumming is certain to make your heart race and your body want to dance. A drumming practice is typically accompanied by an offer to have a cup of sweet Moroccan tea, as is customary.
Those who live in the desert take pride in their genetic heritage. Having the opportunity to meet them and be allowed to participate in a traditional desert tea ceremony is an unforgettable experience.
In the Golden Desert, camping is a must.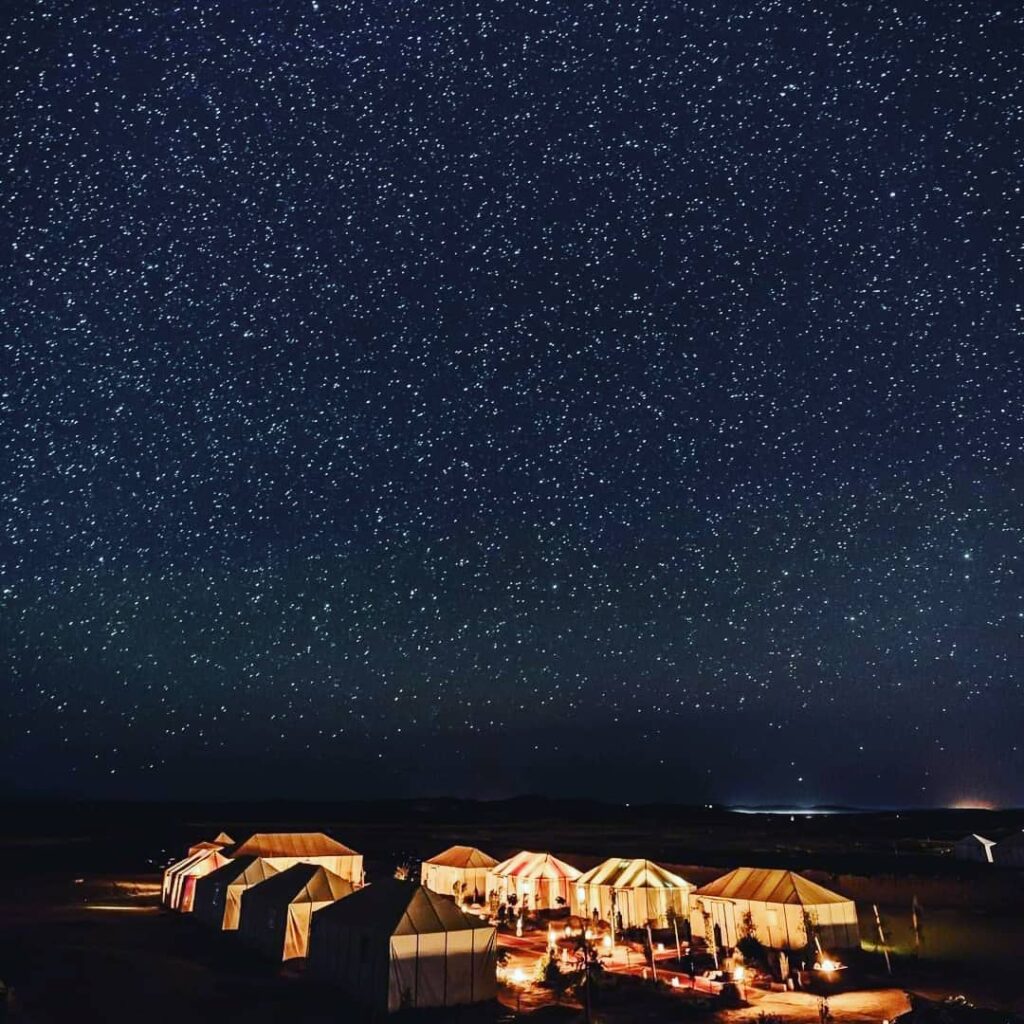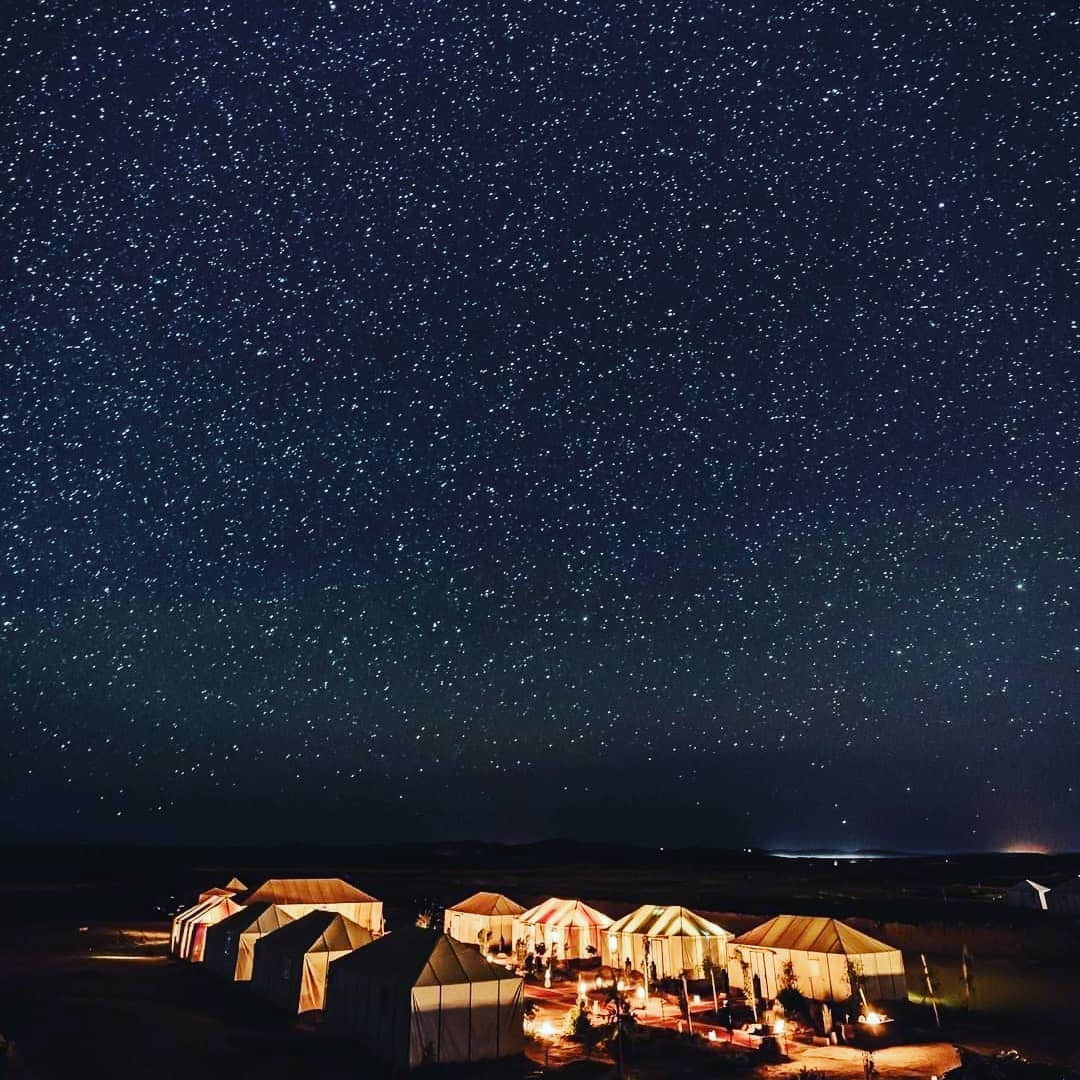 Even luxury camps in the Erg Chebbi desert tend to be modest and straightforward. A primitive Berber tent put up around a single table is the most basic option. Dinner will be served on carpets on the floor, and sleeping will be on thin mats on the ground. The facilities will be minimal in order to experience and appreciate the simple existence, or they will be at the mercy of mother nature. Beds, tables, and chairs for dining are available at the more upscale campgrounds, and some even offer showers. However, consider if you really need these things.
You could get more out of the experience if you go simple and leave the modern conveniences at home for a night. If you don't want to tent in the desert, you may embark on a camel journey across the sand dunes and then sleep at the Kasbah.
The time in the Sahara Desert was relaxing, and it provided me with a much-needed opportunity to step back and reconnect with myself. It also offered me the opportunity to remind myself that life is meant to be lived to the utmost.
The ever-changing golden tone of the dunes as the light moves from dawn to sunset is my favorite feature of Erg Chebbi. Rich earth tones contrasted with lush green oases and the clean white attire of its residents create an incredible show of colors.
Erg Chebbi Camel Trekking: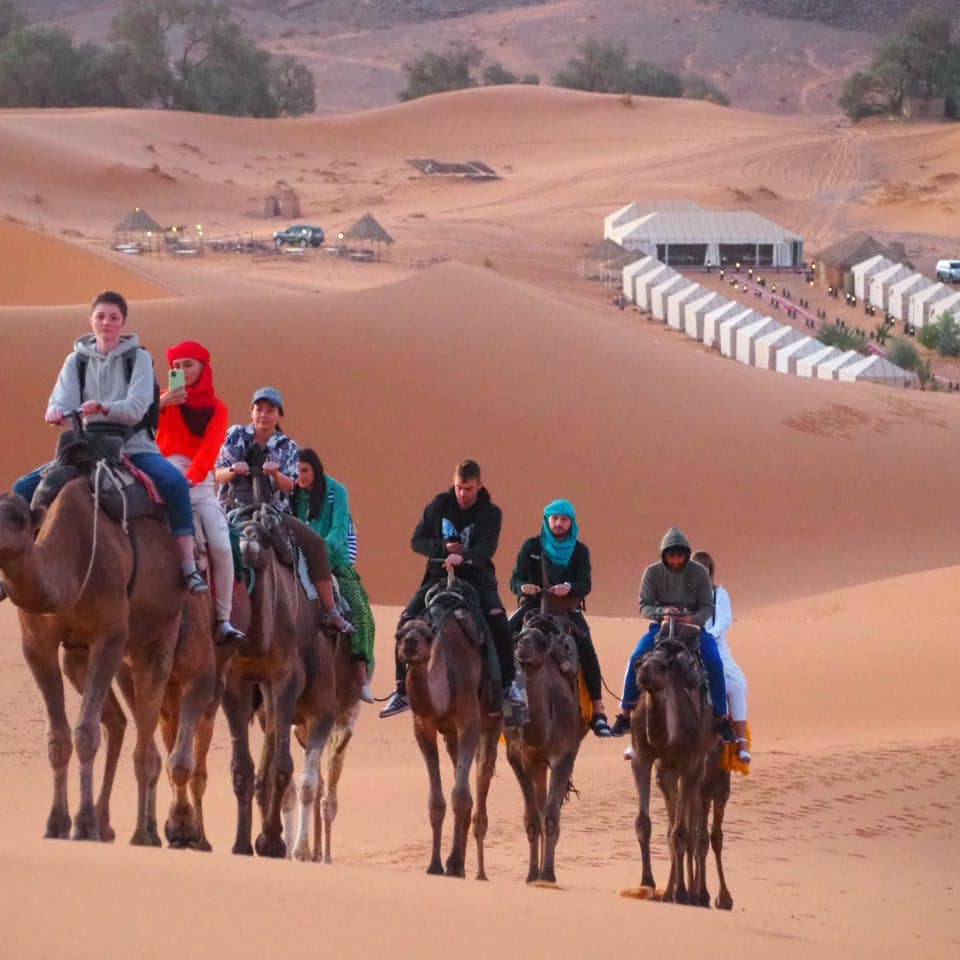 You don't need any prior overnight camel trekking expertise. All you have to do now is grab on tight and let the camel do the job while you relax and enjoy yourself! On a railway, the camels will be connected to each other and led in front by a walking guide. When you're seated on top of a camel (and somewhat imbalanced), it may seem pretty hazardous at first, but as you get accustomed to the motion, you'll be able to lean back and enjoy the breathtaking surroundings.
Hiking across the dunes and coming upon this lone donkey is the simplest. Morocco seems to be a location where you should anticipate the unexpected, and I believe this verifies that. Donkeys do, in fact, traverse sand dunes!
Erg Chebbi is best visited during the following seasons:
You may visit all year, albeit due to the considerable distances involved, visiting Marrakech during Ramadan is not recommended due to the summer heat.
Between November and March, temperatures might be pleasant in the sun during the day, but drop significantly at night. Midday temperatures in the summer might reach 45 degrees Celsius. As a result, most summer vacations include camel trekking at dawn or sunset.
Do you have visions of Erg Chebbi Tours?
Erg Chebbi is a 30km series of golden and rose-colored dunes that are a "must-see" site in Morocco once you see the gigantic dunes sitting at the edge of the Sahara Desert.
To view it, you must make the decision to go on a road trip!
DO SOME DESERT SANDBOARDING:

Sandboarding is a great way to explore the desert in a more "different" way while also getting coated in sand. Although this pastime appears to be risky at first glance, it is actually extremely safe.
The sand dunes of Erg Chebbi near Merzouga are quite soft, so there's no need to be concerned about falling. This is a fun activity to perform with kids, but make sure to use goggles to avoid putting sand in your eyes.
Imagine the adrenaline rush of speeding down a dune while standing on a board. This is exactly what we did in Merzouga with other people staying in our hostel, and we had a fantastic time.
There are a few tents near the desert's entrance where you may hire boards for 200 MAD for the entire day.