More than just sun and water are features of Beaches in Morocco.
Agadir, the country's biggest resort town and just a short flight from Europe, draws many Europeans for a straightforward summer sun and sand vacation, but for many other tourists, Morocco's beaches are all about surfing. The Atlantic Coast's rugged and windswept beaches are famous for their surf, and with so many surf schools nearby, it's a wonderful spot to learn.
Some of Morocco's most well-known historical sites are conveniently close to many of the country's coastal towns and resorts.
You can take day excursions into the Anti Atlas from the southern Atlantic Coast, and Marrakesh is easily accessible from the central Atlantic Coast, so if you're looking for a holiday that combines some sunbathing and cultural tourism, you're also in luck.
See our ranking of the finest beaches in Morocco for suggestions on where to go near the water.
1. Agadir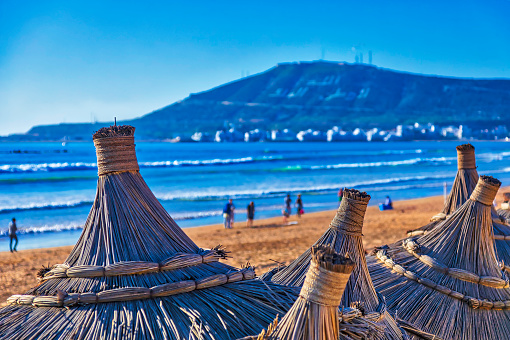 Morocco's most well-known beach resort city is Agadir, which is located on the southern Atlantic Coast.
For decades, this destination has drawn a large number of European tourists seeking a relaxed, reasonably priced, family-friendly beach holiday. There are lots of options since the city center of Agadir is surrounded by a trailing stretch of golden beach.
You should go to one of the two private areas known as Palm Beach or Sunset Beach if you want complete amenities and quick access to cafés and restaurants while on the beach. The promise of unhurried days spent lounging in the sun and sand is made by these two strips, which are located in front of Agadir's main tourist area.
Hotels that are directly on the beach have access to their own private sand area. For travelers seeking resort living with a beach, pool, superb service, and accommodations steeped with a sophisticated Moroccan flair, the five-star Sofitel Agadir Royal Bay Resort Hotel is the best of the lot.
With a concentration on kid-friendly activities and entertainment, a sizable pool area, and a big stretch of beach in front, the Iberostar Founty Beach, however, steals the show for vacationing families.
2. Mirleft
Little Mirleft, located 129 kilometers south of Agadir, may not be as well known as its northern neighbor, but beach life is superior in this southern Atlantic Coast town for independent tourists who don't desire a package holiday.
There are several beaches to select from, and most of them are surrounded by cliffs and rocky outcrops. The principal and most well-liked option is the expansive sweep of Imin Tourga Beach.
The majority of visitors to Mirleft aren't looking for a beach vacation that's solely about sun-soaked sunbathing since the city has a booming activities sector.
The major activity for tourists is to pick up surfing, and there are several surf schools providing five-day instruction packages as well as equipment rental.
The town is a fantastic starting point from which to visit the tourist attractions of the Anti Atlas area interior. Other activities include marine fishing and paragliding.
In Mirleft, there are several different types of tiny inns and boutique hotels. The greatest option is the beachfront Dar Najmat, which has a pool with the best Atlantic Ocean view in town and seven beautiful rooms.
3. Essaouira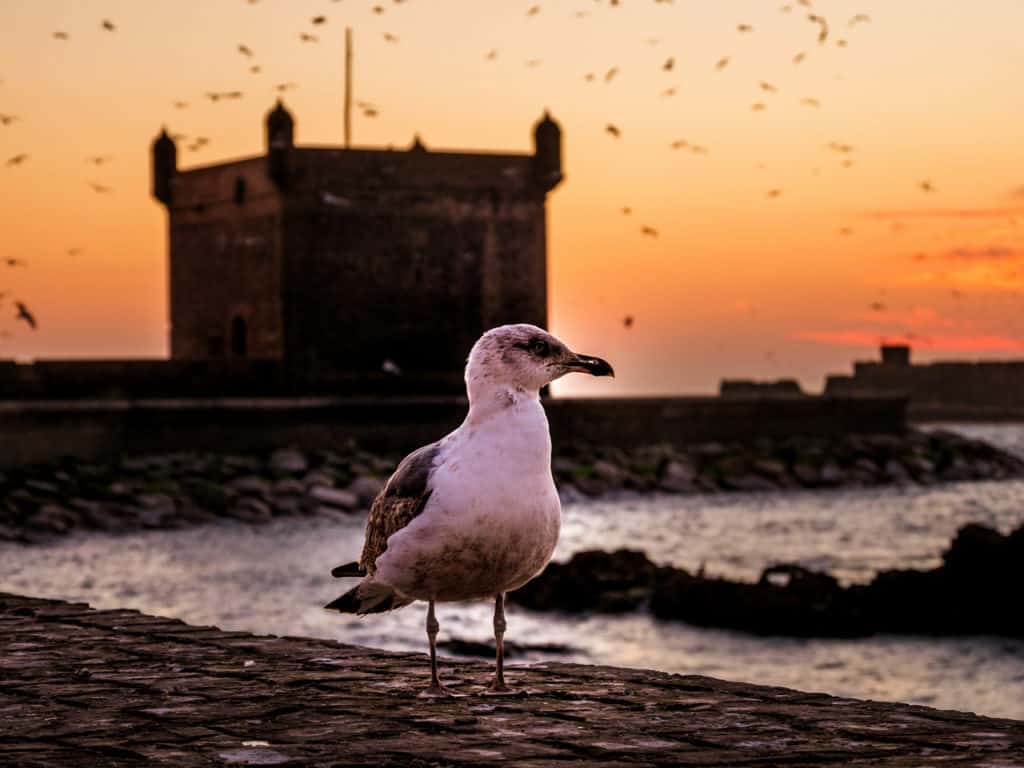 Want to visit a beach but also some of Morocco's many ancient sites? One of the top destinations in the nation for combining both is Essaouira.
The main walled old town is a tangle of twisting lanes and a UNESCO World Heritage Site. It has strong coastal defences that effectively deflect waves from the Atlantic Ocean.
Just south of the ancient town walls, the beach stretches out along the coast for more than five kilometers. Beachgoers should be advised, however, that Essaouira is not a good place to spend time tanning due to the consistently strong winds along this length of shore.
Insteathe d, water activities are the main focus of this beach. Many companies provide starter instruction packages and equipment rental in both Essaouira and Sidi Kaouki, 25 kilometers to the south. These activities are popular with tourists.
It is impossible to match staying in Essaouira's old town for boutique hotels in renovated homes. The Madada Mogador is a fantastic choice; it is furnished in a chic fusion of contemporary and traditional styles and offers views of both the beach and the busy old town.
4. Legzira Beaches in Morocco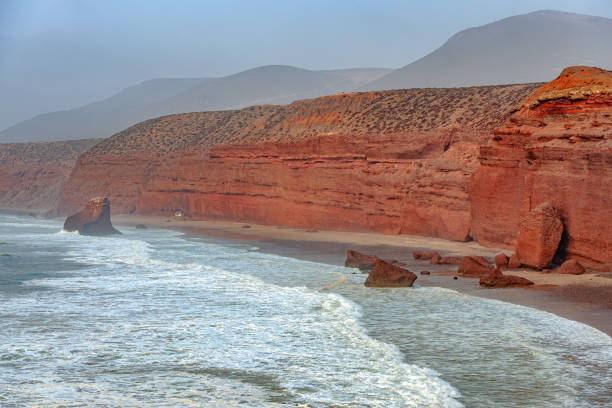 Legzira Beach, one of Morocco's most stunning stretches of sand, is located 10 kilometers north of Sidi Ifni, a blue and white historic Spanish Sahara port.
The coastline here is unhindered by tourist growth, and the majestic, wave-lapped rock formation arcing across the sand adds to the solitary attraction.
The greatest time to visit here is just before sunset when the angular rocks shine orange in the waning light.
There aren't many amenities here, although there are a few seafood restaurants that provide food and drinks. From Mirleft, 23 kilometers to the north, or from Sidi Ifni, pack a picnic and go here for the day.
5. Oualidia
The water in charming Oualidia is much calmer than in other resorts straddling the Atlantic Coast because it is surrounded by a protected lagoon. It's a great place to go swimming and a safe option for youngsters who like being in the water.
Families from Morocco love to vacation in the crescent-shaped, golden-sand bay, and on the weekends in July and August it may seem like the whole city of Casablanca, which is 176 kilometers to the north, has dispersed here for a day at the beach. However, if you go outside of this busy time, you can have the majority of the beach to yourself.
In addition to renting kayaks and stand-up paddleboards, beachside water sport vendors also offer surfing (beyond the lagoon's breakwater), which is the most popular pastime.
With Marrakesh just 186 kilometers to the southeast, a beach holiday in Oualidia is a simple addition to a trip visiting Morocco's renowned Red City and its maze-like old town. It's a good option if you want to do more than just lay on the beach all day.
Accommodations in Oualidia: Where to Stay
6. Moulay Bousselham
At the very edge of the city, Moulay Bousselham's sweeping, sandy spit is bustling with local tourists in August.
Despite its popularity, it's vital to remember that swimming in the ocean is not recommended at the beach. Swimmers must exercise caution since the area's shore is infamous for its strong riptides.
For Temara Beach, Moulay Bousselham's second major sandy stretch, go 15 kilometers south of the city. Again, swimming is not advised for small children or anyone who is untrained in the sea, but surfers will enjoy this beach's strong wave action.
Outside of the summer, Moulay Bousselham is a tranquil little town where tourists come to see birds in the Merja Zerga National Park's lagoon and marshlands rather than toss their beach towels on the sand.
Travelers who like the outdoors may want to consider combining a few beach days with bird watching.
7. Asilah
Asilah's laid-back appeals are a favorite among budget vacationers. Asilah offers several options to mix beach time with additional cultural tours since the ancient town's walls immediately front a curve of sand.
You might easily get here as a side trip from Tangier, which is located 46 kilometers to the north. Spend a few days exploring Asilah's narrow old town lanes with their charming white-and-blue building rims.
There are several sandy beaches nearby where you may swim and soak up the sun, even if Asilah's main beach regretfully falls short in this regard.
With free sunshades scattered along the coast and a lifeguard on duty throughout the summer, Paradise Beach, located seven kilometers south of the city, is a fantastic alternative for swimming and sunbathing. Because there aren't many other amenities at Paradise Beach, pack food and drinks for a picnic.
If you want to dodge the crowds, come here in the spring or autumn since Asilah and the nearby shoreline get crowded with Moroccan beach bums throughout the summer.
Accommodations in Asilah: Where to Stay
8. Achakar Beach
Achakar Beach is just 15 kilometers west of vibrant Tangier, yet it seems like a world apart. Between seeing Tangier's ancient sites, you may spend a quiet day at the beach on this sandy stretch.
Achakar Beach, a broad stretch of golden, compacted sand backed by green, gently rolling hills, is loomed over at the northern edge of the beach by the rock of Cap Spartel, which marks the point where the Atlantic Ocean meets the Mediterranean Sea.
There are no-cost sunshades available on the sand, and there is a respectable beachside café for when you feel hungry, but there isn't much more, so remember to pack all of your beach supplies.
Don't forget to go down to the beach's southern end to visit the Hercules Caves. According to local lore, Hercules the deity is claimed to have made this grotto his abode.
9. M'Diq & Cabo Negro
The most developed beach region on the Mediterranean Coast includes the two nearby villages of M'Diq and Cabo Negro (13 km northeast of Tetouan), which are only divided by a protruding, rocky peninsula covered in pine trees.
M'Diq provides a long, broad length of shingle and sand that is bordered with cafes, restaurants, and moderate lodging. The shingle and sand are backed by rolling green hills on the headland.
Cabo Negro, which is more upmarket and is located just southeast along the coast, has resort-style lodging, a golf course, and a nicer beach. If you're traveling with young children, this area's soft sand is a great option since it stretches for a few kilometers down the coast and is shallow where the ocean meets the beach.
There are several types of lodging available in M'Diq and Cabo Negro, ranging from modestly priced little motels to expansive resorts, so there is something for every traveler's taste and budget.
Accommodations: Where to Stay in Cabo Negro and in M'Diq
10. Martil
The contemporary port of Martil, only ten kilometers east of Tetouan's historic center, is a popular summer destination for local beach holidaymakers.
Although seldom frequented by foreign visitors, a trip here is an excellent addition for cool sea breezes, beach walks, and a swim in the water if you're touring the Rif Mountain region inland.
It may be conveniently visited as a half-day excursion if you're staying in Tetouan.
The town of Martil also has a few good midrange and economy hotels that front the long but narrow stretch of sand, but there are also several vacation apartment buildings since Martil is centered on the domestic tourist sector.
Moroccan families fill the town's cafés and restaurants from June through August, and they also enjoy beach picnics.
11. Oued Laou
Budget-friendly Mediterranean beach village Oued Laou, which is located 48 kilometers southeast of Tetouan, has a ton of unpretentious charm.
While there are colorful fishing boats bobbing in the clear blue water on the beach, which is mostly made up of shingle rather than sand and is, therefore, better for strolling and swimming rather than lazing around, there are also craggy cliffs on either side of the bay's gentle curve that are ideal for hiking and scrambling.
There isn't much to do here but unwind, go swimming or take a boat trip, and enjoy the sunset from the cliffs.
You've come to the perfect area if you're seeking a taste of traditional beach life, where it's all about quaint, family-run guesthouses and delicious local seafood.
Accommodation: Where to Stay in Oued Laou.
12. Saidia
Saidia is a five-kilometer strip of beachfront dedicated to summertime enjoyment, rubbing up against Morocco's border with Algeria and occupying the final expanse of sand on the nation's portion of the Mediterranean coast.
However, near the western end of the resort lies the Saidia Med sector, which appeals to more casual tourists. Holiday homes and apartment buildings have taken up a large portion of the seafront's trailing length.
A few five-star resorts can be found in Saidia Med, catering to the upscale population that flocks to the expansive stretch of golden sand beach every July and August.
Saidia Med also has a golf course and a boat marina, all of which are very much geared toward an upmarket customer.
The beach has excellent amenities, including water sports providers where you can rent kayaks and Jet Skis, as well as sunshades and loungers for rent.
Be careful that Saidia might seem deserted during the winter. The only time it really comes to life is from June to September.
Accommodations in Saidia: Where to Stay
13. Taghazout
Surfers from all over the world flock to the sandy stretches of coastline that surround the little town of Taghazout from autumn to spring because they are known for their world-class surfing.
Even if you may come to lay on the sand, surf culture is the primary attraction at these Beaches in Morocco for most of the year, with the exception of the summer vacation season in Morocco, when local families come to enjoy the sand and sun.
Immessouane Bay, 30 kilometers north of the city, and Taghazout's beach, which is a mixture of yellow compacted sand and shingle with the surf break at rocky Anchor Point close to the north, are the most well-known surf locations.
For those who prefer to relax rather than surf, sun loungers are available for rent on the sand at Taghazout beach.
This is a great place to learn to surf, and there are many cheap lodging options that include surf packages.
24 kilometers separate Taghazout from Agadir.
14. Bouznika
The nicest beach on the Atlantic Coast of Morocco is Bouznika Beach, which is just 38 kilometers south of Rabat and 50 kilometers north of Casablanca. It is a great choice if you want to combine seeing historical tourist sites and cultural landmarks with some beach time.
The beach has a long, broad stretch of golden sand, and since the water is shallow along the shore, it is ideal for families with young children. Only those who are strong swimmers should go further from the coast since the water is often rougher there (it's a popular surfing location).
Even while it may become busy during the summer, particularly on the weekends, there is still plenty of room for beachgoers throughout other times of the year.
The amenities are adequate, with sunshades and loungers available for hire and a wide variety of cafés and restaurants within a short distance from the beach.
The beaches of Temara, featuring the beautiful golden sand and shingle Sable d'Or Beach and Contrebandiers Beach, are only a 23-kilometer drive up the coast and are also suitable alternatives if Bouznika is too busy.
15. Dalia Beach
One of the nicest beaches within a day trip of the city is Dalia Beach, 46 kilometers northeast of Tangier, which means that during Morocco's summer vacation season, it may become crowded, especially on weekends.
In the summer, families with young children frequent the area since it is somewhat shallow at the water's edge, and because it is slightly shaded, swimming there is safe and enjoyable.
Basic amenities include free sand sunshades and a lifeguard on duty during peak hours. Many local beachgoers prepare a picnic for a day on the Beach and bring their own chairs and umbrellas.
There are fantastic views of Spain over the Strait of Gibraltar, and Tangier locals often gather there to take sunset photographs.