Moroccan doors convey their own story.
Some are quite ancient. Some are brand new. However, each one is distinct and one-of-a-kind. You may even go to marketplaces and find doors that are hundreds of years old for sale. The making and framing of entrances is an art form in and of itself.
I ask fellow travelers to submit a few of their best door photos to help you plan your next trip.
Amezi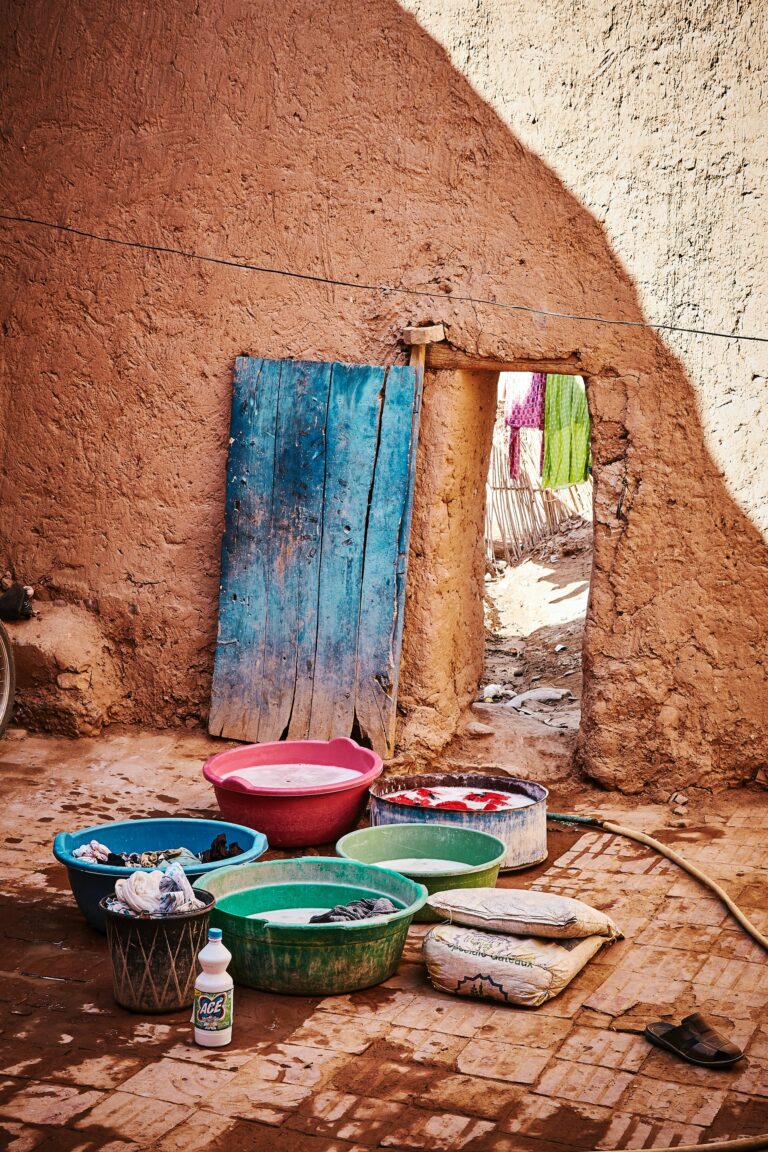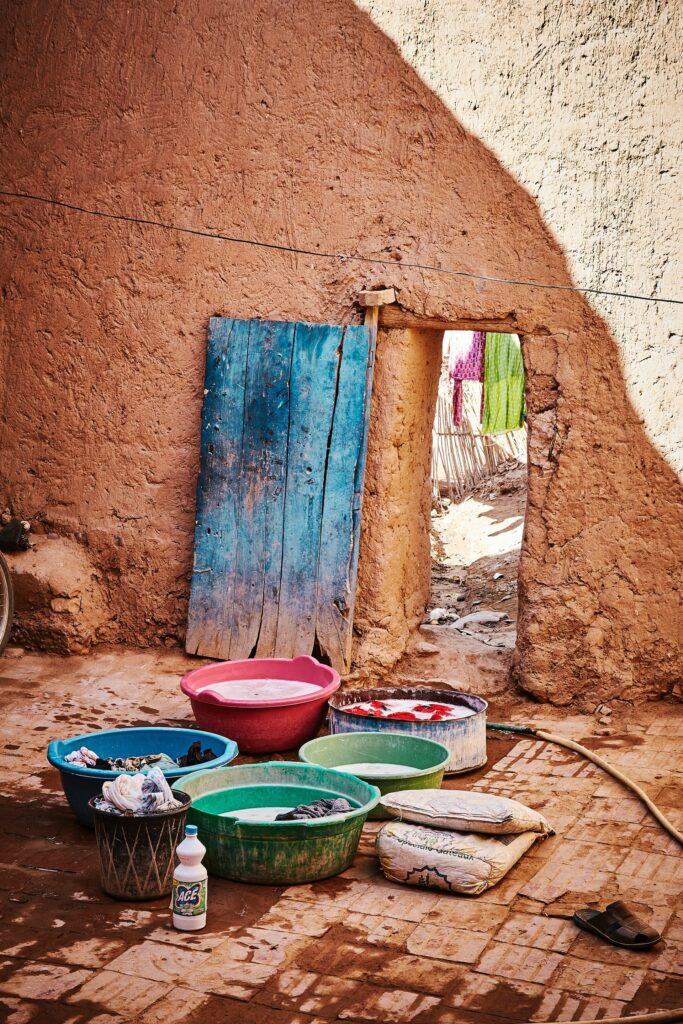 This picture was shot at Amezi, a Morrocan Berber (Amazigh) village approximately two hours' walk from Amizmiz. The house is humble and has few to no amenities, but the family who lives there is pleasant and hospitable.
While her husband is with the animals in the pastures, the mother is responsible for the children, the house, and the cooking. She attempts to make ends meet by serving traditional meals to the village's few guests.
Casablanca
The doors of the Hassan II Mosque in Casablanca were by far the most magnificent we saw throughout our vacation to Morocco. It is the largest mosque in Africa and the third-largest in the world, so perhaps the massive Moroccan doors are unsurprising. It is also Morocco's sole mosque that welcomes non-Muslims.
Even if you aren't interested in viewing the inside, you can easily spend a day roaming about the grounds of the Hassan II Mosque, with people watching and appreciating the exquisite Islamic architecture.
Chefchaouan
Chefchaouen, located in northeastern Morocco, has become an Instagram hit. Chefchaouen, known as "the Blue City" for its blue-washed buildings, attracts visitors from all over the globe who come to pose in its numerous doorways to get the ideal Instagrammable photograph. While we like a good selfie and have taken a few of our Instagrammable shots, it's Chefchaouen's four-legged residents who have piqued our interest.
Cats of different sizes and colors run through Chefchaouen's small alleyways, up and down staircases, and slumber in its blue Moroccan doors. More lovely cats and kittens waited patiently around every corner to be photographed. — obtained from Food And Drink Destinations
We knew we had to go to the Blue City, Chefchaouen, on our trip to Morocco. We were curious if it had been Photoshopped. No, it wasn't that blue, as we learned. We got completely lost on our first day touring the city, which is the ideal way to discover the city's back lanes.
After many hours, we came to the eatery Bab Sour, which our driver had recommended. It was a fantastic lunch location that was crowded with locals and was affordable. We came upon this little courtyard of green and white tile as we were leaving Bab Sour. This was an unusual splash of color in a city that is virtually entirely blue.
On a cool late-autumn morning in Chefchaouen, Morocco's Blue City, a cat waits to be let into this medina entrance.
Typical. Cats, don't they always want to be on the other side of the door?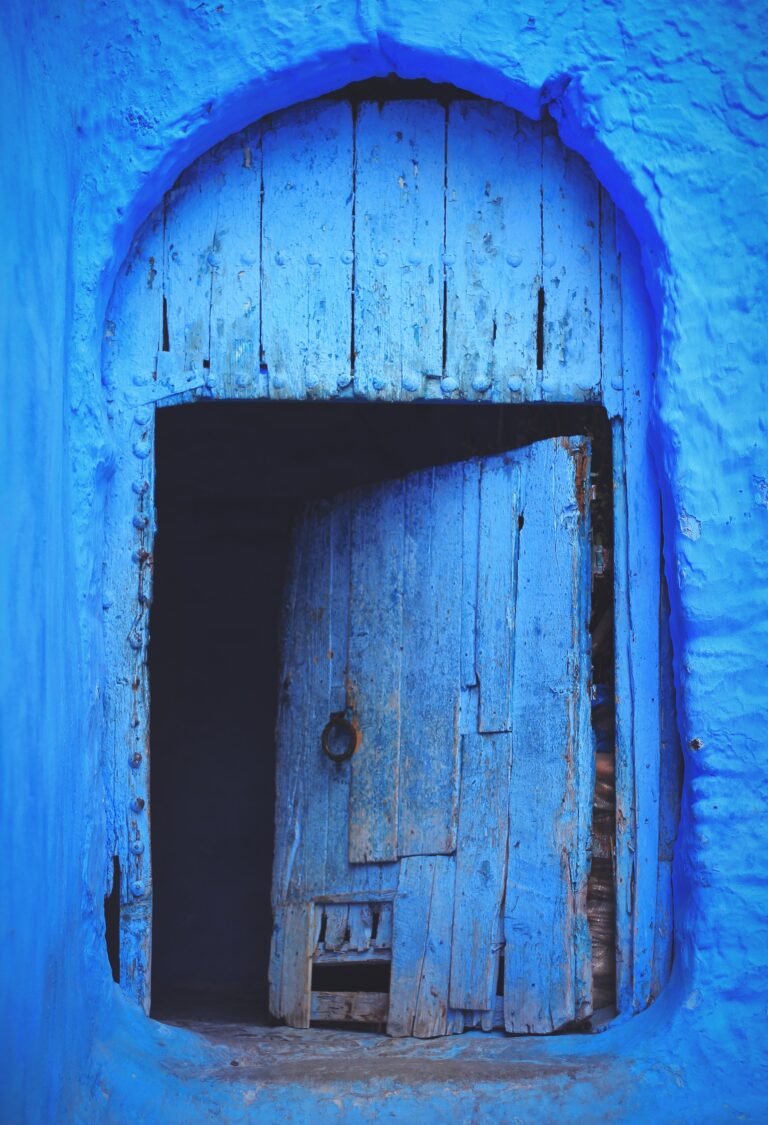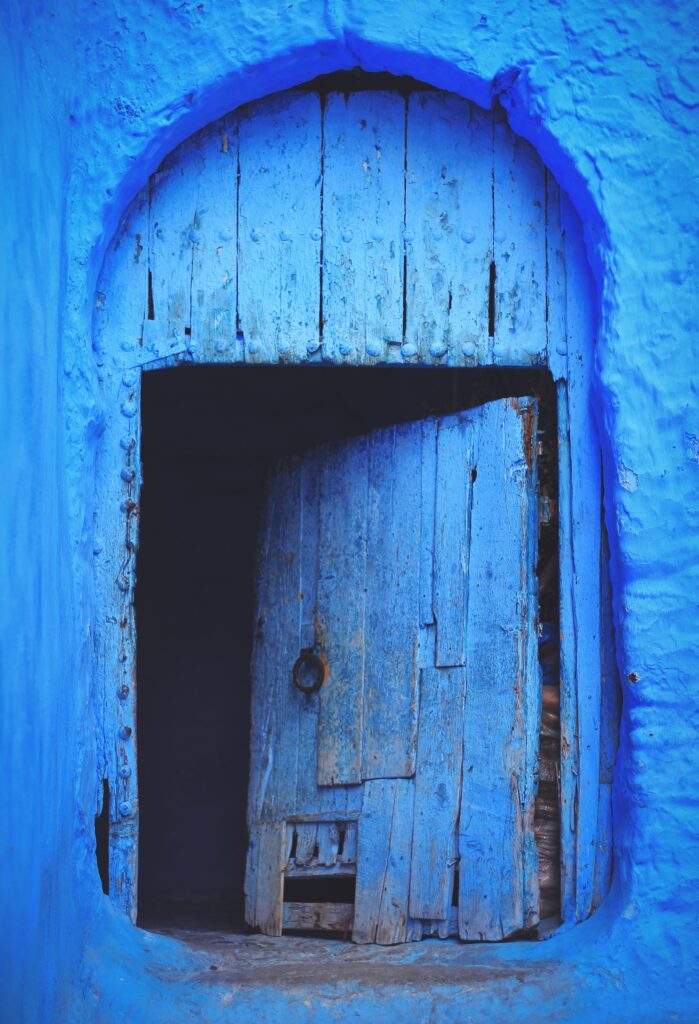 Chefchaouen is as lovely as advertised, and exploring the blue medina is both enjoyable and interesting. There's always the possibility of becoming lost, but never the sensation that you'll be lost for long — and who knows what beautiful treasure you could find around the next bend.
One of the greatest things about this place is that the sellers are low-key and have a soft, decent sense of humor. There are no hard pitches, and I felt completely at ease visiting the stores. They had a great grasp of how to greet people, and they made me feel welcome.
In Chefchaouen, these Moroccan doors opened to allow tourists and their animals into the courtyard for overnight stays.
Chefchaouan is just as lovely in reality as it seems in photographs. This blue city was the focal point of my entire journey, and I can guarantee you that it is not to be missed. I'd recommend flying into Tangier and starting your Moroccan adventure in Chefchaouen. You'll be happy you did!
Moroccan doors in Fes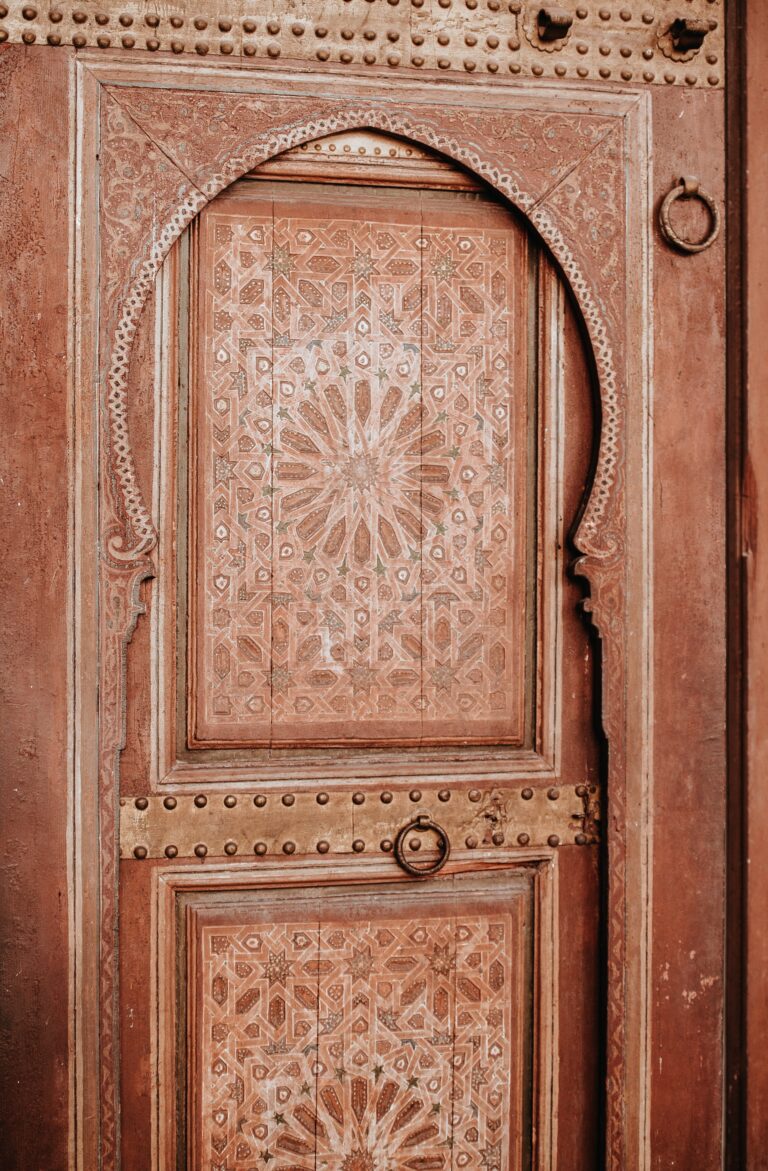 Fes is full of antique doors — and doors that appear to be old. One of the most well-known sets in the city may be seen at the Nejjarine Museum!
Fes el Bali is Morocco's oldest medina. Walking through the alleyways of Fes medina, which was founded in the 9th century, you will learn about the city's history and cultural peculiarities.
This door at Funduq al-Najjariyyin is very magnificent. Funduq means "inn" or "rest stop," and this trader's hotel was intended and built to shelter merchants on the go. They'd bring their carriage, horses, and camels, as well as ample space for the animals and their owners to relax, eat and be amused.
Funduq al-Najjariyyin is now a handicrafts museum with stunning views of Fes from its rooftop. This structure is close to the Najjariyyin fountains and square, which is one of the most beautiful sights in Fes.
Fez Medina
The Musee Nejjarine, hidden in the maze of the Fez Medina on Al-Najjariyyin square, is a remarkable edifice dating back to 1711 when Sultan Moulay erected it as a commercial center, traditional Inn, and storehouse. The city, which consists of a three-level fondouk or square and fifty-one rooms, began restoration in 1990 and was completed in 1996.
It is presently home to the Mohammed Karim Lamrani Foundation for the Nejjarine Ensemble and serves as a museum of art and woodwork. The entry door, like so many in Morocco, is fairly large, with a massive ornamental arching canopy and zellige (mosaic), as well as a few compulsory cats!
This door, discovered in Fes's medina, is one of many stunning examples of colorfully painted doors in Morocco. My architect/interior designer spouse photographed the intricacies in order to be inspired for his own work. We haven't painted any of our own doors yet, but I haven't ruled it out either!
Moroccan doors in Marrakech
I arrived in Marrakesh with a lot on my mind. It was the first time I stepped foot on African land, and I had been fantasizing about it for as long as I could remember. I went directly to Palais Bahia after dumping my backpack at the riad. I was so taken with the intricacies that I thought to myself, "If the doors and windows look as well, I'm in for a treat." I was completely correct–Morocco exceeded all of my expectations.
This door was discovered on a caleche ride around town, near the Medina. I recall being completely mesmerized by its beauty and exquisite features. I also imagined that if it were in my native country (New Zealand), we'd put guards surrounding it and charge tourists to see it up close. It was merely a functional parking place for local employees and homeowners here in Morocco, amidst so much beauty.
The calm and picturesque Jewish sector of Marrakech (Mellah) awaits you as you stroll the small lanes, hidden away from the bustle of the Medina en route to the majestic Royal Palace.
Behind these doors, there's a modest synagogue dating back to the Spanish Inquisition and gorgeous courtyards where you may have lunch in exquisitely renovated riads. I got here by accident after taking the wrong route, and I spent at least an hour being lost in the greatest manner imaginable.
Marrakech Door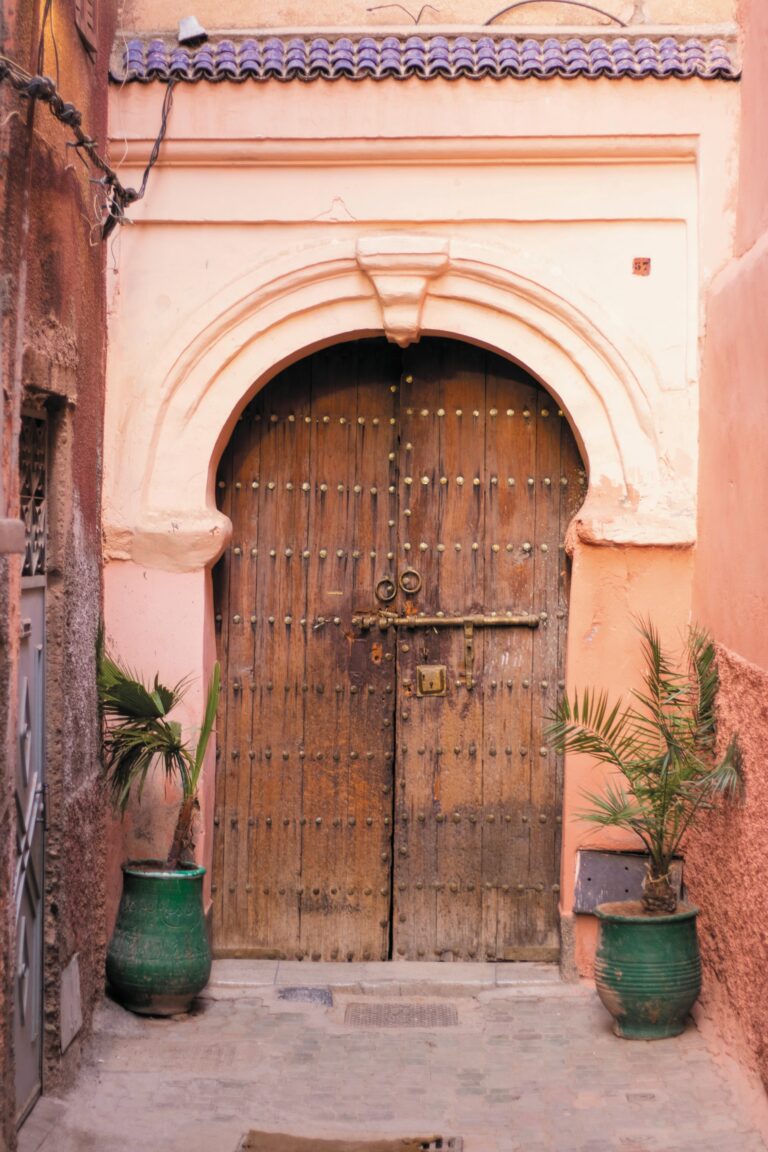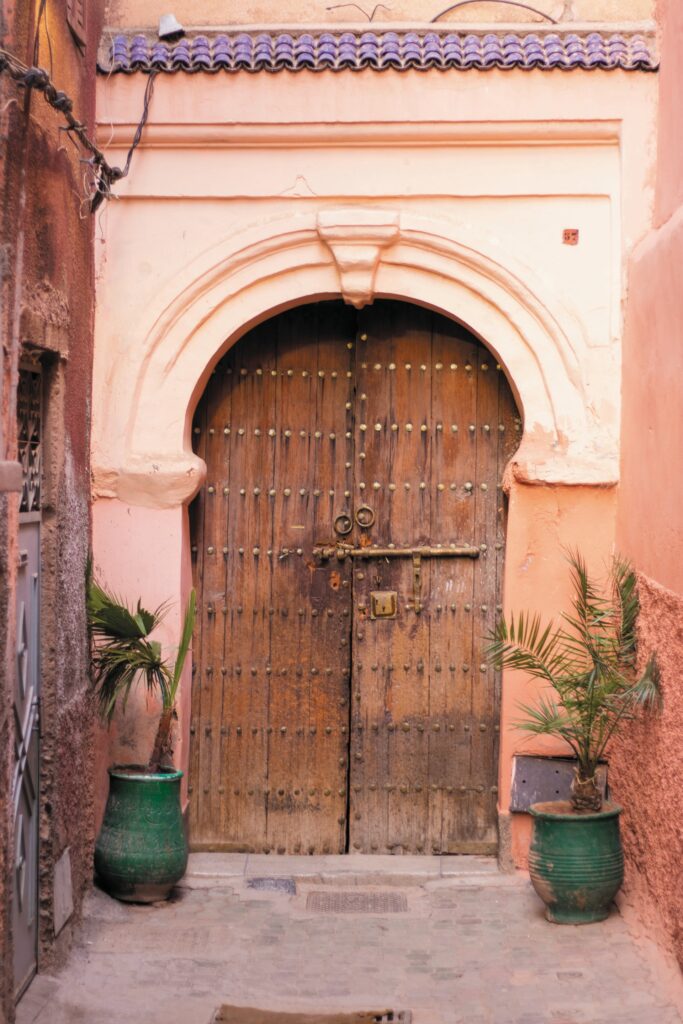 This door may be seen on Derb Moulay Abdel Kader. It is the property of Chambres d'Amis, my home away from home in Marrakech (but is their private home). I like it because of the mint hue, and they have flower pots painted in the same color down the road. Whenever I see it, it always makes me so happy.
Because of the craftsmanship – the hammered metal doors, the stone archway, and even more beautiful masonry beyond that – I adored this entrance we discovered in a random nook of the Marrakech Medina. People praying inside behind the mosque door could be heard, which contributed to the ambiance of this quiet enclave. In the middle of the rush and bustle of the souks, this tiny oasis of calm made you realize that the medina was more than just visitors and fast-talking sellers, but a way of life for the people who lived and worked there.
If you want to find the greatest Instagram location in Marrakech, go to the Amanjena luxury hotel. This location is truly out of this world. It was inspired by the historic El Badi mansion in the old town and has some of Morocco's most magnificent traditional Moroccan doors. If you don't want to stay the night, you may easily phone them to reserve a great table for lunch.
The first time I set foot in Marrakesh's busy Medina, like many first-time tourists, I was a little overwhelmed. To avoid the throng, I went into the quiet laneways, where I became engrossed in the small features of the businesses and residences. These two painted doors drew my attention since they have so much character and appear to be old friends!
Rabat
I'm sure I'm not the only one who is captivated by Morocco's magnificent doors. And I'm not ashamed to admit that I photographed a lot of doorways during my two weeks in Morocco.
One of the most beautiful Moroccan doors I saw in Rabat's medieval Medina.
The Rabat Medina is not as remarkable as those in Fes or Chefchaouen. I had a local guide with me who had lived in the Medina for a few years and she showed me the fascinating sections of the Rabat Medina.
The colorful door I photographed is a reminder of my day exploring Rabat's lesser-known neighborhoods with a buddy.
Tangier Moroccan doors
This door was hidden along a little street in the medina, not far from the riad where we slept. There are so many incredible doors in the medina, but I liked how this one was quite plain until someone chose to add the Jackson Pollock paint look on it.
I drove via Tangier years ago on my way from Portugal to Morocco. Tangier had a shady reputation back then… and it seemed a little neglected… Tangier is now considerably more welcoming and appealing. The city completely lives up to its reputation as the gateway to Africa, serving as a vital link between Europe and the Kingdom of Morocco. I was drawn to the city walls and Bab El-Bahr on the outside of the medina, overlooking the harbor. This gap in the city walls felt quite significant… I considered turning around and staring towards Morocco as I gazed out towards the coast of Spain.
The north of Morocco is known as "Spain Moroccan," because it was never a part of the European colonial empire, hence the locals still speak Spanish. Tangier was an "international city" that belonged to no one for many years. Bab El-Bahr perfectly exemplifies Tangier today: a deft cultural transition between Europe and North Africa. It was a nice location to unwind and take in the scenery as I began my trek through Morocco.
Tetouan Moroccan doors
Tetouan was more than I had anticipated. We visited it as part of our mission to explore all of Morocco's towns, and I was delighted to find Tetouan's interesting medina, which was practically devoid of other visitors.
We were feeling a little confused and hungry after a period of traveling when we were approached by an older Moroccan man. He stood out from the majority of the locals that approached us and spoke excellent English. I didn't want his aid since I was wary of frauds, but I also wanted to find my way and feed my girls.
We accepted assistance and soon found ourselves in a neighborhood bistro where the food was unlike anything we'd ever eaten before. It was delectable. Our savior vanished, only to reappearance as we finished our supper.
He volunteered to take us on a tour of the Medina. I accepted it without hesitation this time. Our personalized tour guide led us to locations we would never have discovered on our own. Finally, I offered him a nice gratuity, which he graciously took, and we left ways.
Doors of Morocco
Of all the things shot in Morocco, doors may be the most often taken image. No two are ever the same, and on houses that often seem similar on the outside, distinctive doors are a means to distinguish each. When visiting Morocco, keep an eye out for bright and distinctive doors just asking to be shot!
Volubilis
Volubilis' main gate, near Moulay Idriss. This historic UNESCO World Heritage Site has stood guard over the surrounding verdant Middle Atlas pastures for generations.
Rissani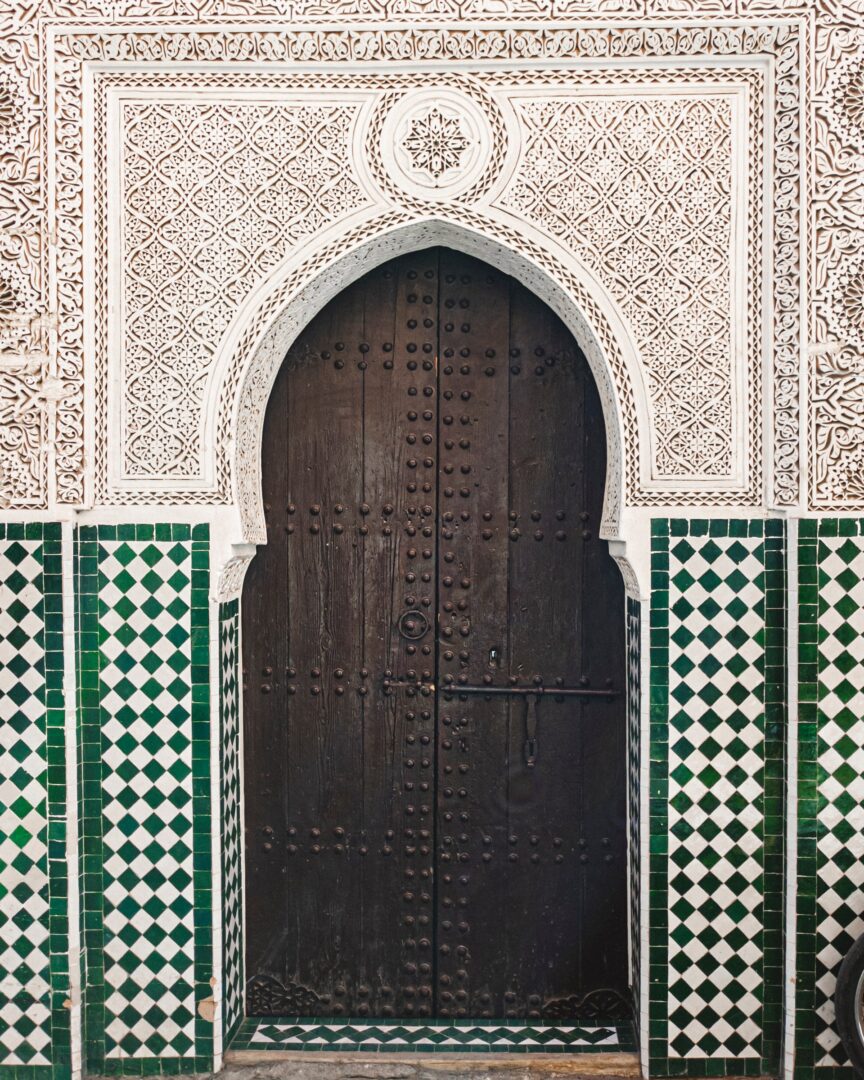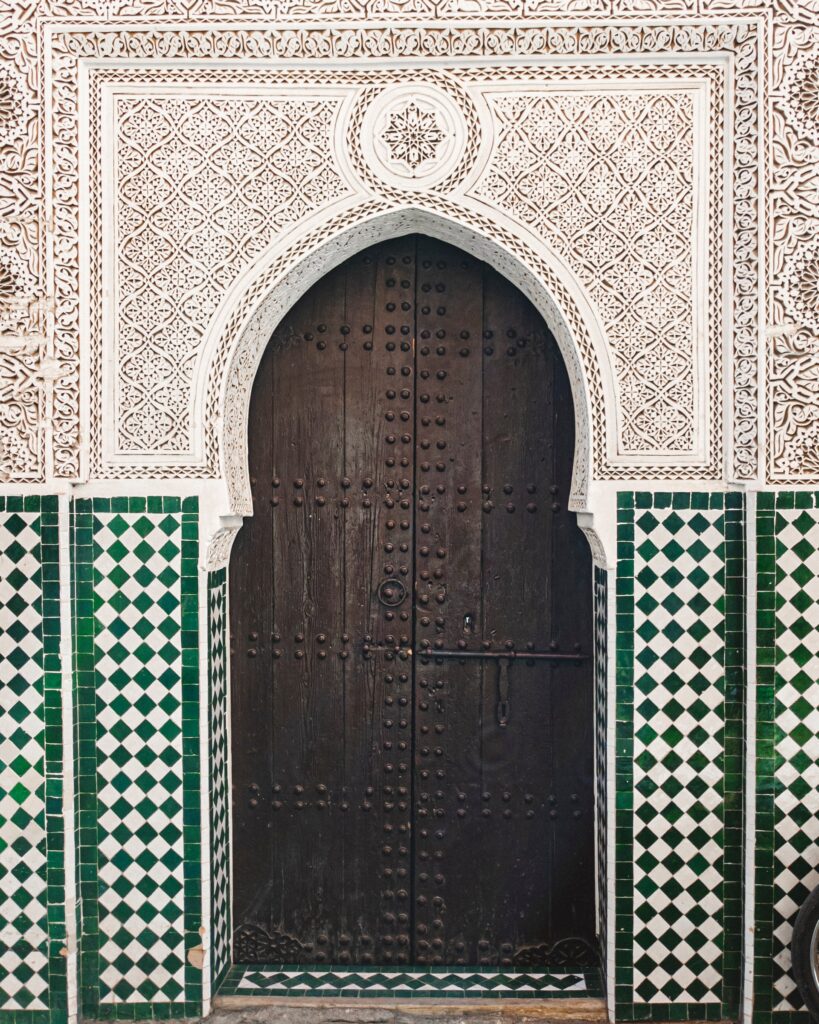 The Rissani Gate is one of Morocco's most prominent entrances to the Sahara Desert's dunes.
Jardin Majorelle
The renowned blue and yellow door at Jardin Majorelle in Marrakesh — maybe Morocco's most photographed location!
Koutoubia door
A door within Marrakesh's Koutoubia Park If you need a break from the noise and bustle of Jamma el Fna. The Koutoubia park is only a short walk away and is the ideal spot to relax.
Asilah
With hundreds of ornate entrances concealed in its maze of lanes. Asilah medina is painted blue and white and has a Mediterranean flavor.