If you're considering a vacation to Morocco's Sahara Desert, there are an astounding number of Merzouga Desert camping locations!
There is a location to stay in the Sahara Desert for any budget, from luxurious desert camps to more basic but nonetheless pleasant desert campgrounds.
I've picked Sahara desert campgrounds that provide many of the facilities you'd expect from Merzouga desert camping: a mix of comfort and natural beauty.
Everything stated includes en-suite private toilets, free breakfasts, bookable day trips and excursions, and free overnight events like bonfires and music as part of the Sahara Desert glamping experience.
While each of the desert camps I've picked has that as its foundation, there are others that have additional luxury camp features, such as air conditioning and heating (which may be quite required at certain times of the year), on-site massages, and so on.
Before I go into my curated selection of Sahara Desert glamping alternatives, let's compare taking a Sahara Desert trip from Marrakech or Fes versus glamping independently in a Sahara Desert luxury camp.
I'll also give you a brief overview of what to anticipate in your Sahara Desert luxury tent so you're prepared.
Touring the Sahara Desert vs Merzouga Desert Camping
Please keep in mind that this article includes affiliate links, which means I may make a small compensation if you buy anything after clicking on one of these links. Thank you for your support of our website's free material! See my disclosure page for more information on affiliate links and cookies.
The Sahara Desert, no matter how you encounter it, is a must-see on every Morocco itinerary.
Many tourists, like me, choose a desert tour as an add-on to a trip to Marrakech or a stay in Fes.
While you may join a 3 days Sahara Desert trip from Marrakech or Fes, I believe it is not the best way to explore the desert if you have the time.
While these trips are unquestionably handy and reasonably priced, they do not provide much time to appreciate the true Sahara Desert experience.
When I completed my 3-day, 2-night trip from Marrakech, we spent two of those days getting to the desert.
On the second night, we didn't get to Merzouga until just before nightfall. We took a camel ride to our basic desert tent and then slept beneath the stars, which was by far the most spectacular aspect of the whole trip.
Then we awoke at daybreak to return by camel or Jeep to our van in Marrakech or on to Fes (sometimes spelled Fez).
We spent slightly over 12 hours in the Sahara Desert, part of which we slept (it was Morocco desert camping, after all!)—which is a bit strange when you realize it took us 36 hours in travel to get there, including an overnight break.
Another alternative is to take a 2-day, 1-night excursion to the Zagora Desert from Marrakech, however this does not compare to experiencing the true Sahara Desert in terms of scenery.
If you're looking for a once-in-a-lifetime adventure, I recommend going all the way to the Sahara Desert – you won't be disappointed.
However, if all of the transportation and logistics seem overwhelming and you just want the convenience of scheduling a tour, I understand (after all, that's what I did!).
It is important to note that these desert camps are often quite basic (i.e., anticipate a shared bathroom rather than a private one in your room) and lack heat and air conditioning.
If you prefer a tour to glamping in Morocco in a luxury desert camp, I suggest this highly-rated trip from Marrakech or this one from Fes.
HOW TO GET TO THE SAHARA DESERT BY ROAD
If you're visiting the Sahara Desert on your own and not on a tour, I recommend hiring a private driver (or renting a vehicle) and planning your own schedule.
It takes around 9 hours to drive from Marrakesh to Merzouga. You may break up the journey by staying someplace along the route.
The Atlas Mountains, Ait Ben Haddou (a ancient kasbah), the Dades Gorge (Tinghir), and Ouarzazate (dubbed "Moroccan Hollywood") are just a few of the attractions worth visiting on the coast between Marrakech and the Sahara Desert town of Merzouga.
Ouarzazate and Tinghir offer the greatest lodging alternatives and will most likely be the most pleasant locations to stay.
When you arrive in Merzouga, you may arrange to leave your vehicle at your Merzouga Desert Camping, and they will assist you with a transport into the desert, since you will need to proceed by Jeep or camel trekking…
We don't need roads to get where we're going!
HOW TO GET TO THE SAHARA DESERT BY FLIGHT
If you don't have much time and don't want to take a lengthy road journey to get to the Sahara Desert, flying is an alternative.
Merzouga's closest airport is at Errachidia, about a 2-hour drive from Merzouga and its desert encampment.
Most of these luxury Sahara Desert camping spots would gladly organize a shuttle from the airport for you so you can arrive stress-free.
If you are traveling, the most convenient departure point is Casablanca, where the journey takes just one hour and costs less than $50 each way.
If you travel from Marrakech, you will have a layover in Casablanca, and tickets will cost you almost $200 each way! Because of this, I do not suggest flying from Marrakech.
EXPECTATIONS FROM A SAHARA DESERT CAMP
When living at a Sahara Desert Camp, especially if it is a luxury one, keep in mind that you are in the middle of nowhere.
Your hosts will do everything possible to make you feel at ease, but certain factors are just beyond their control, such as the power of the WiFi.
Keep in mind that very few of the hotels mentioned have air conditioning (I've included two that do), which may be a major detriment in the summer while desert camping in Morocco.
This is because electricity is scarce in the Sahara Desert, where everything is powered by sun and generators, and A/C requires a lot of energy to operate.
If you come in the summer (like I did), be in mind that your room may get rather hot if you don't have A/C! I recommend keeping the doors open as much as possible to enable cold air to flow. Because my tent was too hot to sleep in, I ended up sleeping outdoors!
On the other hand, the Sahara Desert may become quite cold — literally! — throughout the winter. If you're staying during the winter, check sure your hotel has heating alternatives available, such as electric blankets or radiators. On this list, I've highlighted the ones who do.
Each Sahara Desert glamping resort has its own set of goodies. certain are practically all-inclusive in the sense that breakfast and supper are supplied every day, and certain facilities, such as sandboards, are offered free of charge, but other activities are not.
Others provide breakfast but not supper, and they may charge a fee for pick-ups and drop-offs. Furthermore, some activities that are included in some may not be included in others (for example, a free camel ride).
Consider the cost of inclusions when determining which Merzouga luxury desert camp is ideal for your budget, particularly if you are going with a big group where the expenses might mount up!
In terms of nightly pricing, a more expensive hotel with additional features may wind up being the more inexpensive option.
Best Sunrise Sahara Camp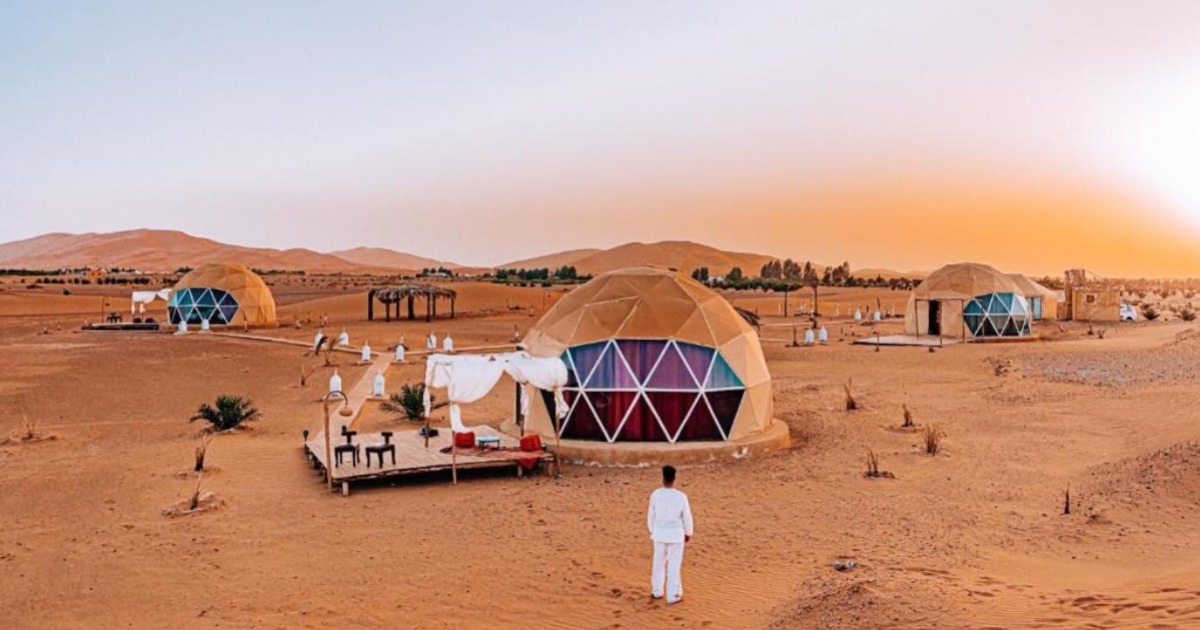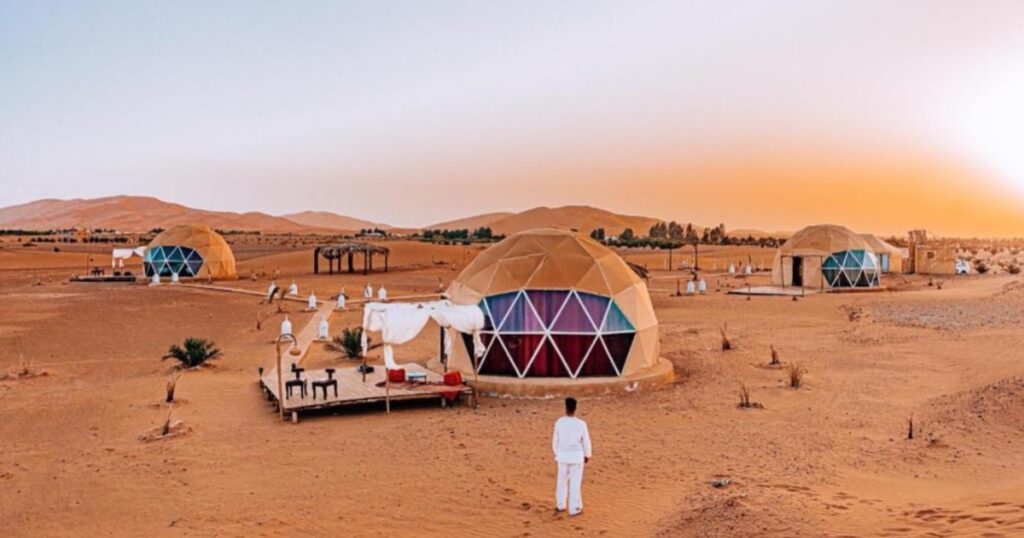 Is staying in one of those 'glass igloos' on your bucket list? You may, however, do so in the Sahara Desert at Sunrise Sahara Camp.
Instead of canvas tents, as many of these desert luxury camps do, the accommodations are geodesic dome-type tents that look like glass igloos you may have seen in Finland.
It will really be a memorable experience that will be difficult to recreate anyplace else in the globe. This is the only site in Morocco that provides this kind of lodging.
They vary from actual 'glass igloos' in that the roofs are covered (otherwise it would be way too hot!) However, they maintain the general aesthetic, making it a wonderful spot to go if you want some awesome Instagram images that stand out from the crowd!
The domes are enormous and roomy, with superb design. Inside and out, every inch of these domes is Instagrammable!
They all feature lovely Moroccan design details, such as wooden vanities with traditional Moroccan mirrors, gorgeous linen, leather poofs, and a wood-wall separating the en-suite bathroom with a toilet and shower.
The domes are all very far off from one another, giving you plenty of solitude.
Stargazers, rejoice: each dome has its own deck where you may sit and look up at the night sky.
You may even watch the sunset or dawn from the luxury of your own desert oasis!
You can drive to the desert camp or take a free camel ride (many other Morocco desert camp accommodations charge extra for this!).
Guests especially praised the hotel's excellent Moroccan cuisine, stating it surpassed their expectations!
Check out the amenities and reviews of Sunrise Sahara Camp here!
Most Luxurious: Itran Royal Camp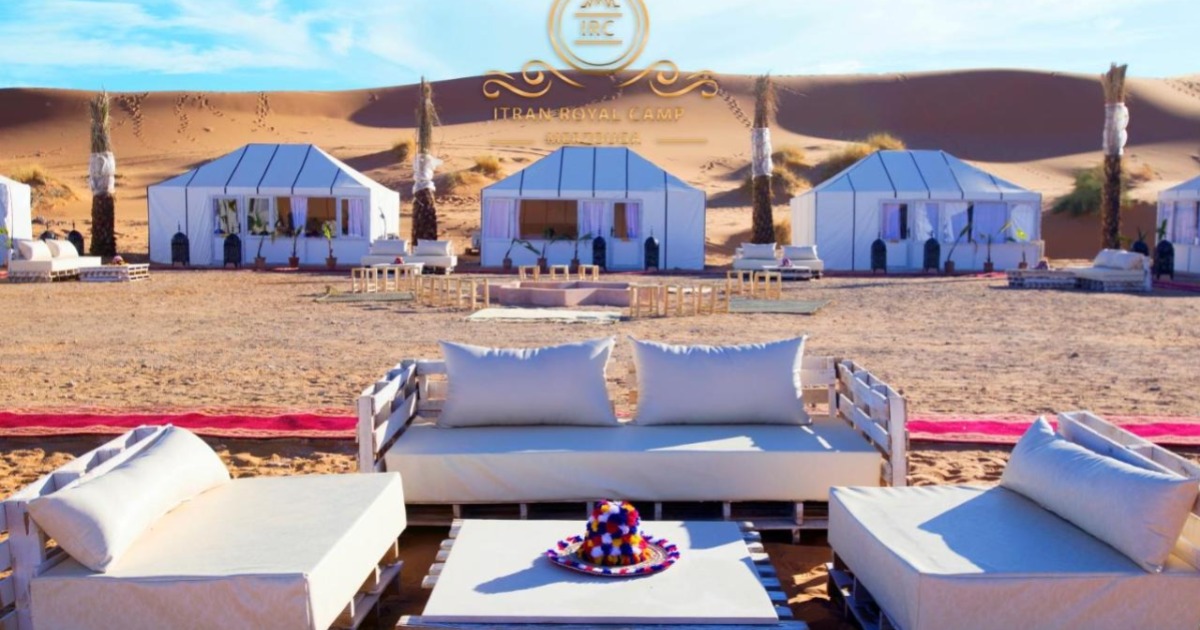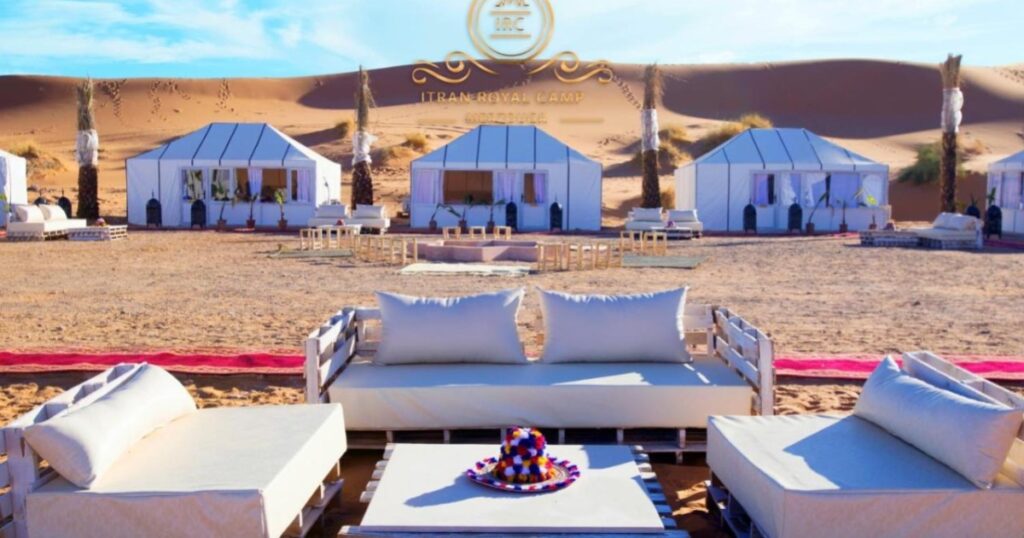 Itran Royal Camp is one of the finest luxury alternatives in the Sahara Desert, with an almost flawless 10-star rating.
First and foremost, it has air conditioning! I cannot emphasize how important this is in the summer! (It also has heat in the cold.)
The tents also feature great windows that allow you to see the dunes at daybreak without ever having to get out of bed – very incredible.
The en-suite bathrooms are also far more private than many of the other camp facilities here, with a complete sliding door separating the bathrooms (many are just partitioned off).
This is also the only Sahara Desert luxury camp that offers spa services, such as massages, on-site.
People also praised the delicious meals, the nightly campfire and music, and the general ambiance of their stay, which flawlessly mixed 5-star luxury with a natural escape.
Check out the amenities and reviews of Itran Royal Camp here!
Best Overall Experience: Tassili Luxury Desert Camp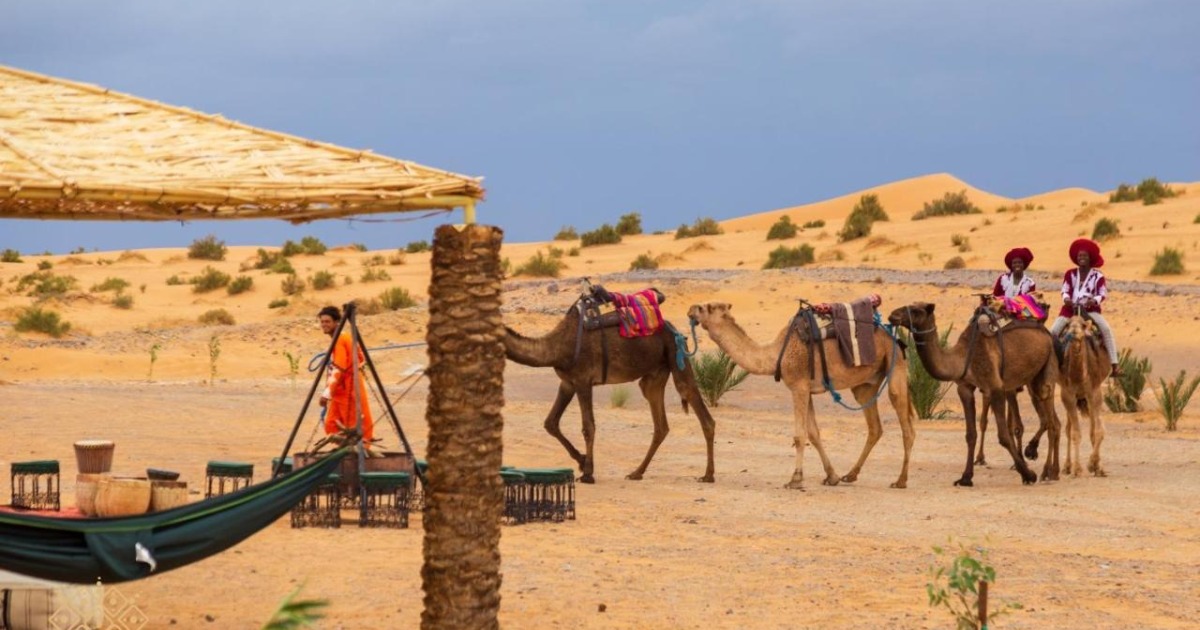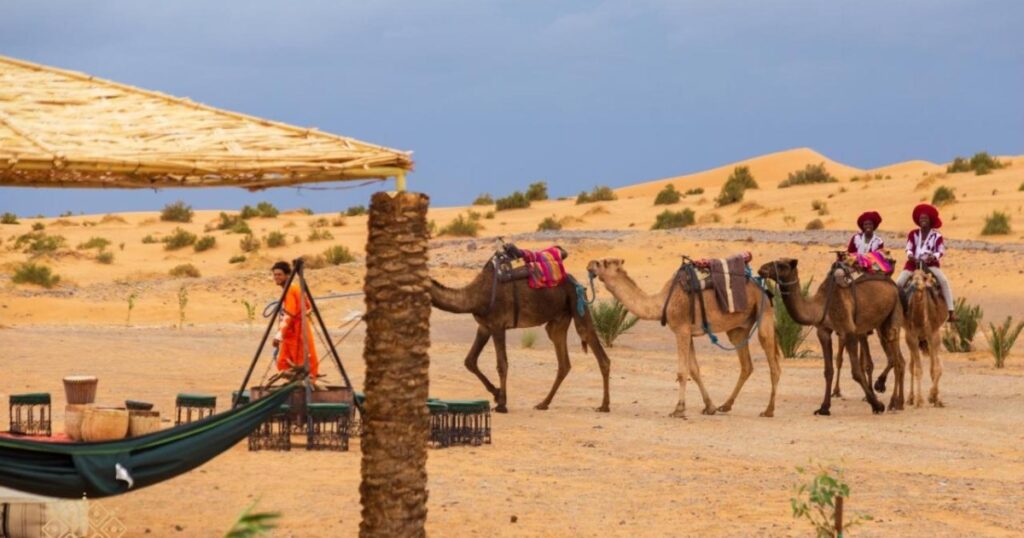 Set amid the undulating orange sand dunes, these luxurious tents are one of the most highly rated glamping alternatives in the Sahara Desert.
The stunning Moroccan design aspects that distinguish Tassili Luxury Desert Camp different from other glamping experiences are a step above other glamping locations.
Tassili would be a lovely spot to stay, whether in the desert or in a riad in the heart of Marrakech. That's a unique quality to come across while camping!
The enormous canvas tents resemble genuine bedrooms in a Moroccan riad, replete with king-sized beds in some rooms and various layouts ideal for families.
There are five-person family rooms (one king bed and three single beds), double rooms for couples (which may alternatively be arranged as two single beds for friends traveling together who don't want to share a bed), and tents with three or four single beds (ideal for groups).
Each room includes a private bathroom with running water, a toilet (and bidet! ), and a shower with all necessary supplies, which is really fantastic for being in the midst of Morocco's desert!
Furthermore, the hotel provides free WiFi – yes, WiFi in the midst of the desert! Though I couldn't blame you if you wanted to forego connectivity in favor of stargazing and savoring the sights of the Milky Way – it's partially why you went all the way out to the desert!
This hotel includes supper and breakfast with each night's stay, as well as a welcome mint tea (dubbed 'Berber whiskey'). They also offer a bivouac (campfire) every night, complete with Berber music and singing.
At the hotel, you may use sandboards for free, and you can also pay a tiny additional cost for typical desert activities like a sunset camel ride!
Check out the amenities and reviews of Tassili Luxury Desert Camp here!
Best for Activities: Sahara Dream Luxury Camp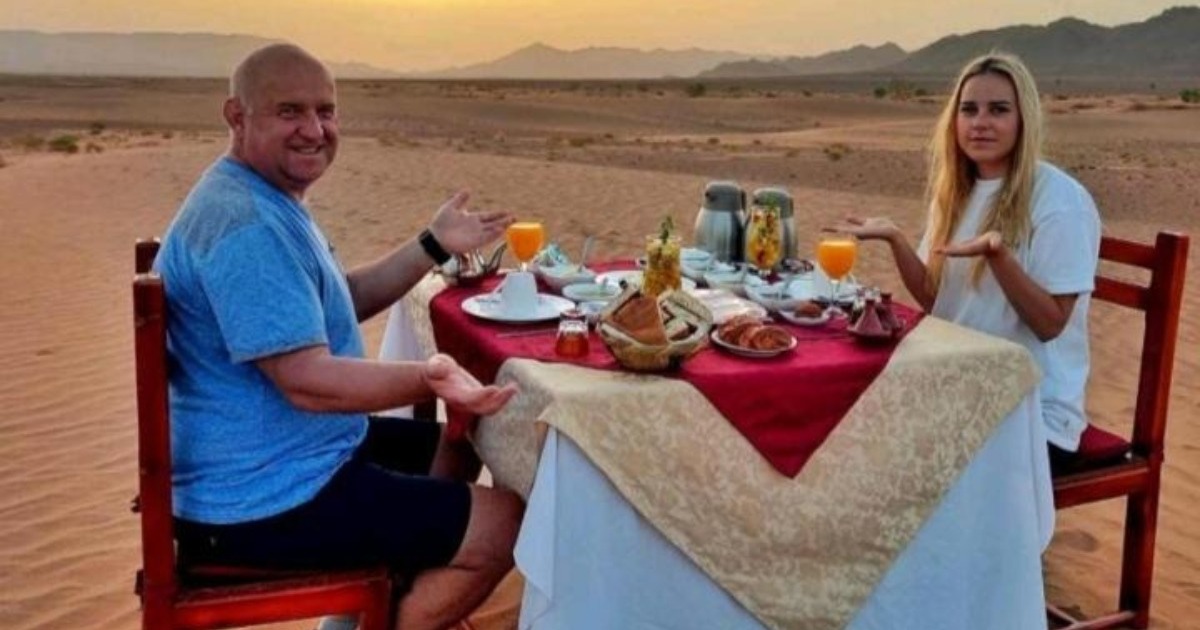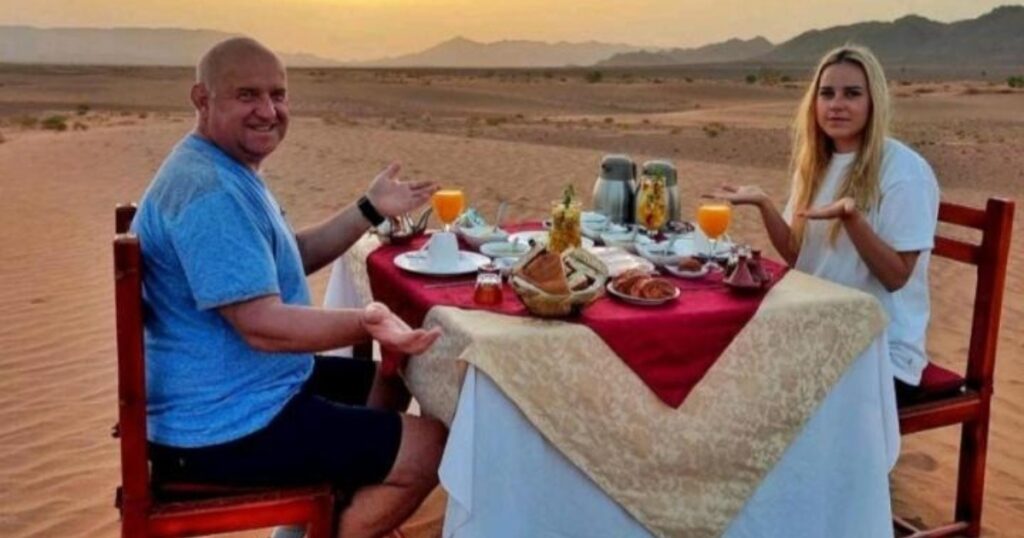 The wonderful Sahara Dream Luxury Camp is one of the best locations to stay in the Sahara Desert if you are looking for activities.
This Sahara Dream Luxury Camp features a plethora of amazing facilities you wouldn't expect to find in the midst of the desert, such as good WiFi and private restrooms with toilets, bidets, and showers.
If you come in the winter when the nights are frigid, they even supply electric blankets to keep you warm (it may seem strange that it gets cold when camping in Morocco's desert, but it happens – it even snows there on occasion!).
You may chat with the staff to organize day trips and activities such as camel trekking, quad riding across the sand dunes, sandboarding, and Jeep tours of the desert that include visits to the Erg Chebbi dunes (the biggest in the region).
Check out the amenities and reviews of Sahara Dream Luxury Camp here!
Best for Instagram: Beldi Camp
Beldi Camp combines the best of both worlds if you're seeking a genuinely appealing design hotel experience while glamping in the Sahara Desert!
With just eight rooms, each is elegantly maintained and decorated. We're talking elaborate four-poster beds with Beni Ourain carpets, plush lounging places, and beautiful paintings adorning the tents.
Because each accommodation is distinct, you won't get a cookie-cutter experience when you stay at Beldi Camp: each room promises a unique experience.
Aside from the tents themselves, there are canopies with rugs and poofs to sit on, a bed in the midst of the desert lighted by lamps, a fire pit area, and candles set in the form of hearts all around the place.
It's ideal for a romantic Morocco desert camping trip, with individual en-suite facilities and a solar-powered shower that provides hot water (a wonderful luxury when desert glamping!).
Camel riding, quad biking, desert trekking with or without a guide, sandboarding, paragliding, visiting other Berber towns, date picking on local date farms, or going on a shopping tour with a guide are all options.
A licensed yoga instructor also offers yoga courses in the desert, making it ideal for a health retreat mixed with a desert camping experience!
Check out the amenities and reviews of Beldi Camp here!
Best for Luxury on a Budget: Sirocco Luxury Camp
Sirocco Luxury Camp, one of the best-rated and longest-established luxury desert camps in the Sahara, is a superb alternative with relatively low prices compared to other desert camps.
One disadvantage is that the inside decor of the tents is a touch archaic when compared to other of the more contemporary, Instagram-friendly options on our list.
The design, on the other hand, is pretty classic Moroccan, so if that's what you're searching for, it won't let you down. There are also en-suite bathrooms in each room, all of which have hot water!
The desert camp is quite small, with just six tents accessible and one huge common tent for meals, making it ideal for an extraordinary experience that is tailored to your particular preferences.
Day tours and activities may also be arranged at the camp, such as camel treks and walks to surrounding locations like the Erg Chebbi dunes for dramatic sunset viewing.
Check amenities and reviews of Sirocco Luxury Camp here!
Best for Families: Erg Chebbi Camp
Erg Chebbi Camp is one of the greatest alternatives for family traveling visiting the Sahara. It is one of the few luxury camps that provides a children's playground for children to enjoy!
Sandboarding and camel trekking in the desert will appeal to older children.
The rooms are lovely and comfortable, with en-suite private bathrooms. There are just six private tents and six little canopies for each family to use throughout the day.
They also supply heaters throughout the cooler months (which are required since the desert becomes very cold in the winter!)
They also have a bonfire every night with singing and traditional music. Guests praised the staff's outstanding warmth, high-quality service, and the exclusive camp experience.
Check amenities and reviews of Erg Chebbi Camp here!
Best for Winter & Summer Visits: Golden Camp & Oasis
Golden Camp & Oasis is a well-reviewed, long-established desert camp in Merzouga and one of the top alternatives for a Sahara Desert camp in Morocco.
It's not the most recent or trendy desert camp, but it has several hundred reviews with an average rating of 9.4 – fairly good given its distant desert location!
Guests praised the staff's friendliness, the attention to detail in the accommodations, and the delicious meals at the on-site restaurant. Dinner is also included in the price!
Golden Camp & Oasis is a one-of-a-kind all-season comfort camp that provides both air conditioning and warmth.
If you come during the winter or the colder months of the shoulder season, they also supply radiators to keep you warm in your tent.
Of course, they can arrange whatever fantastic desert adventures you choose, from visits to Erg Chebbi and Erg Chigaga to camel trekking.
Check amenities and reviews of Golden Camp & Oasis here!
Merzouga Desert Camping Luxury Sahara Desert Camps offer the perfect retreat for couples, families, and solo adventurers.
With indulgent accommodations and amenities, a variety of activities to choose from, and the tranquility of the desert, you'll leave feeling refreshed and inspired.
Whether you're looking for a romantic escape or a fun-filled family adventure, Merzouga Desert Camping Luxury Sahara Desert Camps have something to offer everyone.
Unforgettable Desert Experience
Get ready for an unforgettable experience in the desert – you won't believe the luxury of Merzouga's Sahara Desert Camps! Located in the south-east corner of Morocco, the camps offer a unique opportunity to explore the stunning desert landscape, taking in the breathtaking views and stunning sunsets.
You can choose from a range of camps, from basic nomadic tents to luxury yurts and palaces, all of which come with a host of amenities to make your stay comfortable and enjoyable.
The camps also offer a range of activities, from guided tours of the desert to camel rides and sandboarding, allowing you to explore the Sahara in style.
So, get ready to make memories that will last a lifetime in Merzouga's Sahara Desert Camps!
Indulgent Accommodations and Amenities
Treat yourself to an indulgent stay with all the amenities you could dream of! Camping in the Merzouga desert allows you to truly immerse yourself in luxury.
High-end amenities such as plush beds, luxurious bedding, and a refreshing pool make it feel like you're in a palace in the desert.
Enjoy the traditional Berber tent experience and relax in a comfortable atmosphere.
Eat delicious meals made from local ingredients, while admiring the captivating views of the wonderful sand dunes.
You can take a camel ride into the desert and experience the serenity of the night sky or take a 4×4 tour of the scenic desert landscape.
Enjoy a massage or a hammam session to relax and unwind in the picturesque environment.
Merzouga desert camping offers a luxurious experience that is sure to stay with you long after you leave.
Activities for Every Traveler
Experience the variety of activities Merzouga desert camping has to offer. From camel rides to 4×4 tours, there's something for everyone!
Take a guided tour of the Sahara Desert on a camel-back and discover the unique beauty of the area. You'll get to experience the desert in a way that few ever get to.
If camel riding isn't your thing, then you can take a 4×4 tour and explore the area at your own pace. You'll get to drive through the sand dunes and take in the breathtaking views.
The 4×4 tours are perfect for those who want to take their time and really take in the area.
No matter what type of activity you choose, you can rest assured that Merzouga desert camping has something for everyone. With its luxury accommodations and amenities, there's nothing you won't be able to find at Merzouga.
So, come and experience the beauty and adventure of the Sahara Desert and make some memories that will last a lifetime.
Tranquility in the Sahara Desert
Feel the tranquility of the desert like never before as you relax in the peaceful atmosphere of the Sahara. With an abundance of natural beauty, the Sahara Desert offers a unique experience like no other. Surrounded by the vast sand dunes, you'll find yourself lost in the tranquility of the desert and the calmness of the night sky.
From the mesmerizing starry nights to the peaceful stillness of the morning, you will be surrounded by a sense of serenity. Enjoy the peace and quiet of your camp and soak in the beauty of the Sahara.
Spend your days taking in the sights of the desert and exploring the area with your guide. Whether it's a camel ride or hiking through the sand dunes, there are plenty of ways to experience the desert.
After a day of adventure, relax in the camp with a cup of hot tea and a warm blanket, and watch as the sun sets over the horizon. With its enchanting atmosphere, the Sahara Desert is the perfect place to disconnect and be at peace.
Perfect Retreat for Couples, Families, and Solo Adventurers
From camel rides to hiking, the majestic Sahara Desert offers a perfect escape for couples, families, and solo adventurers alike. Whether you're looking for a romantic getaway for two or a thrilling solo trip, Merzouga Desert Camping Luxury Sahara Desert Camps has something to offer.
A secluded oasis in the heart of the Sahara, the camp is an ideal spot for couples looking to get away from it all. With spectacular views, private tents, and lush gardens, couples will enjoy a peaceful and romantic retreat.
For families, the camp offers a variety of activities and experiences. From camel rides to discovering the ancient culture of the desert, families can explore the vast landscape together. Additionally, the camp provides a safe and secure environment for families to enjoy a unique and unforgettable experience.
For solo adventurers, the camp provides a perfect place to relax and unwind. With breathtaking landscapes and impressive night skies, the camp provides a unique and peaceful atmosphere for those looking to escape the hustle and bustle of daily life.
Conclusion
You've had an unforgettable experience in the Sahara Desert. The luxury camps of Merzouga Desert Camping have provided you with an indulgent stay and plenty of activities for every type of traveler.
From the tranquility of the desert to the perfect escape for couples, families, and solo adventurers, you've been able to experience it all.
Now it's time to take those memories with you and share them with the world. You've had an incredible time and you wouldn't hesitate to come back.
Merzouga Desert Camping has provided you with the perfect desert adventure.